Obama Struggles Against Uncommitted In Kentucky, Unknown Candidate In Arksansas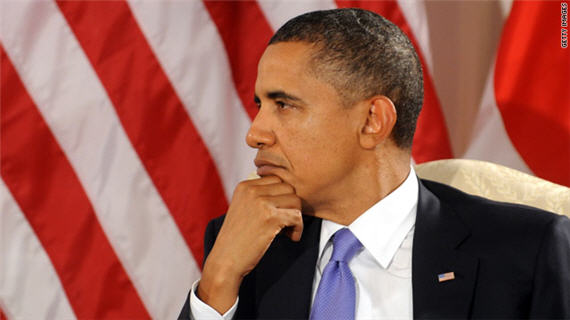 Two weeks after losing ten West Virginia counties to a Federal Prison inmmate name Keith Judd, yesterday President Obama found himself running into similar trouble in the Democratic primaries in Arkansas and Kentucky:
President Barack Obama continued to have trouble on Tuesday performing in Democratic primaries in traditionally conservative states, barely eking out wins in Kentucky and Arkansas.

The president didn't even have an opponent in Kentucky, but with 99 percent of the vote counted, Obama took just 57.9 percent of the vote, with the remaining more than 42 percent of ballots cast for "uncommitted."

In Arkansas, with 70 percent of the vote tallied, Obama nabbed just 59 percent of the vote. His opponent there, John Wolfe, was able to take 41 percent of the vote at that point, according to The Associated Press.

Wolfe, an attorney from Tennessee whose platform includes repealing "Obamacare," was able to win several counties.
It's worth noting that none of this should really be a surprise. Obama lost both Kentucky and Arkansas to John McCain in the General Election by several hundred thousand votes a piece, and he's not going to come any closer to winning either state this time around. During the 2008 primaries, he lost Kentucky to Hillary Clinton by some 250,000 votes and barely contested Arkansas, the political home base of the Clinton's which he lost by a lopsided 70% to 26% margin.  The same was true of West Virginia in both the 2008 primary and General Election. In the long run, then, none of these results mean much of anything in terms of the outcome of the election, but they are certainly a stark reminder of the extent to which the Democratic Party in certain parts of the South has declined from its own seemingly insurmountable heights.
At the same time, though, as Chris Cillizza points out, the results in states like Kentucky could tell us something about what might happen in other states that will play a role in the election:
 North Carolina could be tougher sledding for Obama than we might have thought. Remember that Obama lost 21 percent of the vote in the North Carolina primary to "uncommitted" and that, outside of the Democratic Research Triangle, there are lots and lots of rural, culturally conservative voters who have a fair amount in common with people in Arkansas and Kentucky. (The same goes on Southeast Ohio and Western Pennsylvania.) Remember too that in the best year for a Democratic presidential candidate since 1996, Obama carried the Tar Heel State by just 0.4 percent in 2008. What does that tell us? He doesn't have much of a margin for error in November in that state.
Indeed. Even before the same-sex marriage announcement, North Carolina was a state on a praepice for the Obama campaign. Results like this are a sign that they've got a very tough fight ahead of them if they are going to keep that state in the blue column.