Obama the Elder Statesman
The 58-year-old may have a post-presidency unmatched in history.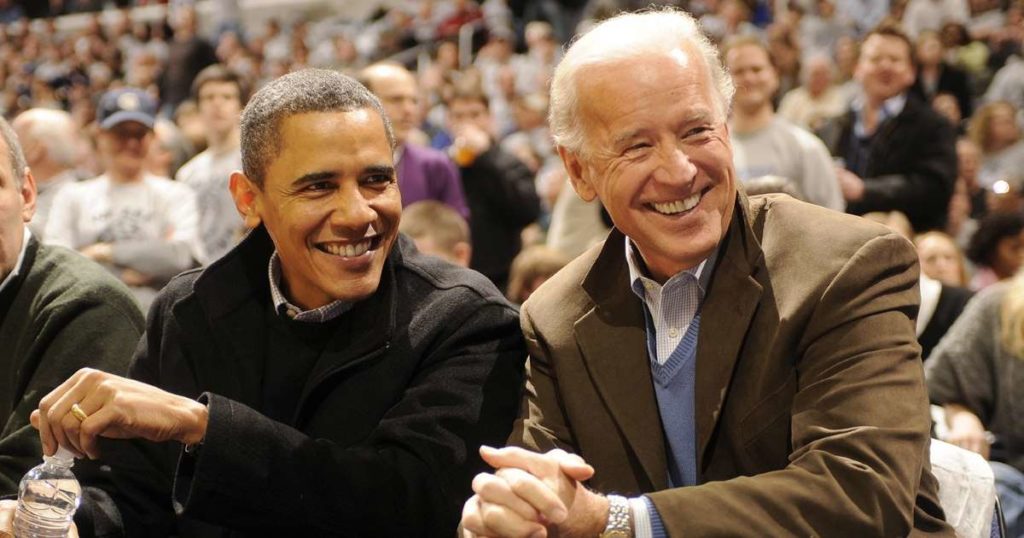 Glenn Thrush has a fascinating look at former President Barack Obama's behind-the-scene efforts to accelerate the end of the Democratic primary and start the healing necessary to bring its factions together.
Over the past year, Joseph R. Biden Jr. and former President Barack Obama practiced a political distancing of sorts, with Mr. Obama maintaining a posture of public neutrality in the Democratic primaries, offering counsel to any candidate who called (most did), and Mr. Biden saying he wanted to win on his own.

But with calibrated stealth, Mr. Obama has been considerably more engaged in the campaign's denouement than has been previously revealed.

[…]

[I]n the weeks after it became clear that Mr. Biden was the party's near-certain nominee, Mr. Obama — telling a friend he needed to "accelerate the endgame" — had at least four long conversations with his former vice president's remaining rival, Senator Bernie Sanders. Mr. Obama's efforts to ease the senator out of the race played a significant role in his decision to end his bid and, on Monday, endorse Mr. Biden, according to people close to the Vermont independent.

[…]

Mr. Biden's team knew better than to ask Mr. Obama for his overt support during the primary campaign. But they felt he might have done more to spare them a few tribulations, and were incensed that some former Obama advisers, especially David Axelrod, repeatedly questioned Mr. Biden's viability.

[…]

Party officials were more direct, prodding Mr. Obama to be more active behind the scenes, especially after Mr. Biden had begun his comeback by winning the South Carolina primary. But the former president, often communicating through Eric Schultz, a political aide who has also served as a bridge to the Biden campaign, insisted that his best use would be as a passive peacemaker.

"He kept his powder dry, and that gave him credibility, which made all the difference," said Tom Perez, the Democratic National Committee chairman, who served as labor secretary under Mr. Obama.

[…]

Mr. Biden is grateful for Mr. Obama's friendship but increasingly proud of his historic comeback. When news reports surfaced that Mr. Obama had called to congratulate Mr. Biden on his victory in South Carolina, the candidate made it clear to his staff that while his connection to Mr. Obama played a role in delivering African-American voters, Mr. Obama "had not lifted a finger" on his behalf, according to a senior Democrat with knowledge of his remarks.

Well, maybe a pinkie. Last year, Mr. Obama consulted with Mr. Biden's team on campaign strategy, and he bucked up Mr. Biden after his loss in the Iowa caucuses. In a private dinner last fall with members of the liberal Democracy Alliance, Mr. Obama offered thinly veiled criticism of Mr. Sanders's "revolutionary" policies and opined that voters wanted change, not to "tear down the system."

[…]

Mr. Obama did not directly encourage Mr. Sanders's rivals to endorse Mr. Biden ahead of the decisive Super Tuesday primaries. But he did tell Pete Buttigieg, a moderate, that he would never have more leverage than on the day that he was quitting the race — and the former South Bend mayor soon joined the avalanche of former candidates backing Mr. Biden.

Mr. Sanders, who in 2016 accused the Democratic establishment of conspiring to support Mrs. Clinton, took note of all these moves, but he has made no such charges against Mr. Obama.

In fact, one of his campaign advisers, speaking on the condition of anonymity in the wake of last month's string of Sanders defeats, said the senator was grateful for Mr. Obama's neutrality throughout the campaign. And Mr. Sanders, who has denied reports that he contemplated a primary challenge to Mr. Obama in 2012, had made a point of reaching out to the former president several times in recent months to update him on the progress of his campaign.
Obama has emerged as the party's elder statesman in a way no other former President in my lifetime has been able. Lyndon Johnson didn't live long and his legacy was tarnished by Vietnam. Richard Nixon was around for two decades but Watergate made him untouchable. Jimmy Carter's charity work has made him much admired but his presidency was a Republican campaign plank for years. Ronald Reagan helped elect his vice president, George H. W. Bush, but his dementia kept him out of the spotlight after that. Bush, like Carter, was much admired in his post-presidency but one-termers don't excite the base. George W. Bush was a two-termer but the Tea Party wing saw him as too liberal and the legacy of the war in Iraq has not aged well.
Bill Clinton, who remained wildly popular with Democrats, was the closest to what Obama has become. But his vice president, Al Gore, worked very hard to distance himself from Clinton, given the baggage of the Lewinski scandal and impeachment. And his campaigning for his wife divided the party in 2008 and 2016.
Obama was shrewd to keep his thumb off the scale. Biden ran on having been his veep in much the same way as Bush did with Reagan—without the need to issue "kinder and gentler" caveats. But it was at least plausible that Obama would have been just as happy to see Elizabeth Warren or any of the centrist governors and senators win.
Sanders knew Obama didn't support him and Thrush describes their relationship as "frosty." Still, Sanders seems to have appreciated Obama's relative fairness in comparison to how the party treated him in 2016.
Mr. Sanders is much closer personally to Mr. Biden despite their political differences, but Mr. Obama, unlike Mr. Biden, remains a trusted figure to many Sanders supporters, so much so that his campaign released an ad that featured a patchwork of clips with Mr. Obama lavishing praise on Mr. Sanders.

In the end, Mr. Sanders concluded that negotiating a détente through the former president would ease the blow of his withdrawal on his base. Whether Mr. Obama's involvement will ultimately draw Sanders voters to support Mr. Biden's candidacy remains an open question, and some supporters, including Mr. Sanders's own campaign press secretary, say they won't.

In late March, Mr. Obama reached out to Mr. Sanders. The two men would talk at least three more times, with the former president reassuring Mr. Sanders that he had already accomplished much of what he had set out to do, moving the party — and Mr. Biden — substantially to the left, according to two people with knowledge of their interactions.

But, the people said, he mostly listened to Mr. Sanders, who was in a reflective mood, speaking candidly about his post-campaign plans and feelings about the race, the kind of conversation the two men had never had before.
Both Biden and Obama understand that politics is a long game. They're both where they are now partly because they've built a network of relationships and avoided burning bridges to achieve short-term wins. And the fact that Sanders and Biden genuinely like one another and Sanders feels treated fairly by Obama makes it much more likely that the party will come together against Trump than was the case in 2016.
Given that Obama is nearly twenty years younger than Biden, he could be the party's elder statesman for years—if not decades—to come. No other former President has done that.