Obama Threatens Veto If Deficit Plan Doesn't Include Tax Increases
The second half of the President's political strategy is in place. Don't mistake it for a serious legislative effort.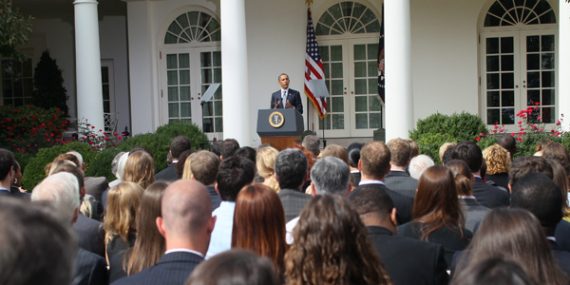 In the Rose Garden speech this morning where he announced the deficit reduction/tax increase plan that James Joyner wrote about this morning, President Obama threw down a gauntlet to Congress and the "super Committee" created by this summer's debt ceiling deal:
WASHINGTON — President Obama called on Monday for Congress to adopt his "balanced" plan combining entitlement cuts, tax increases and war savings to reduce the federal deficit by more than $3 trillion over the next 10 years, and said he would veto any approach that relied solely on spending reductions to address the fiscal shortfall.

"I will not support any plan that puts all the burden for closing our deficit on ordinary Americans," he said. "And I will veto any bill that changes benefits for those who rely on Medicare but does not raise serious revenues by asking the wealthiest Americans and biggest corporations to pay their fair share.

"We are not going to have a one-sided deal that hurts the folks who are most vulnerable," he continued.

His plan, presented in a speech in the Rose Garden of the White House, is the administration's latest move in the long-running power struggle over deficit reduction. It comes as a joint House-Senate committee begins work in earnest to spell out, at the least, a more modest savings plan that Congress could approve by the end of the year in keeping with the debt deal reached this summer. If the committee's proposal is not enacted by Dec. 23, draconian automatic cuts across government agencies could take effect a year later.

Mr. Obama is seeking $1.5 trillion in tax increases, primarily on the wealthy and corporations, through a combination of letting Bush-era income tax cuts expire on wealthier taxpayers, limiting the value of deductions taken by high earners and closing corporate loopholes. The proposal also includes $580 billion in adjustments to health and entitlement programs, including $248 billion to Medicare and $72 billion to Medicaid. In a briefing previewing the plan, administration officials said on Sunday that the Medicare savings would not come from an increase in the Medicare eligibility age.

Senior administration officials who briefed reporters on some of the details of Mr. Obama's proposal said that the plan also counts a savings of $1.1 trillion from ending the American combat mission in Iraq and the withdrawal of American troops from Afghanistan.

Mr. Obama's threat to veto any legislation that seeks to cut the deficit through spending cuts alone without raising taxes puts him on a collision course with the House speaker, John A. Boehner, who said last week that he would not support any revenue increases in the form of higher taxes. But the White House has compromised several times over the last year after making stern demands of Congress that were not met.

Mr. Obama's proposal is certain to receive sharp criticism from Congressional Republicans, who on Sunday were already taking apart one element of the proposal that the administration let out early: the so-called Buffett Rule. The rule — named for the billionaire investor Warren E. Buffett, who has complained that he is taxed at a lower rate than his employees — calls for a new minimum tax rate for individuals making more than $1 million a year to ensure that they pay at least the same percentage of their earnings as middle-income taxpayers.

That proposal, which was disclosed on Saturday, was met with derision Sunday by Republican lawmakers, who said it amounted to "class warfare" and was a political tactic intended to portray his opponents as indifferent to the hardships facing middle-class Americans.

But Mr. Obama spent much of his talk in the Rose Garden making an impassioned plea for what he called fairness in taxation, on the premise that "middle-class families shouldn't pay higher taxes than millionaires and billionaires."

"This is not class warfare," he said. "It's math."
What it actually is, of course, is a campaign slogan. But I'll get back to that in a little bit. Already, there's indication that the President's deficit plan, which technically I guess now gets put into the hopper for the Joint Select Committee (as the people on the Hill call the super-Committee), which it's likely to die a quick death. Not surprisingly, Speaker John Boehner is already speaking out against the tax package part of the deal:
Boehner fired back in a statement, saying, "Pitting one group of Americans against another is not leadership." He added, "This administration's insistence on raising taxes on job creators, and its reluctance to take the steps necessary to strengthen our entitlement programs are the reasons the president and I were not able to reach an agreement previously, and it is evident today that these barriers remain."
You can expect the reaction from Senate Republicans to be the same, but it really doesn't matter anyway. Obama's veto threat is little more than empty rhetoric. For one thing, he's made these threats before and never followed through on them. Most recently, he was insisting that any deal to raise the debt ceiling must include both spending cuts and tax increases, and yet he ended up agreeing to a deal that included no tax increases at all. There was something else in that deal, though. If the "Super Committee" isn't able to come up with a deal that can make its way through Congress and be accepted by the President, then there are $1.2 Trillion in automatic cuts that will take place starting in December of this year. The only way those cuts could be prevented would be by another act of Congress, which clearly isn't going to happen under current circumstances. Therefore, if the GOP wants a "budget cuts without tax increases" deal on the deficit, then they really don't have to do anything, because they're going to get that by the end of the year. What incentive do they have to agree to anything additional that the President is offering? Moreover, if you buy the Democratic argument that cuts in government spending are bad for the economy, wouldn't the additional cuts that the President is proposing by a bad idea?
Jonathan Bernstein seems to think that the existence of the automatic cuts gives the President more leverage over the GOP this time around. That's only true, however, if you believe that the GOP as a whole is really worried about those cuts. Yes, there's been some grousing from conservatives about the level of the defense cuts, but when you really look at it, its clear that the Defense Budget under the automatic cuts actually makes out better than it would have under previous budget projections. If Obama is really making this gamble on the theory that he GOP would rather make a deal that includes tax increases but doesn't touch entitlements in any significant respects than to let the automatic cuts take place, then I think he's misreading his opponents yet again.
This deficit plan also lays bare the true purpose of what the President has been doing since the beginning of the month. He started out with a jobs speech that was tough on rhetoric and light on substance, and as I noted at the time, clearly more aimed at laying the ground for 2012 than actually passing legislation that could help the unemployed in this country. Even the President's own party hasn't been very impressed with that plan. Harry Reid has said there's no rush for a vote in the Senate, and his colleague Dick Durbin has said that he doesn't expect a vote on the plan until at least October. Senators seen as vulnerable in 2012 are backing away from the plan as well. Now, he comes out with a plan for tax increases that is reminiscent of his 2008 campaign rhetoric, despite the fact that he walked away from that rhetoric in 2010 when he unilaterally caved on the extension of the Bush Tax Cuts.
What this is all about then, from the jobs deal to the speeches in selective locations to today's Rose Garden speech, is laying the ground work for 2012. I don't really think the President's are so afraid of the automatic cuts that they'll have a "come to Jesus" moment on tax increases. I also don't think that he'd be willing to agree to a deal that includes significant entitlement reform before the election. This is all about laying the ground work for 2012. So, let's get on with it already.
Photo via The New York Times