Obama Walks Back Egypt 'Not Ally' Answer
President Obama gave an honest, nuanced answer to a complex question. So, of course, he's taking it back.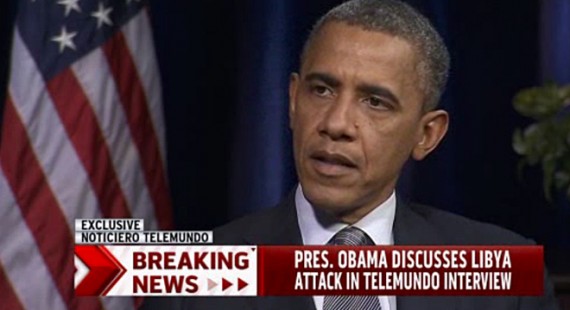 In an interview with Telemundo yesterday, President Obama gave a perfectly reasonable answer to an obvious question:
Jose Diaz Balart – Would you consider the current Egyptian regime an ally of the United States?

Pres. Obama: I don't think that we would consider them an ally, but we don't consider them an enemy. They're a new government that is trying to find its way. They were democratically elected. I think that we are going to have to see how they respond to this incident. How they respond to, for example, maintaining the peace treaty in isr..with Israel. So far, at least, what we've seen is that in some cases they've said the right things and taken the right steps. In others, how they've responded to various events may not be aligned with our interests. And, So I think it's still a work in progress, but certainly in this situation what we're going to expect is that they are responsive to our insistence that our embassy is protected, our personnel is protected, and if they take actions that indicate they're not taking responsibilities, as all other countries do where we have embassies, I think that's going to be a real big problem.
That's neither controversial nor even on a diplomatic limb. The Egyptian government is in a state of transition and the administration—and Congress—has made it clear that the future of generous American financial assistance and the like are dependent on Egypt making progress.
Regardless, the administration walked back the answer today.
White House spokesman Tommy Vietor told The Cable Thursday that the administration is not signaling a change in that status.

"I think folks are reading way too much into this," Vietor said. "'Ally' is a legal term of art. We don't have a mutual defense treaty with Egypt like we do with our NATO allies. But as the president has said, Egypt is longstanding and close partner of the United States, and we have built on that foundation by supporting Egypt's transition to democracy and working with the new government."
The problem with this clarification, of course, is that it's utter horseshit.
First, there's no reading of Obama's answer that indicates he was talking about formal designation; he's obviously assessing the degree to which the two governments are on the same page and working towards mutual benefit.
Second, as Josh Rogin points out, "Egypt was designated as a Major Non-NATO Ally in 1989 when Congress first passed the law creating that status, which gives them special privileges in cooperating with the United States, especially in the security and technology areanas." So, if Obama was answering the question that his spokesman absurdly claims he was answering, he got it wrong.