Obama Warns Syria On Chemical Weapons Use
President Obama issued a warning to Syria today over its chemical weapons stockpiles.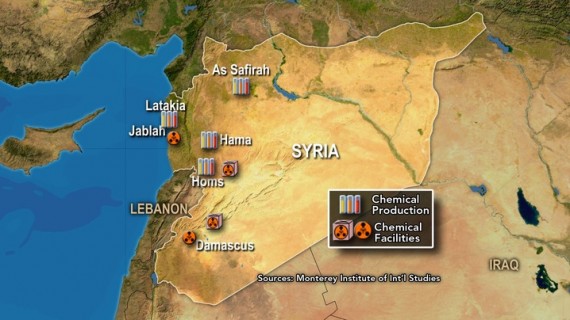 In an appearance today in the White House Briefing Room, President Obama set out what he called a "red line" that Syria must not cross when it comes to its chemical weapons stockpiles:
WASHINGTON — President Obama on Monday threatened military action against Syria if there was evidence that the government of President Bashar al-Assad was moving its stocks of chemical or biological weapons. It was Mr. Obama's most direct warning of American intervention in Syria, where Mr. Assad's military is fighting an 18-month-old rebellion.

"We cannot have a situation in which chemical or biological weapons are falling into the hands of the wrong people," Mr. Obama said in an impromptu appearance in the White House briefing room. "We have put together a range of contingency plans. We have communicated in no uncertain terms with every player in the region that that's a red line for us."

The president said he was deeply troubled by the possibility that the safekeeping of such weapons was now at risk in the Assad government's increasingly harsh effort to crush the uprising. "That's an issue that doesn't just concern Syria," Mr. Obama declared. "It concerns our close allies in the region, including Israel. It concerns us."

Syria is believed to have accumulated huge supplies of mustard gas, sarin nerve agent and cyanide. Mr. Assad and other members of his government have said that the weapons would not be used except in the case of foreign intervention —a threat that has been interpreted as an attempt to deter any attack by Western nations.

The United States, Mr. Obama said, was closely monitoring the situation for any signs that weapons had been moved. While he did not say there was evidence, he said that, given the volatility of the crisis, he could not be absolutely confident that Mr. Assad's government would not try to deploy these weapons.

"At this point," Mr. Obama said, "the likelihood of a soft landing seems pretty distant."
The fate of Syria's chemical weapons has been the 900lb gorilla in the room that nobody talks about ever since this rebellion began in February of last year. Most recently, the Syrian government said that it would not use those weapons on Syrian citizens, a response to fears that have been raised by many in the West that Assad would let loose on the opposition of his back was against the wall. At the same time, though, the Syrians have said that they will consider using the weapons if attacked by outside sources.  Leaving that aside, though, the real concern is what happens to those weapons in the event of a rapid collapse of the Syrian regime. Israel is just across the border on the Golon Heights. Hezbollah is just across the Lebanese border in the Bekaa Valley. And, Iran certainly will take an interest in the fate of the weapons. Another possibility, of course, is that a rapid collapse is followed by an all-out civil war among Syria's ethnic groups, with whoever gets control of the weapons having few compunctions about who they use them against.
I've long thought that the fate of these weapons would be the issue that could propel the United States and the West into acting in Syria whether they want to or not. For better or worse, we simple cannot afford to let those weapons fall into the hands of terrorists or other unsavory forces, spurred into action in part because of the concerns of friendly Arab nations as well as Israel. Indeed, earlier this month Jordan's King Abdullah described the Syrian chemical weapons issue as something that concerns everyone in the region:
King Abdullah II of Jordan expressed his concern over the situation in neighboring Syria, and especially over the potential use of Syria's chemical weapons.

In an interview with Charlie Rose on "CBS This Morning," Abdullah was asked if Syrian strongman Bashar Assad would use chemical weapons against his rivals. "I hope to God that he wouldn't because I think that would be a tripwire for many nations in the international community," Abdullah said.

"The chemical weapons (are) something that scares everybody," he added. "What scares most of us is the chemical weapons falling into rebel hands. And who are those rebels? And obviously the use of chemical weapons against innocent people."

Abdullah repeated his "tripwire" statement, in an apparent warning to Assad that use of the weapons would cause other countries to intervene militarily in the fighting: "…There's so many levels of attention against Syria. So as we're working on the political level, trying to find a solution, if he uses chemical weapons, is that the tripwire that all of a sudden… the international community has to react? So I hope he understands that this would be a major miscalculation. More complicated than that, what happens if some of those storage depots fall into rebel hands?"

Abdullah said he thinks the weapon sites need to be secured by the international community but also appeared to warn against an invasion in response to the use of chemical weapons. "I hope that you're not looking at it as a reason for intervention," he said. "I think it's a crisis where we have to react. And the problem – I am weary of people looking at it as a reason – in other words, I hope people are not planning to sort of push whoever there may be to make sure that those storage sites fall into… the minute you cross the borders then no plan goes the way you planned it. So the minute you cross the border with armed forces or the military, then it's anybody's guess what the outcome is."
There have been some reports that U.S. and Jordanian forces have been putting together plans for operations that would be meant to secure the weapons in the event of a collapse of the regime, and even if that's not accurate I've got to assume that there are plans of this kind out there somewhere. Regardless of what one thinks about intervening in the Syrian Civil War, and I oppose it, allowing those weapons to become insecure and fall into terrorist hands would be far too huge of a mistake that I think the world would come to regret at some point. Obviously, the ideal solution is for Assad to step down peacefully, but it seems incredibly unlikely that will happen at this point.
Photo via The Levant Post