Obama: We Don't Need No Stinkin' Warrants
The Obama Justice Department says it can look at phone records without warrants or judicial oversight.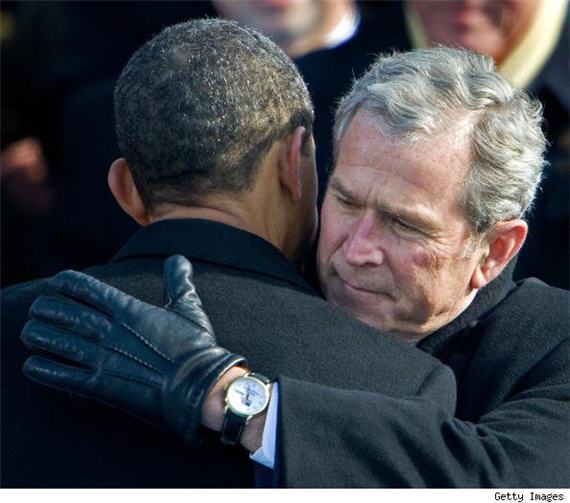 Mistermix links sadly to McClatchy's report "Obama assertion: FBI can get phone records without oversight."
The Obama administration's Justice Department has asserted that the FBI can obtain telephone records of international calls made from the U.S. without any formal legal process or court oversight, according to a document obtained by McClatchy.

That assertion was revealed — perhaps inadvertently — by the department in its response to a McClatchy request for a copy of a secret Justice Department memo.

Critics say the legal position is flawed and creates a potential loophole that could lead to a repeat of FBI abuses that were supposed to have been stopped in 2006.

The controversy over the telephone records is a legacy of the Bush administration's war on terror. Critics say the Obama administration appears to be continuing many of the most controversial tactics of that strategy, including the assertion of sweeping executive powers.
Much more at the link but you get the idea.
Mixie's analysis of this is exactly the same as mine: "The unitary executive never gives up any power."
But my reaction to this is chagrin rather than anger. This is of a piece with yesterday's post in which I assert that I like and respect Dick Cheney and Don Rumsfeld, even though I think they ordered or fostered some policies which were probably illegal, possibly immoral, and almost certainly harmful to the national security interests they were striving to protect. While this contradiction infuriated some readers, the bottom line is that I don't think the Obama administration's intent here, any more than that of their predecessors, is evil or even cynical. It is, arguably, hypocritical in that Obama campaigned against the very policies he's continuing. But I actually tend to forgive people for changing their perspective once they're sitting in the big chair and suddenly have the weight of the world on their shoulders.
Americans hold their president — not Congress, not the Courts, not their state and local leaders — responsible for national security. And presidents have, since the Washington Administration, bent and broken the law in order to do what they deem best in that arena. After all, they reason, they're not only where the buck stops but they have the best information. And, naturally, they're virtuous and intelligent.
I wrote a piece more than five years ago for TCS Daily called, "Real Power is Something You Take."
Nearly half a century ago, legal scholar Edward S. Corwin wrote that, "The Constitution is an invitation to struggle for the privilege of directing American foreign policy." His argument was that, while the Framers clearly intended for the legislature to be the predominant branch in domestic policy, both branches had substantial power in the realm of international affairs without bright lines to delineate them. Most notably, the Congress had the power to declare war but the president, as Commander-in-Chief, had the power to send troops into harm's way.

Fictional "Dallas" patriarch Jock Ewing once told his equally fictional son, Bobby, that "Nobody gives you power. Real power is something you take." All of our great presidents — and some of the less-than-great ones — took great liberty with the Constitution. The have seized the initiative and forced Congress to react.

[…]

If the Constitution is "an invitation to struggle," it is one that presidents have been winning since the 1940s. The modern president has reversed the Constitutional presumption that Congress is the preeminent branch and the president secondary. Since Roosevelt, it has been axiomatic that "the president proposes, Congress disposes." That is especially true in foreign policy and even more so in national security matters.

It's true that Bush doesn't have the degree of autonomy in this war as FDR and Lincoln did in theirs. But that's mostly a function of public perception of the nature of a war–what he can get away with, to put it more crassly–than any limitation of constitutional power. Much of what FDR and others have done is extraconstitutional. But bold wartime leaders have been flouting the Constitution since at least Lincoln, with the full support of the public.
I don't like any of this. I condemn it when done by my own party or the opposition. But I understand it.  And I expect the Congress and the Courts to rein in this impulse as much as possible.