Obama White, Hispanic Approval Plummets
President Obama's approval ratings are at an all-time low. Only 33% of whites and 48% of Hispanics approve. He's still at 84% among blacks.
The latest Gallup poll finds that, "President Barack Obama earned the lowest monthly job approval rating of his presidency to date in August, with 41% of U.S. adults approving of his overall job performance, down from 44% in July. He also received term-low monthly job approval ratings from both Hispanics (48%) and whites (33%) and tied his lowest rating from blacks (84%)."
The trendline is stark: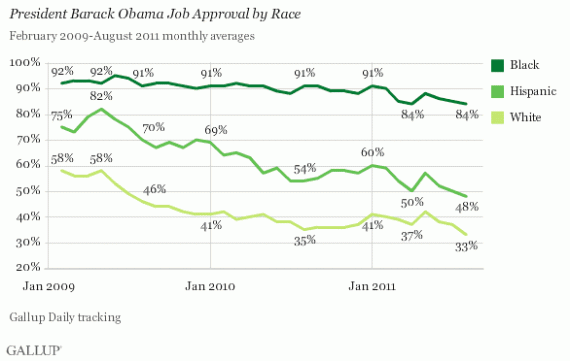 He started out with 58% approval among whites; he's now at 33%. His incredible 75% approval among Hispanics has dwindled to 48%. Ironically, though, his approval ratings are still through the roof among blacks, who are bearing the brunt of the recession and loss of jobs.
The problem with looking at these numbers, though, is that they're looking at a single variable. It would be more useful if we could see how the trend looks when factoring in at such things as party identification, income, and education level.