Obama White House Fundraising Video a Crime?
Where is the line on using the White House to further the president's re-election effort?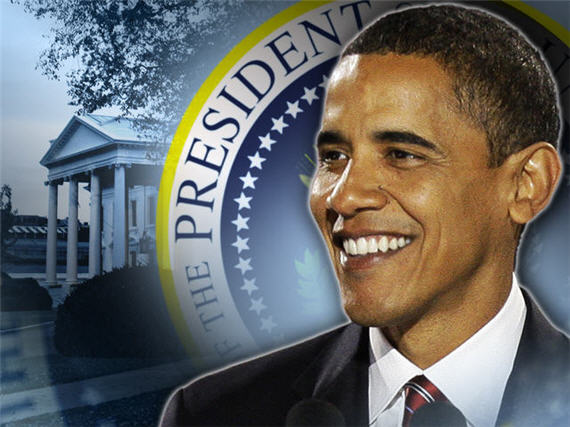 The RNC has asked the DOJ to investigate whether President Obama's use of the White House to film a fundraising video violates the Hatch Act.
Here's the video in question:
Politico ("Reince Priebus accuses Obama of 'an apparent crime'"):
Republican National Committee Chairman Reince Priebus is accusing President Barack Obama of committing "an apparent crime" when he recorded a video in the White House as part of a raffle to raise money for his reelection campaign.

"The facts of this case strongly suggest a crime was committed," Priebus said in a letter Monday to Attorney General Eric Holder. "I call on the Department of Justice to investigate this possible criminal act by the President of the United States."

Priebus's letter argues that Obama appears to have violated the Hatch Act, a federal law that restricts political activity and fundraising by federal employees. One part of that law makes it illegal for officials, including the president, to "solicit … a donation of money or other thing of value in connection with a Federal, State, or local election, while in any room or building occupied in the discharge of official duties."

However, some good-government groups and campaign finance experts have shrugged off the Obama video and the related raffle, which was announced last month and sought a campaign donation of at least $5. In the fine print, it said no donation was required. And one expert said Monday that Priebus's letter was off the mark.

"This letter is an embarrassment to the Republican Party, of which I count myself a part," said Richard Painter, an ethics lawyer in President George W. Bush's White House.

"The small donors get nothing in return for their donation except a chance to support a candidate they believe in — until this raffle. Now they get a raffle ticket entitling them [to] a very small chance of getting the type of meeting that a big donor has for the asking," Painter said. "To call this a crime yet ignore the larger problem is absurd. Writing this kind of letter — after standing in the way of campaign finance reform — is laughable."
Well, no. Something is a crime when it's in violation of the law. If Obama violated the Hatch Act, then he's committed a crime.
Now, I happen to think this interpretation of the law is idiotic. I honestly don't care whether presidents and vice presidents–or even senators and representatives–make their fundraising calls from their official phones or go across the street and make them on private phones; the location generally doesn't change the character of the act.
But, if it's against the law for the president to film campaign videos in the White House, then he should obey the law. It turns out, however, that it's almost certainly legal:
A 1979 opinion from the Justice Department's Office of Legal Counsel held that a luncheon President Jimmy Carter hosted in 1978 with Democratic Party donors could not have violated the Hatch Act because it took place in the family dining room of the White House.

The Obama White House has cited the Carter-era opinion to argue that rooms in the White House residence — such as the Map Room, where the raffle video was made — can legally be used for political activities and even fundraising.

"I do not know whether there has been a technical violation or not because the video was made in the Map Room," Painter said. "I do not recall the Map Room being a place where a lot of official business was done at the White House, and I am sure a lot of official business does get done in the residence. So the distinction is purely technical."
Purely technical, indeed. But the White House is in fact Barack Obama's home. Presidents and their families are expected to live in the White House and, so far as I'm aware, all of them have. It would be absurd to expect them to leave their home to entertain guests or make phone calls and such that happen to be politically related. Frankly, pretty much everything a first term president does is related in some way to his re-election campaign. To the extent that the taxpayers are being forced to make a contribution to his campaign, certainly his filming a video in his official residence is the least of it.
Indeed, it strikes me that the bigger deal here isn't that he filmed the video in the White House but that he's raffling off a meeting with the president. But, as Richard Painter notes above, presidents of both parties essentially do that all the time.
Obama aides also say that because the president does not explicitly ask for money in the video but simply encourages people to take part in a "contest the campaign is running," his pitch does not amount to a request for money.
Now, this is rather silly. Encouraging people to take place in "a contest" that asks for money for his campaign is asking for money for his campaign. It might not be a technical violation of the letter of the law–I simply don't know–but it's certainly a violation of the spirit.
"This was wholly appropriate and routinely done in past administrations, as evidenced by an abundance of examples spanning the past three decades," White House spokesman Eric Schultz said when asked about Priebus's letter. "In fact, experts and lawyers have said publicly that all of what this administration is doing is above board."

[…]

Schultz noted that in 1987 President Ronald Reagan held an event in the East Room thanking donors for giving Republicans the "financial strength to recapture" the White House and reportedly called on them to continue giving. Reagan also called in to fundraising receptions from the White House. Internet fundraising materials for the Republican National Committee in 2008 linked to images of Bush in the Oval Office.

Absent from the Obama White House's list of historical examples is Vice President Al Gore's acknowledgment in 1997 that he solicited campaign contributions in telephone calls from his office. He said "no controlling legal authority" prohibited the practice, but he also said he would not do it again. No legal action was taken against Gore.
Where to draw the line for using the White House to raise money and reward donors is tricky business. While I'm a big fan of Reagan and not so much of Gore, I'd have to say that an official dinner thanking donors is a bigger deal than some phone calls. But neither strikes me as over the line. Auctioning off stays in the Lincoln Bedroom to the highest bidder, as Bill Clinton did, offends my sense of propriety. But it's probably legal.