ObamaCare Unpopular in Swing States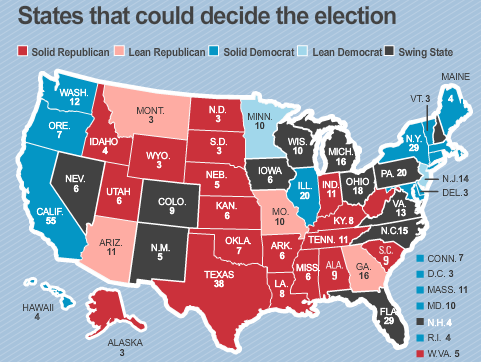 President Obama's health care reforms are not winning him fans in the swing states.
USA Today ("Swing states poll: Health care law hurts Obama in 2012"):
The health care overhaul that President Obama intended to be the signature achievement of his first term instead has become a significant problem in his bid for a second one, uniting Republicans in opposition and eroding his standing among independents.

In a USA TODAY/Gallup Poll of the nation's dozen top battleground states, a clear majority of registered voters call the bill's passage "a bad thing" and support its repeal if a Republican wins the White House in November. Two years after he signed the Patient Protection and Affordable Care Act— and as the Supreme Court prepares to hear arguments about its constitutionality next month — the president has failed to convince most Americans that it was the right thing to do.

[…]

Though the law has avid supporters, especially in the president's Democratic base, the net effect among middle-of-the-road voters is negative for him. What's more, the issue unites the GOP when the party is fractured among competing presidential contenders.

In the poll, Obama lags the two leading Republican rivals in the 12 states likely to determine the outcome of a close race in November:

•Former Pennsylvania senator Rick Santorum tops Obama 50%-45% in the swing states. Nationwide, Santorum's lead narrows to 49%-46%.

•Former Massachusetts governor Mitt Romney edges Obama 48%-46% in the swing states. Nationwide, they are tied at 47% each.

Romney also has a health care problem: Among Republicans and Republican-leaning independents in the battleground states, 27% say they are less likely to support him because he signed a Massachusetts law that required residents to have coverage. Just 7% say it makes them more likely to back him.
Of course, if Romney is the nominee, this issue may not matter.