Obama/DNC Raise A Combined $70,000,000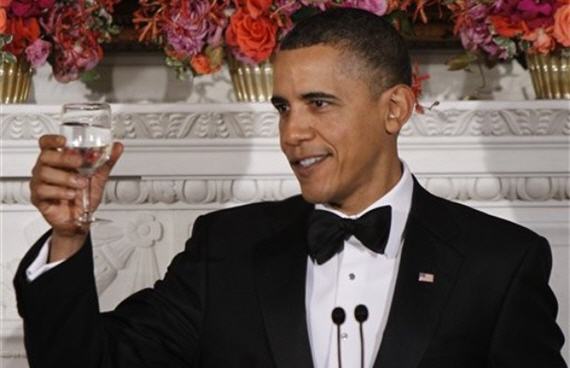 The Third Quarter was quite successful for President Obama and the Democratic Party:
The Obama Campaign and Democratic National Committee raised a combined nearly $70 million for the 2012 campaign from July through September, the groups reported today in an email to supporters.

Obama for America brought in $42.8 million, while the DNC banked $23.7 million, a campaign official told ABC News.  The figures include transfers from the Obama Victory Fund, a joint account that funnels money to both groups.

All 17 fundraisers Obama attended during the quarter supported the fund, with the first $5,000 of an individual's contribution going to the Obama Campaign and the rest, up to $30,800, going to the DNC.

Obama's robust total, surpassing the campaign's $55 million goal, reflects the continued effectiveness of his campaign money machine, and the advantages of incumbency to help turn out cash, all despite months of sagging poll numbers and flaring economic frustration.

While Obama did not best George W. Bush's record $50.1 million raised in the same period in 2003, he demonstrated that he retains a solid and growing base of grassroots financial support.

More than 606,000 people donated to Obama in the third quarter, including 257,000 first-time donors.  The campaign has now received contributions from nearly 1 million Americans so far this year.

"Getting to a million grassroots donors isn't just a huge accomplishment this early in the campaign," Obama campaign manager Jim Messina said in the email to supporters. "It's our answer to our opponents, the press, and anyone who wants to know whether the President's supporters have his back."

Many of those are small donors, giving $250 or less, according to numbers provided by the Obama Campaign.  Of the 766,000 donations received in July, August and September combined, 98 percent were $250 or less, officials said.  The average donation was $56.
And each of those donors can be solicited again. By the time the Republicans have settled on a nominee, Barack Obama is likely to have several hundred million, if not close to a billion, dollars in the bank and a fully funded nationwide ground operation. Don't go measuring for drapes in the Oval Office just yet, Republicans.