Obamarator: Something Interesting For the Blog
A cryptic email leads to the discovery of what appears to be some sort of Barack Obama themed sex toy. A typically day in the life of a blogger.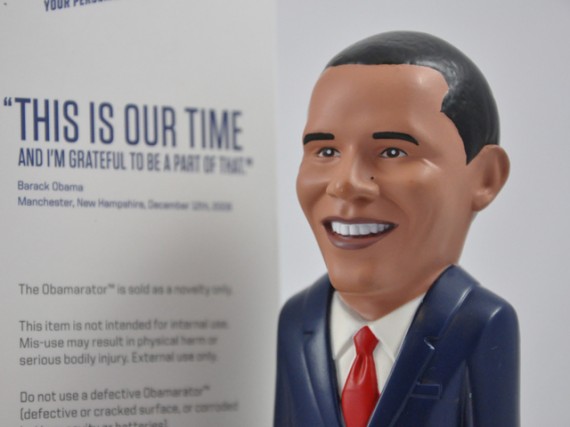 So, I get an unsolicited email from a representative of something called rightbrainpromo.com with the following inquiry:
If I would like to mail something to Outside the Beltway, what would the best address?
Sensing something odd about the lack of specificity, I reply:
It'd depend what you were mailing!
They respond:
We just launched a new product and would like to send it your way.

Check it out at the link below:

http://www.obamarator.com/
So, I dutifully check it out at the link above and discover that:
The Obamarator is approximately 8.5″ tall x 1.5″ in diameter. Who says size doesn't matter?
Multi-Speed Stimulation. From Conservative to Extreme Liberal, the Obamarator is an equal opportunity stimulator.
Splash Proof Design. In the office or in the shower, the Obamarator never stops stimulating for you!
Hygienic Phthalate-Free Body-Safe Materials. Gentle enough for even those most intimate of places.
Non-toxic paints and materials. Always practice safe personal stimulation.
Requires 2 AA Batteries (not included). Kind of like taxes…you have to pay to play.
Comes packaged in a specially designed gift box with clear window. No hidden agenda here.
And the thing retails for $29.99.  Plus, I'm guessing, shipping.  (You have to fill out a long form to order.)   Still, while the generosity was appreciated, I couldn't figure out what I'd do with this thing.  And, frankly, didn't want to spend too long contemplating it.   So, I replied,
I don't think I have a use for one of those.
And they respond:
Thought it might be interesting for the blog…
To which I reply:
Not so much.
But, upon reflection, I decided they were right!   But I still don't have any use for the actual product.