Obama's 2012 Opponent ? George W. Bush
The Obama Administration seems to be saying that "Blame Bush" will be at the core of their re-election strategy. Good idea ? Not really.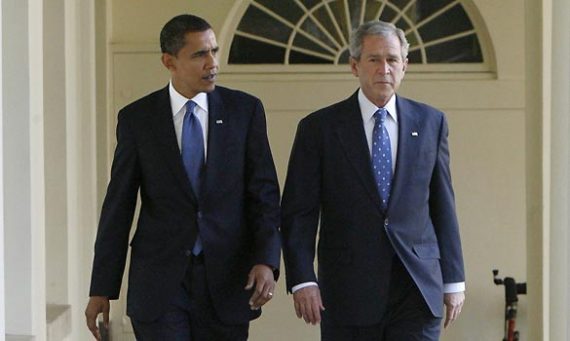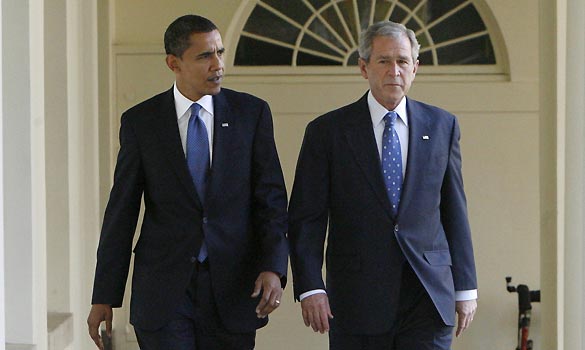 The 2012 elections are still two years away, but already the White House is telegraphing their re-election strategy, and it involves campaigning against George Bush regardless of who the Republicans nominate:
White House spokesman Robert Gibbs didn't talk about Sarah Palin specifically yesterday, but he did address any Republican who is thinking about challenging President Obama in 2012.

The bottom line: Regardless of who the Republicans nominate, the White House is likely to run against the previous GOP president, George W. Bush.

Both the congressional campaign this year and the 2012 presidential race will feature talk "about the direction that this country is going to go," Gibbs said.

"You're going to get an opportunity to think about whether we're going to go back to what we came from or that we're going to go forward," Gibbs said. "And that's a debate I think the President and many here are anxious to have."

Gibbs spoke after declining to comment specifically on Palin's new "Mama Grizzlies" ad, which, along with the $1 million-plus raised by her political action committee, has rekindled talked of a Palin-for-President campaign.
This isn't all that surprising a strategy, of course. When Ronald Reagan was running for re-election in 1984, one of his primary campaign themes involved reminding voters where the nation was just four years previously, as in this commercial.
So, running against your predecessor isn't necessarily a bad strategy, or a dumb idea. However, when Reagan did it in 1984, they were able to point to the fact that things actually were better than they had been under the previous Administration. Absent a real economic turnaround over the next two years, the Obama camp's continued reliance on the "Blame Bush" strategy is going to ring pretty hollow with most voters and, as today's poll numbers indicate quite clearly, the public has moved away from the idea that Obama deserves a break because of the condition the country was in when he took office.
It's his mess now and, if he doesn't fix it a campaign built around saying "but the other guy was worse" isn't going to go very far.