Obama's Astrategic ISIS Strategy
The plan won't achieve achieve its stated goals.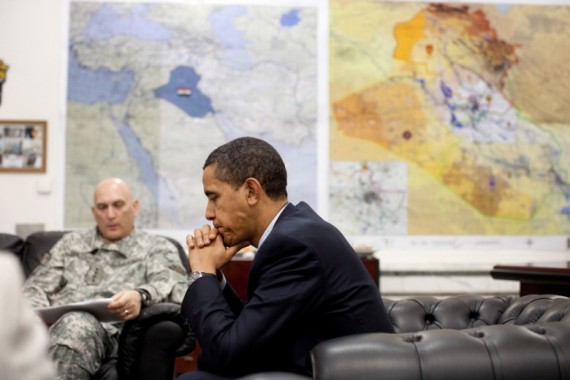 The more considered version of my reaction to President Obama's ISIS speech, "Whack-a-Mole: Obama's Real ISIS Strategy," has posted at The National Interest.
This "new" policy, then, is simply the logical continuation of Obama's existing ISIL nonstrategy and, indeed, his general counterterrorism strategy of blowing up the bad guys and hoping they get tired of it eventually. We could call it the Global War on Terror, but, alas, that name's been taken. Furthermore, it's not at all obvious what more the United States can or should do to destroy ISIL. The threat to the homeland is too tangential at present to warrant the proverbial boots on the ground. So, it's Whack-a-Mole with no end in sight.

But, ultimately, it'll at best accomplish the president's goal of degrading ISIL. As we've learned again and again, the only way to "destroy" such a movement is to change the political conditions that created it in the first place. That's not achievable with airpower. Nor, as we saw in Iraq and Afghanistan, is it achievable even with a substantial American ground presence, unless we're willing to invest far more time and resources than public opinion has been able to tolerate in the past.

[…]

Given that our policy objectives are at cross purposes, it's impossible to craft a strategy that will achieve them. And, as much as it may sound like it, that's not a criticism of this president or even of U.S. foreign policy writ large. We're a global superpower with overlapping interests that frequently don't match up well with the geopolitics of the regions in which we have interests. We're not going to choose between the Sunnis and Shiites any more than we're going to choose between the Arabs and Israelis. But that means we're going to continue muddling through from crisis to crisis, forced to "do something" about the worst of them, without resolving any of them.

As frustratingly ineffective as Whack-a-Mole is as a tactic—it ain't a strategy—it may well be the best course of action available to us.
It occurred to me in bandying the speech around in the comments section of my initial posting on this and then again in class yesterday with a group of field grade military officers, is that my frustration with the speech is much more with the speech itself than the policy. That is, the president is taking prudent moves to contain a legitimate threat to US national interests while minimizing the risks commensurate to the threat to the homeland. At the same time, the moves don't live up to the rhetoric in the speech about "defeating" ISIL and all the talk about regional partners is just silly. But that's mostly an unfortunate byproduct of the need to sell the action to an American public divided into its historical Jeffersonian, Hamiltonian, Jacksonian, and Wilsonian strains. The rhetoric almost always exceeds our aims because of that.