Obama's Bracket
President Obama shouldn't be criticized for picking his NCAA tourney brackets during wartime. But he shouldn't get much credit, either.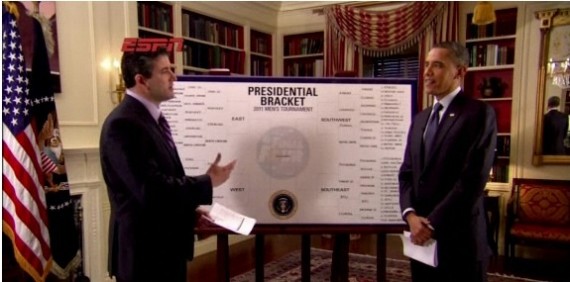 Andrew Sullivan passes along a reader note analyzing President Obama's much-talked-about NCAA tourney bracket:
Don't know if you all have been keeping up, but Obama's NCAA tourney bracket is in the top 0.3% of all 5 million ESPN bracket pickers. It's a revealing bracket.

[…]

While going with the favorites in most cases, he picked a few underdogs in the first (now called "second") round – notably Gonzaga, Richmond and Florida State – who pulled upsets. I thought it encapsulated his overall personality well – clear-headed and realistic about the tendency of events to play out based on historical precedent (e.g. according to the seedings), but willing to buck conventional wisdom when his own judgement argues against it. At the risk of extending the metaphor too far, you get the sense that someone like John McCain's bracket would be filled with all upsets, and that Mitch McConnell would choose all the higher seeds. Most people aren't really able to switch back and forth between different mindsets as facilely as Obama. Either the underdog is always going to pull an upset, or the favorite is always going to come out on top.
When I defended Obama from criticism that he shouldn't have been filling out his brackets when the world was exploding with crisis, one of the points I had in the back of my mind was the strong likelihood that Obama's brother-in-law advised him on which teams to pick.  If so, that rather mitigates the notion that Obama is some sort of basketball savant, too.
For those unfamiliar with the backstory, Obama's brother-in-law is Craig Robinson, head men's basketball coach at Oregon State. Being familiar with the teams in the tournament is, therefore, his vocation. And the two are quite close. The odds that the president tapped this expertise before going on national television to pick his brackets approach 100 percent.
To be sure, Obama is a basketball enthusiast. He played in high school and is reportedly still quite skilled at the game for a man in his late 40s–let alone one whose day job is leader of the free world. But anyone who thinks he has time to watch more than the highlights of college basketball action is kidding themselves.