Obama's Bridge Collapse
President Obama would like to sell you something.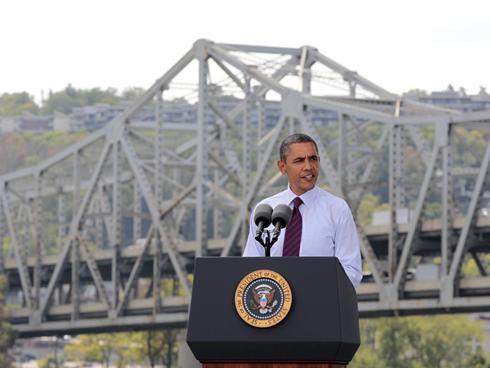 President Obama made a swing through the Northern Kentucky/Cincinnati area today to stand near a bridge and call out Speaker Boehner and Senate Minority Leader McConnell (whose states, by "pure coincidence," the bridge just happens to connect) for not passing his 'jobs bill' already.
Jay Carney set the stage last week, saying, "It's pretty clear that this bridge could benefit from a little repair and renovation." Saying the bridge is "in such poor condition that it has been labeled functionally obsolete," the President today demanded immediate passage of his 'jobs bill' to put people to work right now. But this kabuki dance is less about bridges than those dastardly Republicans:
"It desperately needs rebuilding, as do substandard roads and bridges all across America," White House spokeswoman Amy Brundage said. As the two most powerful Republicans in Washington, Speaker Boehner and Senator (Mitch) McConnell can either kill this jobs bill or help the president pass it right away."

"Instead of looking for every excuse to justify doing nothing about the damaged infrastructure in their states, we believe it's in their interest and the country's interest to act as soon as possible and put people back to work."
If you're wondering why the second-most powerful Democrat in Washington–Senate Majority Leader Reid, who can't seem to find time for the bill on the Senate's calendar–didn't get a mention, well, just stop. There's a campaign theme to be developed here.
In the speech, in his usual pick-a-straw-man-and-beat-it-into-flinders fashion, Obama bemoaned opposition to infrastructure spending: "We are better than that. We are smarter than that." If only that were true of his administration. No competent political operation (IOW, some other operation than this White House) would ever have allowed its principal to do this photo op. But apparently the "accidental" association with his Congressional Republican rivals was just too juicy to pass up. Or even do some basic fact gathering about to make sure it made sense.
For one thing, the river crossing in question is already slated for a new bridge. It's been in the planning stages for years; the project is currently barely into the public comment phase. In fact, Obama's own FHWA doesn't expect it to start construction in 2015 or be completed until 2022.
The President did not explain how his 'jobs bill' will alter time so that the project can start creating jobs "right now."
Worse, Obama, Carney, and Brudnage are flat-out wrong. The I-75 corridor is indeed outdated, but the bridge itself doesn't actually need repairs:
It's got decades of good life left in its steel spans. It's just overloaded. The bridge was built to handle 85,000 cars and trucks a day, which seemed like a lot back during construction in the Nixon era. [Ed. – the bridge opened five years before Nixon was elected President.]

Today, the bridge sort of handles more than 150,000 vehicles a day with frequent jam-ups.

So, plans are not to repair or replace the Brent Spence Bridge. But to build another bridge nearby to ease the loads.
His first "stimulus" bill could, perhaps, have been used to repair some of the hundreds of bridges nationwide that actually do need repair–if he had required the states to use the extra money for such purposes as a condition of accepting it rather than using it instead of their own money. But he didn't, so they treated it as found money and funded other things that, apparently, had a higher priority (i.e., keeping public sector unions happy while infrastructure employment actually declined). So now, knowing that he can't even count on all of his own caucus in the Senate to vote for it, he uses a bridge that doesn't need fixing as a prop to castigate Boehner and McConnell for not pushing his bill anyway.
All in all, a pretty typical day for our gaffe-prone, increasingly-ridiculous President. And a near-perfect metaphor for his entire, intended-to-fail "jobs bill."