Obama's Failed Middle East Strategy
Walter Russell Mead explains why a well intentioned, carefully crafted and consistently pursued grand strategy failed.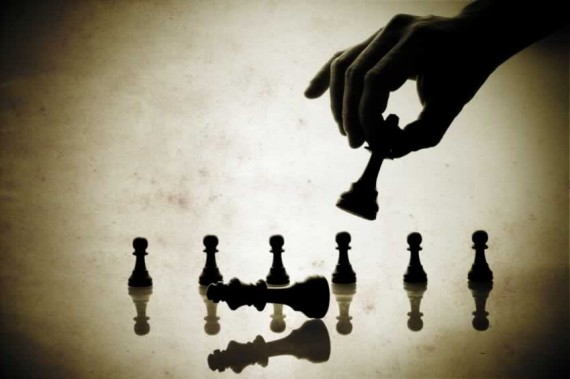 Walter Russell Mead has a terrific piece in the WSJ on "The Failed Grand Strategy in the Middle East."
The argument is tightly written and largely defies excerpting but three highlights:
The plan was simple but elegant: The U.S. would work with moderate Islamist groups like Turkey's AK Party and Egypt's Muslim Brotherhood to make the Middle East more democratic. This would kill three birds with one stone. First, by aligning itself with these parties, the Obama administration would narrow the gap between the 'moderate middle' of the Muslim world and the U.S. Second, by showing Muslims that peaceful, moderate parties could achieve beneficial results, it would isolate the terrorists and radicals, further marginalizing them in the Islamic world. Finally, these groups with American support could bring democracy to more Middle Eastern countries, leading to improved economic and social conditions, gradually eradicating the ills and grievances that drove some people to fanatical and terroristic groups.

[…]

With the advantages of hindsight, it appears that the White House made five big miscalculations about the Middle East. It misread the political maturity and capability of the Islamist groups it supported; it misread the political situation in Egypt; it misread the impact of its strategy on relations with America's two most important regional allies (Israel and Saudi Arabia); it failed to grasp the new dynamics of terrorist movements in the region; and it underestimated the costs of inaction in Syria.

[…]

One of the interesting elements of the current situation is that while American foreign policy has encountered one setback after another in the region, America's three most important historical partners—Egypt's military, Saudi Arabia and Israel—have all done pretty well and each has bested the U.S. when policies diverged.
What's noteworthy about the failures is that little of this was obvious. The only obvious-in-hindsight miscalculation was absurdly high expectations of the Arab Spring; but getting caught up in the spirit of a movement that ostensibly supported our values and interests is certainly understandable.
Further, as brilliant as Mead's analysis of the cultural and political causes of the policy failures—and I recommend reading the full piece to get the nuances—his proposed way forward is problematic, indeed.
First, allies matter. Israel, Saudi Arabia and the Egyptian military have been America's most important regional allies both because they share strategic interests and because they are effective actors in a way that groups like the Muslim Brotherhood and smaller states aren't. If these three forces are working with you, then things often go reasonably well. If one or more of them is trying to undercut you, pain comes. The Obama administration undertook the hard work necessary to rebuild its relationship with Israel; it needs to devote more attention to the concerns of the Egyptian generals and the House of Saud. Such relationships don't mean abandoning core American values; rather they recognize the limits on American power and seek to add allies where our own unaided efforts cannot succeed.
Allies certainly matter and Israel, Saudi Arabia, and Egypt are certainly, along with Turkey, the most important states in the region. We've historically had reasonably good relations with all of them. But, Realist as I am, I find cozying up to the Egyptian military at a time when it has overthrown a democratically elected government and is ruthlessly slaughtering its opposition more than a little problematic. While no fan of the Muslim Brotherhood and fully recognizing the hamhanded excesses of the Morsi presidency, the people chose an Islamist government. There just aren't enough liberals to go around. In the longer run, backing strongmen who violently oppose our values has tended to backfire.
Second, the struggle against terror is going to be harder than we hoped. Our enemies have scattered and multiplied, and the violent jihadi current has renewed its appeal. In the Arab world, in parts of Africa, in Europe and in the U.S., a constellation of revitalized and inventive movements now seeks to wreak havoc. It is delusional to believe that we can eliminate this problem by eliminating poverty, underdevelopment, dictatorship or any other "root causes" of the problem; we cannot eliminate them in a policy-relevant time frame. An ugly fight lies ahead. Instead of minimizing the terror threat in hopes of calming the public, the president must prepare public opinion for a long-term struggle.
While Mead's analysis of the threat here starts off well, there's a difference between dispersion and power. Al Qaeda is more scattered and harder to root out than it was on 9/11. But by all measures it's less able to mount major attacks on American interests. Additionally, its aims seem to have reverted to what they were before Osama bin Laden and Ayman al-Zawahiri built the organization out of a motley collection of jihadist groups, returning to a more domestic focus. For that matter, it's hard to argue that the Obama administration has downplayed the threat right after a historic wave of embassy closings and travel warnings. Nor has he taken the gas off of the war on terror, even though he's stopped calling it that. We're killing terrorists, militants, and young men who might conceivably be either all across the region in a massive drone campaign.
Can we "address the root causes" our way out of this? I don't think so. But it's not clear to me what an "ugly fight" would look like given what we've been doing for the past twelve years.
Third, the focus must now return to Iran. Concern with Iran's growing power is the thread that unites Israel and Saudi Arabia. Developing and moving on an Iran strategy that both Saudis and Israelis can support will help President Obama rebuild America's position in the shifting sands. That is likely to mean a much tougher policy on Syria. Drawing red lines in the sand and stepping back when they are crossed won't rebuild confidence.
I honestly don't know what this means (I've sent a query via Twitter but it's early) but I'm pretty sure I don't like it. I agree that drawing red lines and not enforcing them is bad policy; I'd prefer to stop drawing lines we don't intend to enforce than to start stupid wars to save face. And, sure, getting Saudi Arabia and Israel on board our Iran policy is a good idea—so long as that doesn't mean waging yet another war with can't win.