Obama's Golf Clubs
Michelle needs to stop buying shoes--but Barack's keeping his golf clubs.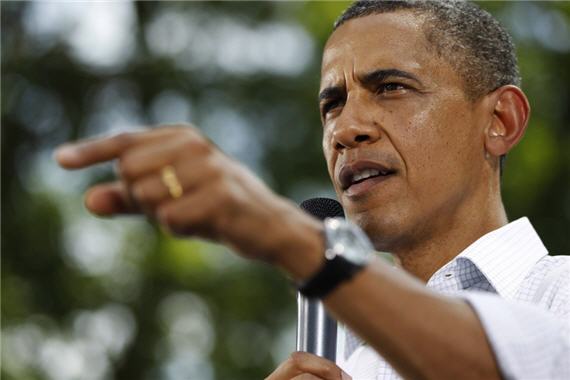 On his Official Business Not a Campaign I Swear bus tour, President Obama used a folksy analogy:
In Cannon Falls, Minn., the president compared negotiating with House Republicans to negotiating with his wife.

"In my house," Obama noted, "if I said, 'You know, Michelle, honey, we got to cut back, so we're going to have you stop shopping completely. You can't buy shoes; you can't buy dresses; but I'm keeping my golf clubs.' You know, that wouldn't go over so well."

In Decorah, he said: "Everybody cannot get 100 percent of what they want. Now, for those of you who are married, there is an analogy here. I basically let Michelle have 90 percent of what she wants. But, at a certain point, I have to draw the line and say, 'Give me my little 10 percent.' "
Maureen Dowd concludes the wrong Obama is in charge: "Maybe Michelle should be the one negotiating with the Republicans."
Digby thinks it's sexist and insulting: "I think somebody's been watching a little too much Mad Men lately. (Or I Love Lucy.) Who talks this way in America today other than rich Beverly Hills throwbacks with a trophy wife and a bad divorce?"
Ann Althouse thinks it shows Obama doesn't understand governments or families: "The federal budget is not the same as a household budget scaled up. A husband and wife can't just 'raise the debt ceiling.' And the 10% Obama is referring to is not the avoidance of an expenditure (like the golf clubs). It's taxes. There is nothing like that in the family budget. The husband and wife do not have the option of commanding other people to give them money."
To me, it shows a lack of understanding of basic economics. Buying new shoes and dresses is new spending on rapidly depreciating assets. Keeping one's golf clubs has no impact whatsoever on the budget, since they're the type of thing one typically pays for outright. One could sell them, I suppose, but the return is typically pennies on the dollar and, unless one expects to be in a budget pinch permanently, that just means that the budget will take a major hit when they have to be replaced down the road at full price.
Then again, it could just be a silly line from a stump speech that's being over-analyzed.