Obama's Gun Control Plan DOA In Congress?
Despite the push it's likely to receive, most of President Obama's gun control proposals will barely even see the light of day in Congress.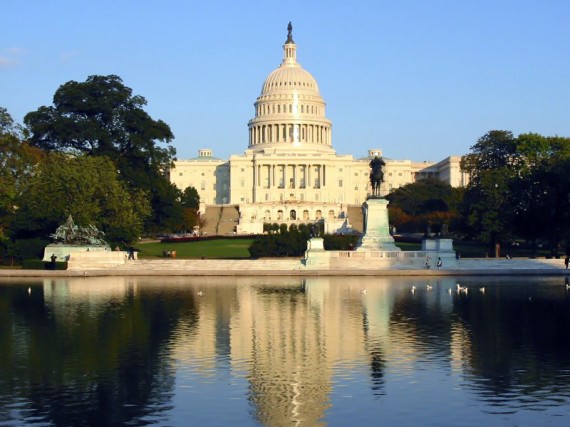 Later this morning, President Obama will unveil a package of proposed legislation and Executive Orders prepared in response to last month's shooting at an Elementary School in Newtown, CT. It's being treated as a big deal by the White House as the President will be surrounded by children who wrote the White House in the wake of the Newtown shootings as well as survivors and family members of victims of the shootings. Clearly, the White House is going full bore on this initiative and it will no doubt play a big role in the State Of The Union address next month. Beyond the Executive Orders, though, which seem to cover areas such as increasing the amount of data that is shared with Federal databases and such other matters, the major parts of what the President will announce today will have to be approved by Congress. As Politico notes today, that is where things become a lot more difficult:
For all the coverage devoted to how much political capital Obama will spend on the hot-button issue and the details of what Vice President Joe Biden's task force will come up with, the political realities of Congress have gotten short shrift. Leaders in both chambers have stalled on the issue, using the Biden commission as cover to not weigh in definitively. But even if Senate Majority Leader Harry Reid were to attempt to muscle through a bill — no sure thing given his own ties to the National Rifle Association and the many red-state Senate Democrats up for reelection next year — there is only the most minimal support among rank-and-file House Republicans for gun control.

Take Reps. Charlie Dent and Jim Gerlach, a pair of moderate Pennsylvania Republicans from swing districts — the kind of suburban communities where gun politics post-Newtown may have changed. In separate conversations, both indicated they were interested in pursuing solutions on mental health to prevent future shootings but neither believes additional gun restrictions are the answer.

"I'm frankly more concerned about the mental health situation right now than anything else," Dent said. "It's very difficult to get somebody committed."

Dent, who represents the Allentown area, noted that semi-automatic weapons are "commonly owned" in his district and beyond. "This AR-15 that they're all talking about is one of the most popular hunting rifles in the country."

Gerlach, who hails from suburban Philadelphia, said he isn't seeking new curbs on firearms or ammunition.

"That's not something, at least in my district, that's a huge issue," he said. "Because most people recognize that responsible gun owners, regardless of what kind of gun they have or the magazine they're using, use them responsibly. It's how do you keep them out of the hands of those that shouldn't have them — that's the key."

Gerlach said he was open to tightening background checks, but not gun restrictions. "I'd be willing to look at [background checks] but actual bans of certain firearms just doesn't seem to be the area we need to be looking at."
Gerlach and Dent alone:
Other House members and senior GOP aides say the fiscal cliff and the supplemental spending bill for Hurricane Sandy has dominated the conference's internal conversation for the past month. They said the gun issue would most likely be raised at their retreat later this week in Williamsburg, Va., and that additional pressure would very likely come with Obama's inaugural and State of the Union speeches.

 But there are unmistakable signals that House Republicans are already looking to punt the issue to the Senate, knowing that Reid is unlikely to force a vote there on a wide-ranging bill.

"Vice President Biden is taking the lead on that as president of the Senate, and naturally it should go to the Senate first," said Rep. James Lankford (R-Okla.), a member of the House GOP leadership. "That's the relationship between Reid and Biden. Let them take it in the Senate, and then we'll take up what they pass out of the Senate and we'll look from there."

Lankford said he was having internal conversations about what Republicans should support, with most of the talk focusing on mental health issues.

Other House Republicans are convinced Obama isn't committed to pushing for new gun control laws and only wants the issue.

"I think all this is the president trying to do this for the far left," said Rep. Devin Nunes (R-Calif.), a senior member of the Ways and Means Committee. "But I don't think they have the votes in the Senate. It's a political exercise for them."
It's not an unwise strategy, really. The Republicans control the agenda in the House, so it would be virtually impossible for any bill on gun control to even get to the Committee or Sub-Committee stage, where it could be send to die quite easily, without the Leadership wanting it to get there. If the House isn't going to act on gun control, then it's unlikely that the Senate will either. Time and again over the past two years, Harry Reid has made it clear that he's not at all keen about making the Senate act on a matter that has no chance of succeeding in the House. It's happened on budget matters and any other number of minor issues, there's no doubt that Reid would have the same considerations in mind in this case. Notwithstanding the passions that have been raised since the Newtown shootings, gun control remains a politically divisive issue, and a particularly risky one for Democrats in certain parts of the country. As I I've noted before, seven of the Democratic Senate seats will be up in 2014 are in states that Mitt Romney won in 2012. One of those seats will be an open race thanks to the retirement of Jay Rockefeller, and there is wide anticipation that Republican Shelly Moore Capito will be the frontrunner for that seat. Reid is unlikely to force these Senators, and the others up for re-election, to put their necks on the line for a controversial bill that he knows isn't going to go anywhere in the House.
There will be much attention paid to the President's plan today and in the days and weeks to come, but when you get down to the hard work of actually trying to pass a piece of legislation, the prospects don't look good at all. As I noted yesterday, if anything does make it through Congress, it's likely to be something very minor and, in the end, inconsequential. The idea of an Assault Weapons Ban will remain part of Democratic rhetoric, as it has been since it expired in 2004, but it's not going to become law any time soon.