Obama's Iraq Policy Is Open-Ended, Directionless, And Likely To Fail
President Obama doesn't seem to have any idea what he wants to do in Iraq.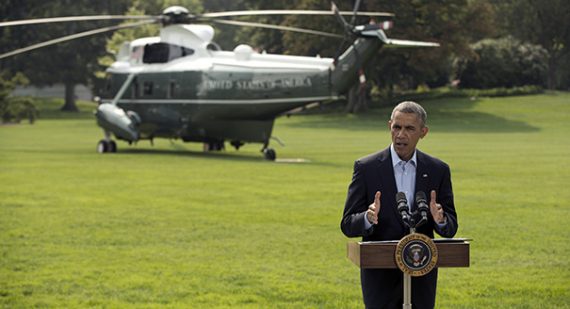 In a speech delivered from the White House South Lawn before he departed for vacation on Martha's Vineyard, President Obama told Americans that the mission that began yesterday with airstrikes against ISIS positions around Irbil, Iraq could last quite a long time:
WASHINGTON — Laying the groundwork for an extended airstrike campaign against Sunni militants in Iraq, President Obama said Saturday that the strikes that began the day before could continue for months as the Iraqis build a new government.

"I don't think we're going to solve this problem in weeks," Mr. Obama told reporters before leaving for a two-week vacation on Martha's Vineyard. "This is going to be a long-term project."

The president repeated his insistence that the United States would not send ground combat troops back to Iraq. But he pledged that the United States and other countries would stand with Iraqi leaders against the militants if the leaders build an inclusive government in the months ahead.
The Washington Post's report expands on Obama's remarks a bit:
President Obama said Saturday that U.S. airstrikes in northern Iraq would remain sharply limited so long as the nation's political leadership remains divided along sectarian lines. But he held out the possibility of more aggressive military intervention if a unified government emerges and said the current crisis is unlikely to be resolved soon.

"I don't think we're going to solve this problem in weeks," Obama said. "I think this is going to take some time."

Obama, speaking at the White House hours after American fighter jets roared over new front lines in northern Iraq, repeatedly emphasized that the extent of political progress in Baghdad will determine the course of U.S. intervention. While explicitly ruling out sending American ground troops less than three years after the last ones left Iraq, he said the U.S. and allies would be prepared to "not just play defense but also engage in some offense" if a new government forms that brings together Shiites, Sunnis and Kurds.

"We can conduct airstrikes, but ultimately there's not going to be an American military solution to this problem," Obama said. "There's going to have to be an Iraqi solution that America and other countries and allies support. And that can't happen effectively until you have a legitimate Iraqi government."
In many respects this isn't all that different from the position that the President took earlier this summer when the crisis in Iraq began after the fall of Mosul. At that point, he pointed out, correctly, that Iraq's problems are largely due to the fact that the government of Nouri al-Maliki has alienated the nation's Sunni population through political repression and retributions for the fact that they supported the regime of Saddam Hussein during the time he was in power. As a result of this, Iraq's Sunni's have reacted by either making their peace with ISIS or by simply refusing to fight for Iraq. Much of the reporting about desertions among the Iraqi military, for example, seem to be attributable to Sunni's who have simply laid down their weapons and walked away from the fight as ISIS advanced. That is a sign of a nation that is united by law, but quickly reaching the point where it is not united in fact, and it's unclear how long it can last.
The United States, along with a host of other nations in the reason, including Iran, have been calling on al-Maliki to form a more inclusive government and reach out to the Sunni population for months now, but he continues to refuse to do so. Additionally, notwithstanding the fact that elections were completed months ago, a new government has yet to be formed in no small part because of disputes within al-Maliki's coalition that are rooted in the ethnic and political divisions that are ripping the nation of Iraq apart. One would have thought that the events of the past several months would have caused the parties in Baghdad to put their political differences aside, but instead they appear to be causing everyone to become more entrenched in their own positions. So, if President Obama is basing his strategy on the prospect for political peace in Baghdad, then he's pretty much dooming himself to failure.
The Washington Post's editors go further, pointing out that the President has no coherent strategy in Iraq:
While U.S. airstrikes and drops of supplies may prevent the terrorist forces from massacring the Yazidi sect or toppling the pro-Western regime in Kurdistan, Mr. Obama lacks a plausible plan for addressing the larger threat posed by the Islamic State. In recent weeks, senior U.S. officials have described the danger in hair-curling terms: The Islamic State forces, which have captured large numbers of U.S.-supplied heavy weapons, threaten not only the Iraqi and Kurdish governments, but also Lebanon, Turkey and Jordan. With hundreds of Western recruits, they have the ambition and capability to launch attacks against targets in Europe and the United States.

Yet by the White House's own account, the measures ordered by Mr. Obama are not intended to defeat the Islamic State or even to stop its bloody advances in most of the region. Instead they are limited to protecting two cities where U.S. personnel are stationed and one mass of refugees. The hundreds of thousands of people in Syria, Lebanon and elsewhere threatened by the al-Qaeda forces will receive no U.S. protection. Nor will the terrorists' hold over the areas they already control, including the large city of Mosul and nearby oil fields, be tested by U.S. airpower.

U.S. officials say that Mr. Obama has refrained from a broader campaign because he believes the Islamic State is "an Iraqi responsibility," as Defense Secretary Chuck Hagel put it. The administration is pushing Iraq's political factions, sharply divided along sectarian lines, to join in forming a new government; once such a government is formed, Mr. Obama said, "the United States will work with it and other countries in the region to provide increased support."

(…)

The White House is hopeful that a new prime minister could be nominated this weekend. Even if that occurs, it probably will take Iraqis many more weeks to agree on a common political program, if they are able to do so at all. Kurds and Sunnis are demanding a major decentralization of power, and one of the "other countries" that the United States must balance is Iran, which seeks to perpetuate Shiite dominance in Baghdad. Meanwhile, as senior Kurdish leaders told the administration in a visit to Washington last month, Iraqi army and Kurdish forces probably cannot defeat the Islamic State on their own.
The Post advocates for a more forceful policy on Obama's part, and a wider campaign against ISIS/Islamic State. I don't entirely agree with that idea for a whole host of reasons, and I suspect that the American people would not support it either. However, even that would arguably better than the muddling policy that the President seems to have adopted now. If you're not going to go to all-in, then you may as well not go in at all.