Obama's Job Approval Numbers Now Worse Than Jimmy Carter's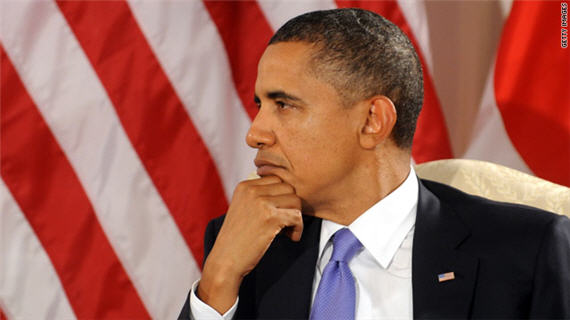 Paul Bedard takes a look at the President's job approval numbers and find historical analogies that are likely to make them uncomfortable at the White House:
President Obama's slow ride down Gallup's daily presidential job approval index has finally passed below Jimmy Carter, earning Obama the worst job approval rating of any president at this stage of his term in modern political history.

Since March, Obama's job approval rating has hovered above Carter's, considered among the 20th century's worst presidents, but today Obama's punctured Carter's dismal job approval line. On their comparison chart, Gallup put Obama's job approval rating at 43 percent compared to Carter's 51 percent.

Back in 1979, Carter was far below Obama until the Iran hostage crisis, eerily being duplicated in Tehran today with Iranian protesters storming the British embassy. The early days of the crisis helped Carter's ratings, though his failure to win the release of captured Americans, coupled with a bad economy, led to his defeat by Ronald Reagan in 1980.

According to Gallup, here are the job approval numbers for other presidents at this stage of their terms, a year before the re-election campaign:

— Harry S. Truman: 54 percent.

— Dwight Eisenhower: 78 percent.

— Lyndon B. Johnson: 44 percent.

— Richard M. Nixon: 50 percent.

— Ronald Reagan: 54 percent.

— George H.W. Bush: 52 percent.

— Bill Clinton: 51 percent.

— George W. Bush: 55 percent.

What's more, Gallup finds that Obama's overall job approval rating so far has averaged 49 percent. Only three former presidents have had a worse average rating at this stage: Carter, Ford, and Harry S. Truman. Only Truman won re-election in an anti-Congress campaign that Obama's team is using as a model.
Could it happen? Yea it could, but it's worth mentioning that the economy in 1948 was a heck of a lot better than it is going to be in 2012 and America is a much different place. I've noted already that I think it's perfectly plausible that the President could be re-elected, but it's not going to be easy, as numbers like this demonstrate.
Update: Since a question has come up in the comments, here is a chart showing the movement in the President's approval numbers in the Gallup daily tracking poll from September 26th through today: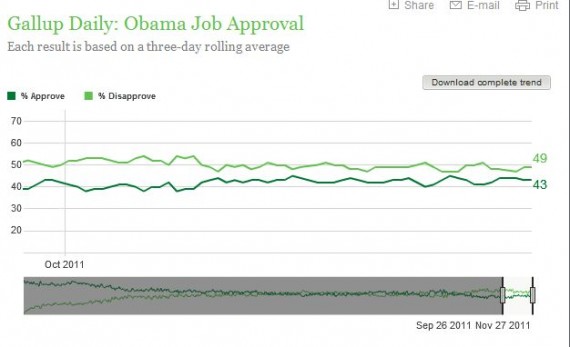 As you can see there's been very little movement in either approval or disapproval numbers over the past two months and, taking into account the margin of error, the variation we do see could possibly be ascribed to statistical noise.