Obama's Job Approval Numbers Take Another Hit
Another poll shows the President's poll numbers dipping.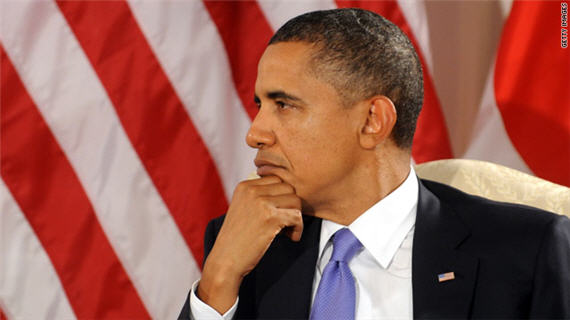 President Obama's job approval have taken a hit a new poll from McClatchey and Marist College:
President Obama's job approval ratings have hit a record low since he was reelected, according to a new poll.

The new McClatchy-Marist poll found Obama's job approval rating at 41 percent, a drop from April, when the same poll found the president's approval rating at 50 percent.

The April job approval numbers were a slight uptick from March when the McClatchy-Marist poll found Obama's approval rating at 45 percent.

The silver lining for the president is that he's still more popular than Congress, the poll found. Just 33 percent of those surveyed approve of the job congressional Democrats are doing. Meanwhile, an even smaller portion, 22 percent, said they approve of the job congressional Republicans are doing.
Digging deeper into the poll, we find that the President's decline is reflected across the board regardless of party:
Among independent voters, the president's performance rating has declined 17 percentage points since April.  Currently, 30% of independents approve of the job President Obama is doing in office.  59% disapprove, and 10% are unsure.  In April, independent voters divided.  47% approved, 47% disapproved, and 6% were unsure.

The president's job approval has also dipped among Democrats.  76% give the president high marks, 15% disapprove, and 8% are unsure.  In April, 84% of Democrats applauded how President Obama was doing in office.  12% thought he fell short, and 4% were unsure.

Among Republicans, 76% disapprove of the president's job performance.  14% approve, and 10% are unsure.  This compares with 87% who gave the president low marks in April.  12% of Republicans thought well of Mr. Obama's performance as president, and 2% were unsure.
In some sense, this appears to be a continuation of the dip in the President's Job Approval numbers that I first took note of last month, which seemed to be tied to the revelations regarding the NSA's data mining and surveillance programs. At the time, it wasn't clear whether or not we were witnessing the beginning of a trend or a temporary blip. Notwithstanding a recent ABC News/Washington Post poll that shows the President's job approval numbers, which it should be noted is a poll of adults rather than a poll of registered voters, it seems clear that we're witnessing a trend. That conclusion is backed up by the current state of the RealClearPolitics average, which shows 48.2% disapproval vs. 45.8% approval, and by the general trend of the RCP average: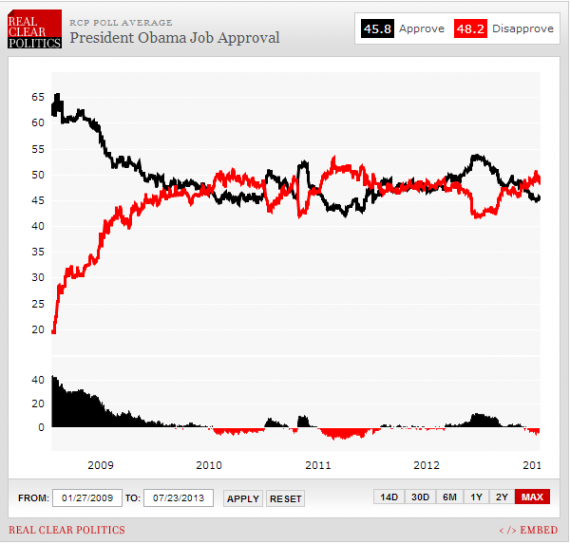 When you dial down to specific issues, things seem to get even worse for the President. His average job approval numbers on the economy stand at 54% disapproval and 41.3% approval and on foreign policy it stands at 49% disapproval and 43% approval. Yes, as the quoted text above notes, the President's numbers remain higher than Congress's own numbers, and the fact of the mater is that its Congress that will be facing re-election in just over a year while President Obama is never going to face re-election again. That doesn't mean that the President and his people can afford to simply ignore how the public views him and rates his performance in office. It will have an impact policy debates on Capitol Hill, and it will likely have an impact on the political fortunes of his party in the upcoming midterms and, in the longer run, in the race to succeed him that will begin almost as soon as the 2014 campaign is over to the extent that it hasn't started already.
These dips in job approval are likely at least part of the reason behind the "pivot" to the economy I wrote about yesterday, with Obama's political advisers hoping that being seen as paying attention to what is no doubt the top issue on the minds of nearly every voter in the country will help turn the President's numbers around. Perhaps it will work, but given the fact that the public has pivoted before with a limited amount of success and follow through, I'm suspecting that it will take some concrete evidence of an economic turnaround for these numbers to actually change. That's not something that the President himself can really control, though.