Obama's National Security Strategy Is Better Than His 'National Security Strategy'
My latest for War on The Rocks, "IS OBAMA REAL(IST) CONFUSED?"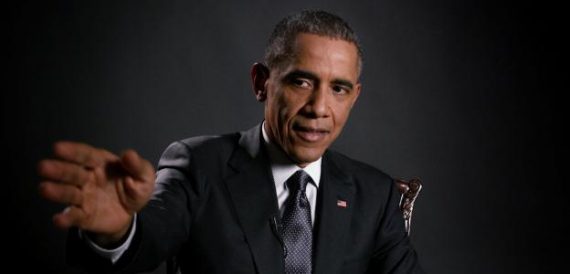 My latest for War on The Rocks, "IS OBAMA REAL(IST) CONFUSED?" has posted. It's the third of four pieces I've written related to the new National Security Strategy. It spells out in detail the argument I alluded to yesterday:
The Obama administration's updated National Security Strategy (NSS), released Friday morning, has been widely panned by defense analysts, including yours truly, as a wish list lacking in strategy, being overly focused on placating the U.S. domestic audience, and "really just a PR exercise." (To be sure, others are more positive, seeing it as rising "above immediate crises and headlines" to provide "a compelling picture of the broader context of the global environment," albeit one not remotely aligned with the administration's military spending and procurement policies.) By contrast, President Obama's actual national security strategy is quite nuanced and very much takes into account costs and benefits. And while he eschews the "realist" label, his actual policy choices seem very much guided by hardheaded weighing of gains to the national interest versus cost in terms of blood, treasure, and bandwidth.

On Monday, Vox released an interview executive editor Matthew Yglesias conducted with the president "in late January." Off-the-cuff Obama is strangely more lucid-and certainly more candid-on his national security priorities than his staff, at least in the form of the NSS. He articulates why he eschews the realist label, identifies "disorder" as our biggest national security threat, and lays out a reasonably detailed series of thoughts on conflict intervention.
The piece is longish and the supporting argument defies excerpting, so I'll refer you to the original piece. I will provide one example:
In closing, the president returns to a constructivist incrementalism: "Our successes will happen in fits and starts, and sometimes there's going to be a breakthrough and sometimes you'll just modestly make things a little better." That requires flexibility and patience: "Sometimes the play you run doesn't work and you've got to have a plan B and a plan C. But the overall trajectory, the overall goal, is a world in which America continues to lead, that we're pushing in the direction of more security, more international norms and rules, more human rights, more free speech, less religious intolerance." Finally, "Those efforts over time add up, and I'm confident that there's a way for us to maintain our idealism, be hardheaded in assessing what's out there, confronting the dangers that we face without exaggerating them."

Just that last paragraph alone contains more strategic nuance than the entirety of the National Security Strategy. By failing to prioritize, the latter makes all threats seem central and all objectives seem equal; that's the opposite of strategy. Thankfully, the president seems to understand that few threats are sufficient to warrant major military intervention and that attempts to make the world safer and more prosperous by spreading our values are worthwhile but not urgent; it's a slow process of chipping away.
As I've mentioned many times previously, my main criticism of the Obama foreign policy is an ironic one: bad messaging weakens reasonably good policy. Obama brought very little substantive policy or executive experience and no foreign policy experience to the table when he first ran for president but rose to prominence mostly on the strength of extraordinary talents as an orator and a much better communications team than Hillary Clinton or John McCain. Yet, he's made reasonably prudent foreign policy decisions, showing sound instincts on most issues, but flubbed the rollouts by either trying to appease multiple constituencies or seeming not to care what people thought about his policies.
Regardless, a National Security Strategy that was a more polished version of the Vox interview would have been much more useful in helping the Defense Department and other agencies set priorities and decide where to take prudent risks.