Obama's New Carbon Rules Pose Political And Economic Risks For Questionable Benefits
The EPA's new carbon rules leave much to be desired.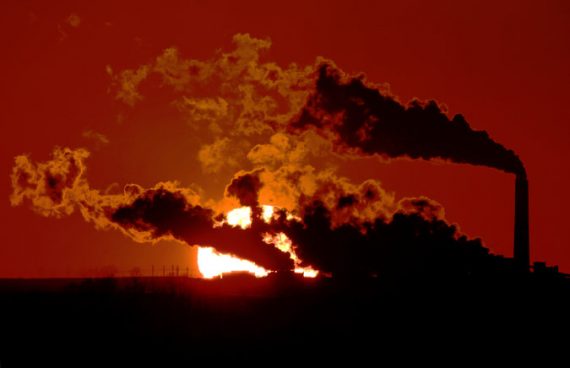 As promised in a report that The New York Times posted on Sunday evening, today the Environmental Protection Agency issued new regulations that aim to cut sharply cut carbon production at the nation's power plants, a move that is destined to have a severe impact on the nation's network of coal-fired power plants as well as the coal industry itself:
WASHINGTON — The Obama administration on Monday announced one of the strongest actions ever taken by the United States government to fight climate change, a proposed Environmental Protection Agency regulation to cut carbon pollution from the nation's power plants 30 percent from 2005 levels by 2030.

The regulation takes aim at the largest source of carbon pollution in the United States, the nation's more than 600 coal-fired power plants. If it withstands an expected onslaught of legal and legislative attacks, experts say that it could close hundreds of the plants and also lead, over the course of decades, to systemic changes in the American electricity industry, including transformations in how power is generated and used.

Gina McCarthy, the E.P.A. administrator, unveiled the proposal in a speech Monday morning.

"Today, climate change — fueled by carbon pollution — supercharges risks not just to our health, but to our communities, our economy, and our way of life," Ms. McCarthy said.

The regulation is likely to stand as President Obama's last chance to substantially shape domestic policy and as a defining element of his legacy. The president, who failed to push a sweeping climate change bill through Congress in his first term, is now acting on his own by using his executive authority under the 1970 Clean Air Act to issue the regulation.

Under the rule, states will be given a wide menu of policy options to achieve the pollution cuts. Rather than immediately shutting down coal plants, states would be allowed to reduce emissions by making changes across their electricity systems — by installing new wind and solar generation or energy-efficiency technology, and by starting or joining state and regional "cap and trade" programs, in which states agree to cap carbon pollution and buy and sell permits to pollute.

In her remarks, Ms. McCarthy repeatedly emphasized the plan's flexibility.

"That's what makes it ambitious, but achievable. That's how we can keep our energy affordable and reliable. The glue that holds this plan together — and the key to making it work — is that each state's goal is tailored to its own circumstances, and states have the flexibility to reach their goal in whatever way works best for them," she said.

Ms. McCarthy also said that the proposal will help the economy, not hurt it.

"For over four decades, E.P.A. has cut air pollution by 70 percent and the economy has more than tripled. All while providing the power we need to keep America strong. Climate action doesn't dull America's competitive edge — it sharpens it. It spurs ingenuity and innovation," she said.
The full scope of the EPA's goals can be seen in this chart, which shows projected carbon emissions through 2050 if the plan is carried out in full: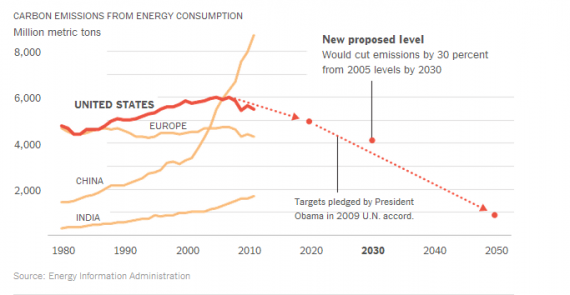 Not surprisingly, the President's political allies are positively giddy about this announcement, not the least because they have been calling on the Administration to take action like this for five years now and have, for the most part, been disappointed. ThinkProgress calls the action "historic." Matthew Yglesias called today the most important day of President Obama's second term. Jason Mark calls the new proposals "Obamacare for the air," a possibly unfortunate choice of words given the unpopularity of the Affordable Care Act and the problematic nature of its rollout. Jonathan Cohn, meanwhile,wonders whether the President is going far enough and whether it will be enough to have a real impact on the rising CO2 levels believed to be playing a large role in global climate change.
Not all of the reviews are positive, though. Ronald Bailey, for one, casts some doubt on the EPA's numbers:
The EPA has crunched the numbers and assures the American public that benefits of implementing this program will hugely outweigh its costs. In its regulatory impact analysis, the EPA calculates the global climate benefits using the social cost of carbon derived from a controversial Interagency Working Group report. That analysis found that social cost of carbon in 2020 ranged over $13, $46, $68, and $137 per metric ton of CO2 emissions (2011 dollars) depending on the discount rate picked by the analysts. The discount rates used were 5, 3, and 2.5 percent. The Working Group derived a high-end figure of $137 per ton in 2020 by looking at the worst 5 percent of the distribution, i.e., the less likely but possibly catastrophic damages using a 3 percent discount rate.

With regard to deriving a social cost of carbon, the EPA's regulatory impact analysis does caution that …

…any assessment will suffer from uncertainty, speculation, and lack of information about (1) future emissions of greenhouse gases, (2) the effects of past and future emissions on the climate system, (3) the impact of changes in climate on the physical and biological environment, and (4) the translation of these environmental impacts into economic damages.

Other than that, everything is evidently OK.

Depending on the discount rate selected, the global climate benefits (not the climate benefits to the U.S.) from implementing this 30 percent reduction in power plant carbon dioxide emissions in 2020 will amount to $4.9 billion, $18 billion, $26 billion, or $52 billion. By 2030, the global benefits would rise to $9.5 billion, $31 billion, $44 billion, or $94 billion. These are just the benefits from lowering future increases in global average temperatures. The vast majority of the benefits have nothing directly to do with cutting carbon dioxide emissions by 30 percent.

The real bang for the buck comes in the form of health co-benefits arising from cuts in air pollutants like sulfur dioxide, ozone, mercury, and particulates. In fact, more than 70 percent of the health co-benefits apparently result from reductions in sulfur dioxide emissions.

The EPA calculates that the maximum cost for implementing the new regulations amounts to $7.5 billion in 2020, while the maximum net climate and health benefits range from $27 to $50 billion at a 3 percent discount rate or $26 to $46 billion at a 7 percent dicount rate. On it's face, that sounds like a pretty good deal. But as I reported last August in my article, "The Social Cost of Carbon: Garbage In, Garbage Out," anyone can pretty much conjure whatever number one wants when it comes to cranking out the social cost of carbon through integrated assessment models that combine econometric and climate prognostications.
In other words, there's every reason to doubt the benefits that the EPA claims will come from these new regulations. This is laid even more bare in the chart above, which shows that, even as carbon emissions in the U.S. over the next 35 years under these regulations while those from Europe remain relatively stable, the carbon emissions from India and, most especially, China, are expected to skyrocket. Given that this is the case, it's entirely unclear that much of anything that the United States does is going to have a significant impact on global carbon levels unless the Chinese, the Indians, and a whole host of other developing countries somehow cut their own carbon emissions, something which at the present time could only happen if they worked to significantly cut their rates of economic and technological growth. That last part, of course, has been the major sticking point of virtually every proposed global agreement on this issue for the past two decades or more. These nations have shown very little interest in taking any measures to clean up their own emissions, a fact that can be seen quite starkly in the frequent pictures of blinding smog in Beijing and Shanghai that have become common in recent years. Given that, it isn't at all clear that the global benefits the EPA claims for these rule changes would actually materialize. At the very least, that is something that ought to be factored into judging their wisdom.
Also worthy of consideration here, of course, is the economic impact that these proposed changes are likely to have. By some estimates, these regulations could lead to the closure of as many as 600 coal-fired power plants across the country, which will have an obvious impact on jobs and on the economies of the areas where these closings take place. The coal mining industry itself, which of course predominantly exists in some of the poorest parts of the country where there aren't many more economic opportunities to speak of, would also be heavily impacted. Electric rates for residences and businesses will rise as power companies and states are forced to engage in the heavy capital expenditures involved in converting coal-fired plants into natural gas plants, or construct entirely new plants as the case may be. All of these and more will have a real impact on the economies of the nation as a whole, and most especially on states that rely on coal-fired planets for their energy needs. While some may argue that these costs are somehow irrelevant, or should be discounted in light of the supposed benefits from the new regulations, they are real and they ought to be taken into account more fully before celebrating these new rules in the way that President Obama's allies are doing today.
In addition to the economic impact that these rules are likely to have, there's also politics at play here. Michael Grunwald at Time refers to the rules as the resumption of the so-called "War On Coal," which has been a talking point in political races since the President took office five years ago. Coal state Democrats are already calling the new rules "disastrous" for their state and distancing themselves from the Administration's actions. And,  as the Times' Trip Gabriel notes, the proposed rules pose real political challenges for Democrats who are already on the edge in those parts of the country where coal and other forms of energy are a large part of the economy:
LEXINGTON, Ky. — The Obama administration's proposal for sharp cuts to emissions from power plants complicates the midterm elections this fall for Democrats, especially since some of the battleground states for control of the Senate are tied to the coal economy.

Alison Lundergan Grimes, the Democrat who is challenging Senator Mitch McConnell, the Republican minority leader, here in the most high-profile Senate race this year, has already been portraying herself as a friend of coal and a sharp critic of Mr. Obama.

On Monday, Ms. Grimes pledged to "fiercely oppose the president's attack on Kentucky's coal industry" if elected.

Natalie E. Tennant, a Democrat running for an open seat in West Virginia, struck a similar tone.

"I will stand up to President Obama, Gina McCarthy, and anyone else who tries to undermine our coal jobs," she said Monday, referring to the head of the Environmental Protection Agency, which is proposing the missions regulation.

The regulation takes aim at the largest source of carbon pollution in the United States, the nation's more than 600 coal-fired power plants. Experts say it could close hundreds of the plants.

Republicans quickly seized on the fact that coal provides the majority of electricity in half a dozen states with hard-fought Senate races, including Arkansas, Colorado, Iowa, Kentucky, Montana and West Virginia.

"The stakes are clear," Reince Priebus, chairman of the Republican National Committee, said last week, adding that a vote for the Democratic senatorial candidate in Kentucky, Virginia or West Virginia "is a vote in support of President Obama's war on coal."

But the issue is likely to play differently state by state, and in some cases the president's aggressive action against greenhouse gas emissions may benefit Democrats who tap into voter sentiment for addressing climate change.

The "war on coal" cry was a losing issue for Republicans in the race last year for governor of Virginia, which has significant coal mining, and which elected a Democrat.

"People on the Republican side overestimate the feelings for this and on our side, Democrats are scared for no reason," said Andrew Baumann, a Democratic pollster. "Some Democrats assume anything about global warming is a political loser. And that's just not the case."

He identified races in Colorado and Iowa, with growing renewable energy sectors, where confronting global warming can help the Democratic candidate in hard-fought Senate contests "if they play it correctly."

In battlegrounds such as Arkansas, Kentucky and West Virginia, where the president is deeply unpopular, the challenge is greater.
That last statement is an understatement, and is likely why we'll see Democratic candidates in those states distancing themselves from the Administration on these new rules, and Republicans pushing the "War On Coal" meme in these states. The political impact is likely to be different in other states, of course, but it's worth noting that, at least as far as 2014 is concerned, the states where this is likely to cause harm to Democrats also happen to be states where the battle for control of the Senate will be decided.
As I've stated before, there really isn't any serious doubt about the science of global climate change. Carbon levels in the atmosphere have increased significantly since the beginning of the the industrial era, and are presently at points that Earth hasn't seen in quite some time. The effect of this is measurable, straightforward, and predictable, and it's quite clear that human activity is playing a role in the climatic changes that science is measuring. Accepting those facts, however, doesn't mean that one is required to accept every environmental proposal that is advanced. The benefits of those proposals must be evaluated, and they ought to be weighed against the costs that would be incurred by implementing them. It requires, in other words, asking tough questions:
It doesn't require anyone to get into the weeds on climate science. It requires asking powerful questions: how much are we willing to sacrifice for the environment? How many jobs, how much of our income, of our technological base? How much of our liberty – just to choose what lightbulbs we use, what washing machines we can have, how much and what we can drive, how long we can leave the lights on – do we want to surrender to an even more bloated government that is driven by special interest politics and not our best interests at heart? How far are we willing to go to impose government force on others who do not share these concerns and wish to take another path?

These are not questions that can be answered by pointing to a model of temperatures over the past century. These are questions that can only be answered by philosophy, ethics, and economics. These are questions that can be answered by going back to the founding principles of our nation and the Hayekian principles that form the backbone of market economies.
Based on these standards, the EPA's new proposals seem to fall short in a number of ways. They, and we, could do a lot better.