Occupy Portland Appears To Be Over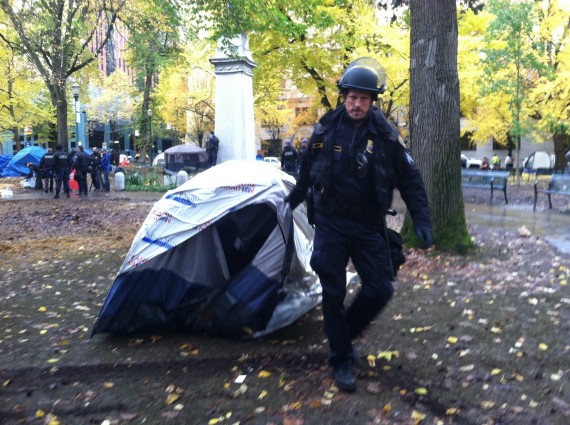 After a conflict with the city, it looks like Occupy Portland has come to an end:
Occupy Portland encampments were nearly empty on Sunday as protesters packed up and left after warnings by city officials that they would be evicted over the weekend.

Fewer than a dozen tents remained at two downtown parks where protesters have camped since early October as part of the nationwide Occupy Wall street movement against alleged economic injustice.

City officials said they planned to put up fences around the two Portland parks to close them to protesters on Sunday afternoon.

"The parks are going to be closed to the public effective when the Portland Police Bureau feels that it can be done in a peaceful and successful way," Mayor Sam Adams said at a Sunday morning news conference.

The mayor had put the protesters on notice on Thursday that they would be evicted "on or after" 12:01 a.m. Sunday.

Since then, many protesters have taken down tents and removed their belongings.
I would expect this to happen more and more in other cities as authorities start to crack down in the face of public health threats and violence. If this movement is going to become something, it will have to move to the next stage, whatever that may be.
H/T: Jazz Shaw