Occupy Wall Street Dirty Hippie Meme Won't Go Away
Even those sympathetic to the causes are frustrated with the squalor and other negative externalities of the protests.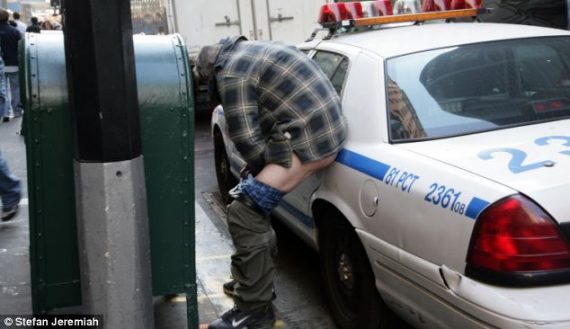 Even those sympathetic to the causes that have sparked the Occupy Wall Street and related movements continue to express frustration with the squalor and other negative externalities of the protests.
The notion came to my attention last Tuesday, when Huffington Post recounted some of the complaints in a report called "Occupy Wall Street Causing Problems On Main Street." I wrote about it it a post called "Occupy Wall Street Hurting the 99 Percent."
I thought this was a one-off but "The Daily Show" featured this segment from Samantha Bee called "Wall Street Occupied" on Thursday's show:
Friday, the New York Times followed up with "For Some, Wall Street Is Main Street," which recounted some of the same anecdotes that have appeared elsewhere about broken sinks and befouled restrooms.
The anticorporate participants in Occupy Wall Street, which began three weeks ago, say they have no intention of leaving soon. The protest has been building in size, with sister demonstrations erupting in other cities, and politicians, labor leaders and celebrities adding their support. But for many neighborhood businesses, the protest's end cannot come soon enough. In interviews, business owners said they were especially annoyed that the organizers of the grass-roots movement neglected to include portable toilets in their plan to bring down Wall Street.

Residents, too, say they are losing patience.

Mothers have grown weary of navigating strollers through the maze of barricades that have sprouted along the streets. Toddlers have been roused from sleep just after bedtime by chanting and pounding drums.

Heather Amato, 35, a psychologist who lives near the protest area, said she felt disturbed by some of the conduct of the protesters. She said she had to shield her toddler from the sight of women at the park dancing topless. "It's been three weeks now," Ms. Amato said. "Enough is enough."

Local politicians have expressed sympathy for the residents' complaints, even as they try to avoid offending the protesters. The speaker of the State Assembly, Sheldon Silver, a Democrat whose district includes Zuccotti Park, the site of the protests, said on Wednesday that the neighborhood had been burdened enough by the protesters' takeover of one of the few parks in the area. "I would suggest that they move their message to other parts of the city and state," Mr. Silver said.
Of course, it's hard to occupy Wall Street unless you're occupying Wall Street.
Mike Keane, who owns O'Hara's Restaurant and Pub, said that the theft of soap and toilet paper had soared and that one protester had used the bathroom but had failed to properly use the toilet. Both Ms. Tzortzatos, owner of the Panini and Company Cafe, and Mr. Keane said the protesters rarely bought anything, yet hurled curses when they were told that only paying customers could use their bathrooms.

Steve Zamfotis, manager of another nearby store, Steve's Pizza, said: "They are pests. They go to the bathroom and don't even buy a cup of coffee."

Mr. Zamfotis closed his bathroom after it repeatedly flooded from protesters' bathing there.

Kira Annika, a spokeswoman for the protesters, wrote in an e-mail that she had not heard such complaints: "We were under the impression that the local business community appreciated our patronage."

In a widely distributed pamphlet, "Welcome to Liberty Plaza: Home of Occupy Wall Street," participants were instructed where to find relief. "After you've dined," it reads, "feel free to refresh yourself in the restrooms of neighboring businesses like Burger King and McDonald's without feeling obligated to buy anything."
NYT columnist Gail Collins piled on in "Wall Street Weeks."
The Occupy Wall Street encampment in Lower Manhattan is covered with damp sleeping bags, interspersed among piles of wet, abandoned clothes. Molding stuff is everywhere. It looks like a scene from "Outdoor Hoarders."

"How about one big cleaning day?" someone asks during a morning meeting.

The others in the group respond by raising their hands and wiggling their fingers. This is a silent cheer, and I cannot tell you how well it works. You can also boo silently by pointing your fingers down and wiggling them. Why have they never used this in the presidential debates? Rick Perry could be standing there explaining his immigration policy while Mitt Romney and Rick Santorum point to the floor and wiggle like crazy. So much more civilized. Once again, youth has shown us the way.
Collins is at least sympathetic.
Waves of nostalgia swept over me. This was exactly how I spent my college years, which were theoretically dedicated to creating a more humane society and stopping the war in Vietnam, but, in reality, mainly involved meetings.
I'm guessing Collins wasn't living outdoors in squalor, occasionally bathing in the sinks of fast food restaurants. But I wasn't there.
Yesterday, the UK's Daily Mail piled on with "Stinking up Wall Street: Protesters accused of living in filth as shocking pictures show one demonstrator defecating on a POLICE CAR."
This are the shocking scenes that have led some people to accuse the Occupy Wall Street protesters living rough in New York's financial district of creating unsanitary and filthy conditions. Exclusive pictures obtained by Mail Online show one demonstrator relieving himself on a police car. Elsewhere we found piles of stinking refuse clogging Zucotti Park, despite the best efforts of many of the protesters to keep the area clean.

The shocking images demonstrate the extent to which conditions have deteriorated as demonstrations in downtown Manhattan enter their fourth week. Further pictures seen by Mail Online have been censored, as we deemed them too graphic to show.

[…]

'Normally the park is cleaned and inspected every week night. . . because the protesters refuse to cooperate. . .the park has not been cleaned since Friday, September 16th and as a result, sanitary conditions have reached unacceptable levels,' CBS News reported. Although many of the protesters are understood to be making strenuous efforts to clean up after themselves, after three weeks of occupation, the strain of hundreds of people living on the street has begun to take its toll.
Some of the stories–including the hyperbolic Daily Mail piece–at least try to maintain some balance, pointing out that many if not most of the demonstrators are trying to be civilized members of society. But it's interesting that even sympathetic venues like HuffPo, The Daily Show, and the NYT are focusing more on the "dirty hippie" angle than on the cause itself.