Occupy Wall Street Hurting the 99 Percent
The Occupy Wall Street protests are, ironically, hurting small business owners and others in the 99 percent.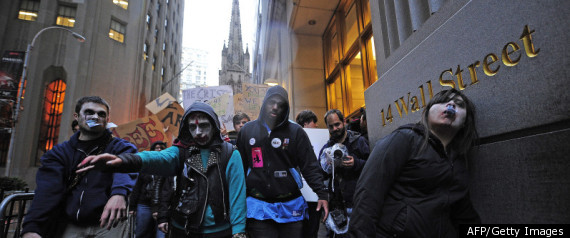 The Occupy Wall Street protests are, ironically, hurting small business owners and others in the 99 percent.
Alicia Ciccone, Huffington Post ("Occupy Wall Street Causing Problems On Main Street"):
As the Occupy Wall Street protests lurch into their third week, the movement appears to be gaining steam. What began in New York's Zuccotti Park has spread to cities across the country, and has become emboldened by well-publicized arrests and celebrity supporters. But the group that says it's fighting against banks and corporations on behalf of the "99 percent" of America's "have-nots" may have caught Main Street in the crossfire — with their continued presence causing big headaches for nearby small businesses.

"Usually, there are hundreds and hundreds of people in this area," said Stacey Tzortzatos, owner of Panini & Co. Breads, which sits adjacent to Zuccotti Park. "People do not want to have to pass through the crowd or walk through the park to come to my business — so they go elsewhere."

[…]

For Tzortzatos, the "occupation" has resulted not just in a loss in business. "I've had a lot of damage from the protesters," she said. "I've had to put a $200 lock on my bathroom because they come in here and try to bathe. The sink fell down to the ground, cracked open, pulled the plumbing out of the wall and caused a flood. It's a no-win situation. If I open the restroom for one, 30 people line up outside, disrupting my business."

A manager at the nearby Essex World Cafe — who asked to remain anonymous — shared similar complaints. Referring to three young men waiting at the end of the counter, he explained, "They want to use the toilet, the phones, we give them free water and free ice. They sit here and don't buy anything, but they recharge their phone batteries with our plugs, and I tell them, 'Hey, if you guys are going to come, I need to do some business here. We are suffering, too!' And then they start with their own words, going against you." The three young men eventually left the cafe, each carrying large containers the staff had filled with hot and cold water for them.

This manager also cited damages, including graffiti on his restroom walls. "For eight and a half years, there was nothing on those walls," he said. "Now it says 'Viva la Revolucion' everywhere. Yes, 'Viva la Revolucion,' but don't write it on my toilet. I let you use my facilities without being a customer and this is what I get?"
This is anecdotal and Ciccone notes that some business owners are sympathetic to the protestors, despite the inconvenience they're causing.
None of this has to do with the merits of the cause. The nature of mass protest movements is that they cause problems for people in surrounding areas, often people who would otherwise be sympathetic to the movement.
That this particular movement has attracted a lot of young people with little respect for the property of others doesn't reflect well on it. But, again, that's a function of demographics rather than politics.
Alas, American protest movements had their zenith with the civil rights marches of the 1960s, when clean scrubbed folks in their Sunday best walked in quiet dignity and shamed the nation. Everything since then has been a pale imitation.