Occupy Wall Street On The Verge Of Fizzling Out?
As the season changes, the Occupy Wall Street movement seems destined to peter out.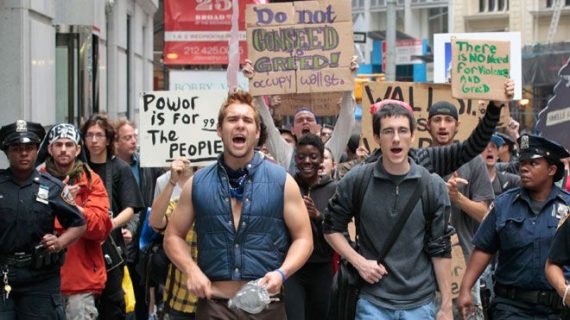 It's getting cold in Downtown Manhattan:
"Winter is coming," announced an organizer at Saturday's Occupy Wall Street General Assembly. "And I am cold." But it's worse than that. Organizers admit that the protests may not be able to survive the winter in their current form. As temperatures drop, the bustling mini-community downtown will probably be reduced to a small group of shivering, hard-core occupiers. And when that happens, the 99 percent will start looking less like a movement, and more like a winter survival course.

The occupation has already seen more than a half-dozen cases of hypothermia as nighttime temperatures have dipped into the forties. As relayed by Occupy's very own meteorologist, rain is due on Wednesday and there could even be snow this weekend.

"It's a combination of being wet and cold that starts the hypothermia," said Ed, a 56-year-old volunteer medic from Maine. "We patrol at night looking for people shivering." Even before the weather turned cold, Occupy medics were seeing cases of trench foot among those who failed to keep their lower extremities dry. With no power to adopt broader proposals, the occupation's medical group is doing what it can in terms of preventative care, including "boosting peoples' immune systems." Translation: orange juice galore. Ed's bottom line, "We just can't stay here in the winter."

"If you don't give us tents, you're going to have hypothermia and chaos," said Michael Glaser, a 26-year-old Chicagoan helping lead winter preparation efforts. But cots and tents are explicitly forbidden by Brookfield rules. Without some kind of shelter, and an ongoing FDNY ban on fires, it's hard to see how occupiers will be able to weather the weather. The city has little incentive to relax its rules — Mayor Bloomberg has even predicted that the protest will wane once the cold sets in.
Anyone who's been in downtown Manhattan in the winter, or especially in the midst of a storm coming off the coast, knows that Bloomberg is right. Some people might stay behind, but the bulk of them aren't going to hang around much longer with those kind of conditions on the way. Moreover, it would be irresponsible of the city to allow an encampment like this to continue under conditions where disease can spread easily, as it apparently has already started to.  Moreover, it's becoming clear that from New York to California, the Occupy protests are beginning to outlive their welcome with city officials:
The Occupy Wall Street protests that started last month in New York City and spread across the USA appear to have worn thin the nerves of downtown denizens, neighbors and businesses as police in several cities are cracking down on demonstrators or preparing to do so.

From coast to coast, there were signs Wednesday that the Occupy demonstrations, which began in a Lower Manhattan park to protest corporate greed and other economic issues, face a growing backlash over concerns ranging from issues such as noise and sanitation to public safety and general cleanliness.

Poor food storage exacerbated a rat infestation in Oakland. Inspectors found open human waste in Philadelphia. Hypothermia cases developed in Denver after a snowstorm hit.

Disease is the chief concern with so many people living in close proximity without proper sanitation

"Any time you have a large number of people in an event like this, there's potential for illness to spread rapidly," said Angelo Bellomo, director of environmental health for Los Angeles County. "Conditions can change within an hour or two."

"I think what they're doing is cool, but I like to sit in the park on nice days, and I haven't been able to go since they've been there," Karen Sanders, 34, who works downtown, says of Occupy Atlanta protesters. "Maybe it's time they tried another approach."
At Zucotti Park itself, the odd social order that has existed there appears to be breaking down as some people realize they're working all for the benefit of others:
The Occupy Wall Street volunteer kitchen staff launched a "counter" revolution yesterday — because they're angry about working 18-hour days to provide food for "professional homeless" people and ex-cons masquerading as protesters.

For three days beginning tomorrow, the cooks will serve only brown rice and other spartan grub instead of the usual menu of organic chicken and vegetables, spaghetti bolognese, and roasted beet and sheep's-milk-cheese salad.

They will also provide directions to local soup kitchens for the vagrants, criminals and other freeloaders who have been descending on Zuccotti Park in increasing numbers every day.

Some protesters threatened that the high-end meals could be cut off completely if the vagrants and criminals don't disperse.

Unhappiness with their unwelcome guests was apparent throughout the day.

"We need to limit the amount of food we're putting out" to curb the influx of derelicts, said Rafael Moreno, a kitchen volunteer.

A security volunteer added that the cooks felt "overworked and underappreciated."

Many of those being fed "are professional homeless people. They know what they're doing," said the guard at the food-storage area.
The frustration it hardly surprising. A month and a half into this thing, whatever it is, it's still completely unclear what the "Occupy Wall Street" movement is all about, what it wants, or if it even can be considered a movement unified by anything other than a bunch of people with enough time on their hands to hang out in parks and sleep under the stars, something that the average American simply cannot relate to. It's said that they are against "crony capitalism, " but the statements from participants make it seem as though they are against the very idea of capitalism itself. Moreover, if it's crony capitalism they're against then why don't they seem very upset by a President who has violated his own promise not to take money from lobbyists? It's said that they are complaining about economic inequality. That's all well and good, but what exactly do they propose to deal with the problem? There are two alternatives, one involves making the rich poorer, the other involves giving the poor and middle class the ability to become richer. Again, based on the rhetoric one sees from the people who claim to speak for "Occupy," one gets the impression that they are more interested in the first alternative than the second and that their movement is based as much on resentment and envy as it is on a desire for a better life for themselves.
Kevin Drum, while sympathetic to the movement itself, expresses doubts that it is engaging in tactics that have any real chance of success:
As weeks drift into months, and the OWS movement continues to shun the very idea of alliance building, political action, or stronger messaging, it looks more and more as if it's going to drift into irrelevance without accomplishing anything. Heavy-handed police action could change that, of course, but at this point it sort of looks to me as if its most promising destiny is to be v1.0 of whatever springs up in its wake. If things go well, OWS will inspire someone else to create a similar group that's better at mobilizing public outrage, but OWS itself won't be part of it. That's no bad thing if it happens that way, but not what OWS's creators were hoping for.
Realistically, I think the most likely outcome is that OWS ends up being something that energizes the Democratic base heading into 2012. The odds of this turning into some kind of mass social movement, as some on the left seem to hope, seems slim, especially since the movement seems to be continuing to draw far more active support from the far left than from the middle of American politics. It's unfortunate, really. There are some real grievances here worth talking about. Crony capitalism is an issue that ought unite people across political aisles, for example. However, much as the Tea Party quickly turned from a populist rant against bailouts, which are the essence of crony capitalism, to a wing of the Republican Party, it seems pretty clear the Occupy Wall Street represents in the political sense little more than the left wing of the Democratic Party. As such it will, as all such movements tend to be once election years come around, be used by the powers-that-be for their own purposes, and then it will largely disappear.
Update: The impractical utopianism of the Occupy movement can also be found in its Washington, D.C. iteration:
The explicitly political content of the occupation shows up on signs and during daily forays into surrounding areas for protests. But the occupiers don't actually spend much time talking about what they want from government. Having specific demands would just legitimize the system, some say—not to mention alienate participants who might not agree with them, and set the standards by which they might succeed or fail.

What they do spend time talking about is how to keep everyone housed, fed, safe, healthy, and entertained. With this protest, logistics are political too: By creating a self-contained, self-governing, radically transparent and egalitarian community, they'll model how the rest of society ought to work.
Matthew Yglesias comments:
There's long been a strain of utopianism running through American life, and various radical movements have decided to go off to different places and form communes rather than trying to change the political system. These utopians are, in important ways, sources of inspiration to broader movements. But they never really work. Electoral politics matters a lot.
If "Occupy" continues to eschew traditional politics in favor of this neo-boehemian love fest, I suspect it's going to become very boring very quickly.