Occupy Wukan
Protesters in the Chinese fishing village of Wukan are now in open revolt against the Chinese government. The government is laying siege to the town.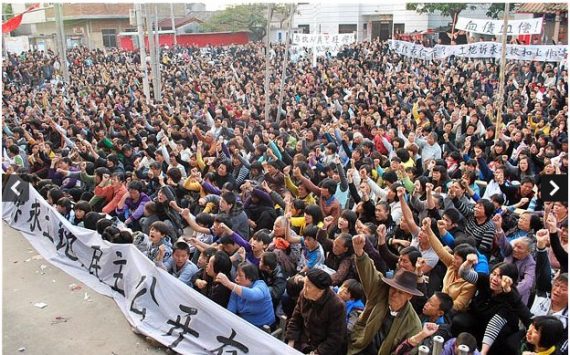 Something remarkable is going on in China:
For the first time on record, the Chinese Communist party has lost all control, with the population of 20,000 in this southern fishing village now in open revolt.

The last of Wukan's dozen party officials fled on Monday after thousands of people blocked armed police from retaking the village, standing firm against tear gas and water cannons.

Since then, the police have retreated to a roadblock, some three miles away, in order to prevent food and water from entering, and villagers from leaving. Wukan's fishing fleet, its main source of income, has also been stopped from leaving harbour.
The original cause of the protest seems to be about the village's land having been forcibly sold off. That's not an isolated complaint. During China's property bubble, which some argue is beginning to burst, there have been frequent complaints along these lines. However, to my knowledge this is the first time that a protest about land has risen to the level of civil order breaking down and the Chinese Communist Party losing control of a village.
According to some reports China has something between 100,000 and 150,000 protests per year over forced relocation, official corruption, environmental degradation, and any number of other reasons. The number of protesters in Wukan is said to be from 10,000 to 20,000. A few Western reporters have managed to sneak in to the village and I've also heard some rumors of satellite photography of them.
Year of the protester, indeed.