Odds Of A Democratic House Takeover Low
The odds for a party switch in the House of Representatives remain quite low.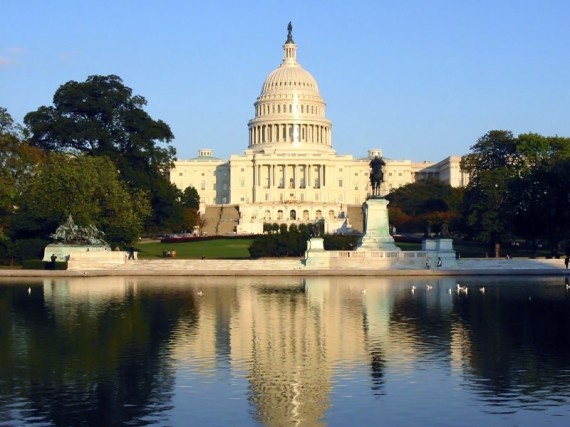 Democrats hoping that their part will be able to take back control of the House of Representatives are finding that, at least for the moment, political reality is telling them that the odds of this happening are very low:
[C]hances that Democrats can gain the 17 seats needed to recapture control of the House appear remote. Republicans have better prospects of picking up the six seats they need to regain the Senate – but not drastically better.

After midterm "wave elections" in 2006 and 2010, the calmer outlook this time reduces the stakes of electoral competition next year. That, in turn, may expand opportunities for bipartisan action on such issues as immigration, modest gun control measures and deficit reduction.

"We're going to maintain our majority," Representative Eric Cantor of Virginia, the House majority leader, said in an interview. But with Mr. Obama not going anywhere either, he added, "I'm committed to seeing ways we can work with this White House, knowing full well we have big differences."

"I think what you're seeing emerge now is an appetite for achievement," said Senator Richard J. Durbin of Illinois, the Democratic whip, who is a solid favorite to win re-election next year. "We want to do some things – or at least try – on a bipartisan basis."

The ideological and political gap between the parties remains wide in any event. But the lure of seizing control of the House or Senate, and winning the presidency, has widened that gap in recent years by injecting all-or-nothing electoral drama into virtually every high-profile dispute.

In 2006, Democrats used unhappiness over the Iraq war, the Bush administration's handling of Hurricane Katrina and other Republican setbacks to recapture House and Senate majorities. When the financial crisis hit two years later, they captured the presidency.

In 2010, House Republicans used continued economic weakness and a backlash against Obama administration policies to create their own comeback wave. Last year Senator Mitch McConnell, the minority leader, set his sights on winning control of the Senate and ensuring Mr. Obama's defeat.

As it turned out, voters last November preserved the existing balance of power. Odds favor their doing the same next time.

As ths is week's fund-raising jaunt suggests, Mr. Obama is lending his energies to Congressional Democrats now that he no longer has to campaign for himself. But history and circumstance argue strongly against Democrats retaking the House.

Since voters tend to blame the White House incumbent for their discontents, the president's party has lost House seats in all but three midterm elections in the past century. The number of times the president's party has gained 17 seats in a midterm election: zero.

Democratic campaign operatives say they will defy history and gain at least a few seats. Among other factors, they point to strong fund-raising and the Republican Party's national image problems.

But district lines drawn after the 2010 census circumscribe their opportunities. Charlie Cook, a political handicapper, estimates that fewer than 30 Republican-held seats are even at risk, and Democrats themselves have slightly more in jeopardy.

The midterm electorate tends to be heavier than in presidential years with older voters and whites – both important Republican constituencies. In Senate races, Republicans once again boast an auspicious map of possibilities
Greg Sargent sees similarly long odds against the Democrats maintaining control:
The basics are pretty straightforward. The party holding the White House tends to lose seats in midterm elections — as Democrats did in 2010 — especially in the sixth year of a two-term presidency, as Republicans did in 2006. In fact, there's only been one case of the party in the White House gaining at that point; Democrats gained a few seats during the Monica Lewinsky scandal in 1998.

And in fact, a seat-by-seat analysis of the 2014 cycle so far, although very early, point to how difficult it will be for the Democrats to gain 17 (net) seats; so does large-picture analysis.
As Sargent goes on to note, there are two ways to look at House elections. One way is to pay attention to the Generic Congressional Vote polling question, which essentially asks poll respondents if they intend to vote for the Republican or the Democrat in the upcoming Congressional elections. As a general rule, if the party in control of the House is in the lead in this poll or the numbers are close, then the probably is that the incumbent party will hold onto control of the House and may even gain seats. If the party out of power is in the lead, then that suggests that they will gain seats in the election.
Presently, RealClearPolitics gives the Democrats an average of a 6.8 point advantage in the Generic Ballot, however there are a few caveats worth noting here. First of all, we are still 19 months away from the 2014 elections. There are plenty of things that are going to happen between now and then that will influence these numbers and the course of the campaign. Indeed, if you go back an examine the Generic Ballot heading toward the 2010 midterms, there were many wild fluctuations in public sentiment in the time between 2009 and Election Day in November 2010. More importantly, there was no indication this early in the 2010 cycle that the Republican Party was headed for a massive landslide that would give them control of the House for the first time since 2006. Given this, it's kind of pointless to look at the Generic Ballot today and assume that it will tell you anything about what's likely to happen in November 2014.
The other way to look at House elections is on a seat-by-seat basis. This is what analysts like Larry Sabato and Charlie Cook do when they release their rankings of Congressional seats as "Safe Republican," Safe Democrat," and the like. Given that there really is no such thing as a national ballot for the House of Representatives, and it is individual characteristics about Congressional Districts that typically have a huge influence over how an election turns out there, there's a fairly good argument that this is the better method by which to view the race for control of the House. Presently, most seat-by-seat analyses of 2014 suggest that the GOP will have little trouble holding on to its majority but, as with the Generic Ballot, it's still far too early to reach any kind of definitive conclusion.
Taking all of those caveats into account, though, there are several reasons to believe that the GOP will retain its majority and that Democratic dreams of controlling all of Congress once again will fall short.
First of all, history indicates that the party in control of the White House tends to lose seats in the House of Representatives in mid-term elections, especially the mid-term election in the 6th year of an eight year Presidency. The only time the incumbent party has gained seats under these circumstances was in 2002 when Republicans gained eight seats in the first election after the September 11th attacks, and in 1998 when Democrats gained five seats while Republicans were pursuing the Monica Lewinsky story down a rabbit hole. Outside of those two elections, both of which were held amid historically unique circumstances, the President's party has lost seats in the House in every election since World War II. While past performance is not necessarily an indicator of future result, this is a strong argument in favor of the argument that, at the very least,  the GOP is likely to hold on to the House in 2014. In addition to the lessons of history, there's also the fact that turnout in Midterm elections is far different from from turnout in Presidential elections.  As a general rule, turnout is always lower and it tends to be more heavily dominated by older voters, both factors which tend to favor Republicans over Democrats.  Finally, the Republicans maintain a strong advantage in the House thanks to the benefits of the redistricting that occurred after the 2010 Census. As I've noted previously, the number of seats that are actually "winnable" is far lower today than it was 30 years ago. This is another reason to believe that the odds are generally in favor of the GOP holding the House.
There are many things that could change in the next 19 months, and come November 2014 we could find ourselves with another "wave" election that would sweep the Democrats back into power in the House. Were it to happen, though, it would be an historically anomaly that would have to overcome structural advantages that lean heavily in favor of the GOP. For that reason at least, I wouldn't be holding my breath waiting for a switch in party control in the House next year.