O'Donnell Uses Palin Playbook
Like Sarah Palin, Christine O'Donnell is no fan of the press.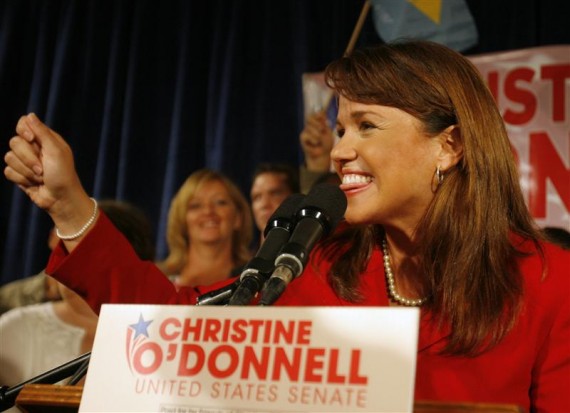 Or, at least two basic tenets thereof:  blame the press and limit access.
Via CNN:  O'Donnell complains of 'character assassination'
At a candidate forum sponsored by a group of local Republicans, O'Donnell blamed her campaign's recent troubles on unfair coverage in the "liberal media."

"I've put my name on the line. And I've taken a lot of hits … a lot of character assassination," O'Donnell said.

A local GOP leader moderated Wednesday night's tightly controlled event, asking the candidate her positions on taxes, spending and the new health care law. O'Donnell did take a few questions from the audience. But she left the forum via a back door and did not stop for interviews with reporters.

O'Donnell has made fewer public appearances since her stunning Tea Party-backed win in the Republican primary three weeks ago.
There is a little doubt that O'Donnell has taken some heat for her past statements and behavior in the press.  However, the basis of said heat has not been without basis.  Whether we are talking about questions regarding campaign finance issues, issues about her educational history (see here and here), or her past musing on TV about dabbling in witchcraft or speeches in which she claimed special knowledge about Chinese plots, or any number of other topics, the bottom line is that O'Donnell has no one but herself to blame.
Like Palin and Sharron Angle, I find it problematic when persons seeking high office are unwilling to forthrightly deal with the public, and that includes answering difficult and/or embarrassing question in the press.  If one wants to be Vice President (or President) or a member of US Senate, this is hardly too much to ask.
And I am sure that some will respond with some charge that Democrats do it too.  I do agree that refusals by some candidates to appear on Fox News in the 2008 was problematic.  However, there is a difference between refusing to go one network and only appearing in friendly media venues (e.g., Palin and Angle in particular).
Beyond that, the issue is not the fact that the three politicians mentioned by name have an "R" after their names, but rather that the three of them are consciously pursuing a specific media strategy that I think is problematic.  Further, they all have said numerous things about which it is not unreasonable for the public to want clarification concerning.  Of course, for some people the fact that the three of them are Republicans will be enough to both defend their actions and assume that any critique leveled in their direction is simply one based in partisanship.
A lot of this, too, is a function of the new media environment in which we live where we both have more options that ever in terms of news content and delivery and yet it is possible for candidates to hide in their own safe and favored niches.  Likewise the proliferation of access (including the transformation, via the internet, of local media in national outlets) means we can all know when a candidate is hiding from the press moreso than was the case in the past.