Of Course Mitch McConnell Would Allow a Vote on a Trump Nominee
The Merrick Garland precedent is power politics, nothing more.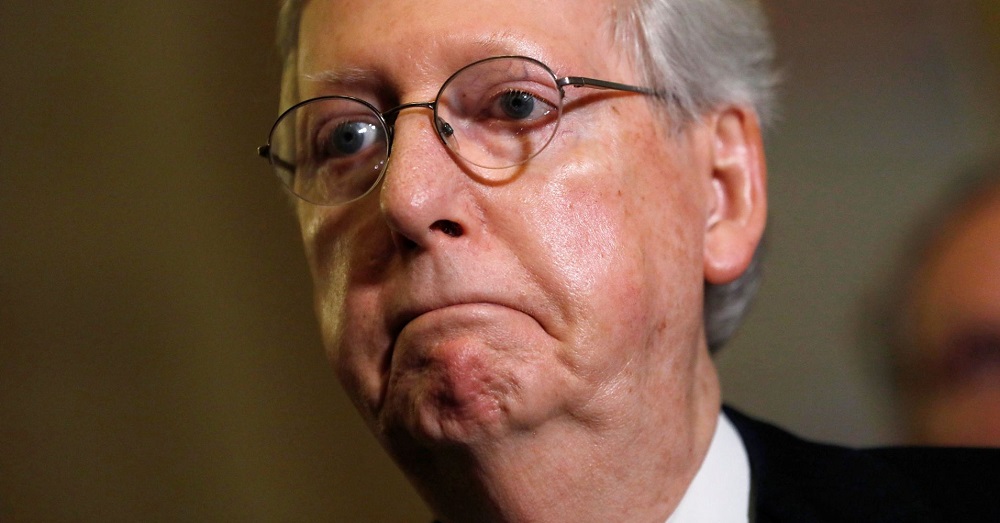 CNN ("McConnell changes course after opposing SCOTUS nominees in presidential election year"):
Senate Majority Leader Mitch McConnell left open the possibility of confirming a Supreme Court nominee in 2020 if Republicans still control the chamber and there's a vacancy on the court, marking a shift over how he treated then-President Barack Obama's nominee in 2016.

Speaking to both Fox News and CBS News on Sunday, McConnell would not rule out seeking to confirm a nominee if there is a Supreme Court vacancy in the final year of President Donald Trump's first term in 2020, assuming the GOP holds onto the Senate in this November's midterms. McConnell instead seemed to suggest that presidents don't get Supreme Court nominees confirmed in a presidential election year — if the Senate is controlled by the opposite political party.

"You have to go back to 1880 to find the last time a Senate controlled by a party different from the president filled a vacancy on the Supreme Court that was created in the middle of a presidential election year," McConnell said on Fox News. "That's been the history,"

Asked directly if he would allow a nominee to be confirmed in 2020, McConnell repeatedly sidestepped the question.

"The answer to your question is we will see if there's a vacancy in 2020," he said.
Observers from the left are, quite naturally, pointing to the hypocrisy.
HuffPost ("Mitch McConnell Refuses To Say He Wouldn't Confirm A Supreme Court Nominee In 2020"):
Senate Majority Leader Mitch McConnell (R-Ky.) has been peddling a new story about his decision to block President Barack Obama's nomination of Merrick Garland to the Supreme Court in 2016.

McConnell had declined to hold any hearings on Garland after he was nominated in March 2016 following the death of Supreme Court Justice Antonin Scalia. The Senate leader claimed the vacancy shouldn't be filled in the months leading up to a presidential election.

But on Sunday, McConnell offered a revised version of his initial reasoning and refused to say he wouldn't confirm a potential Supreme Court nominee from President Donald Trump in 2020.
Salon ("Mitch McConnell got called out for his Supreme Court hypocrisy on two different Sunday shows"):
While taking a victory lap the morning after Brett Kavanaugh became the most narrowly confirmed Supreme Court justice in history, Senate Majority Leader Mitch McConnell was called out by two different interviewers for his role in blocking President Barack Obama's Supreme Court nominee, Merrick Garland, a hearing.

CBS News' Face the Nation host John Dickerson confronted McConnell on Sunday about his refusal to hear out Garland's nomination, claiming that the obstruction had "kicked off a new stage in the partisanship associated with Supreme Court nominees."

But McConnell continued to defend his unprecedented 2016 decision by arguing that presidential year nominations are inappropriate.

"Yeah they don't know much history," McConnell shot back. "You have to go back to 1880 to find the last time a Senate controlled by a different party from the president confirmed a Supreme Court justice to a vacancy created in the middle of a presidential election. They also conveniently forgotten that Joe Biden said in 1992 when he was chairman of the Judiciary Committee, the Democrats control the Senate, Republican in the White House. If a vacancy occurred they wouldn't fill it. They also conveniently forgot that Chuck Schumer and Harry Reid, 18 months before the end of Bush 43 said if a Supreme Court vacancy occurred they wouldn't feel it…"

But Dickerson was prepared with historical facts.

Dickerson pointed out that, "in 1956 Eisenhower nominated Brennan the- the 84th Congress was a Democrat controlled and also on the Biden rule, Joe Biden was talking in the abstract. There was no nominee, no nominee was blocked and he said to not have the nomination come up before the election, but that it could come up after the election. And so what Democrats say when they hear you doing this is they say he's creating new rules to essentially do what he wants to do. And as you've written in your book "The Long Game" when you do that, it actually hurts democracy."
But this is all rather silly. There was no principle involved in blocking Merrick Garland; it was power politics.
Amusingly, my reaction on Twitter yesterday morning—before hearing or reading McConnell's explanation—almost exactly paralleled it:
The Merrick Garland precedent is that, if it's an election year, a President can't get a SCOTUS nominee through an opposite-party Senate. I suspect that precedent will hold if Democrats hold the Senate in 2020. It'll be irrelevant in Republicans hold the Senate. https://t.co/6o0KFZzLO8

— James Joyner (@DrJJoyner) October 7, 2018
I meant that as the opposite of a defense of McConnell and as an amplification of Blake Hounshell's point: it's all about power. Anything else is pretense.
I expect the Republicans to hold the Senate in next month's midterms. If one of the older Justices resigns (Clarence Thomas is the only plausible possibility there and, at 70, I don't see it) or, tragically, passes away in 2019 or 2020, I fully expect McConnell to gleefully ram the confirmation through. If the Democrats take control, I fully expect the Garland precedent to hold.
This is hardball politics in the extreme and I think bad for the country. We elect Presidents to fixed terms and they're entitled to exercise their prerogatives to the end, with perhaps the exception of an impeachment process being underway or being a true lame duck (that is, having a successor President-Elect in the wings). In the event that the opposite party controls the Senate, especially by a significant margin, then Presidents should expect to have to temper their choices. Barack Obama did that with the appointment of Garland, who was both relatively moderate ideologically and older than most recent SCOTUS appointees.
Regardless, McConnell isn't being hypocritical here. Shepherding a Republican Justice through confirmation in a Presidential election year is perfectly consistent with the Garland precedent.