Oh, Those Darn Meritocrats! (Just ask Ross Douthat)
So, was the financial crisis a result of too much meritocracy?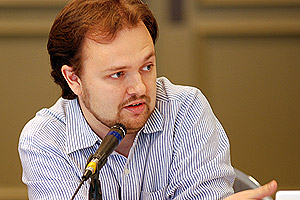 Yesterday, Ross Douthat gave us a ridiculously lazy column (Our Reckless Meritocracy)which has a conclusion (and, for that matter, argument) worthy of a mediocre undergraduate essay.
Half of the column is an abbreviated biography of John Corzine's rise and fall in the world of high finance.  This then leads to him to assert:
By elevating the children of farmers and janitors as well as lawyers and stockbrokers, we've created what seems like the most capable, hardworking, high-I.Q. elite in all of human history.

And for the last 10 years, we've watched this same elite lead us off a cliff — mostly by being too smart for its own good.
All of this is, according to Douthat, allegedly "emblematic of our meritocratic era" wherein  the cream that rises to the top is too smart by half and therefore takes bad risks that only smart people take (which begs the question:  if they are so smart, why are they taking foolish risks?) and in so doing it would seem, threaten to bring down the global economy by their smartness. Apparently, smart people are also responsible for the failure in Viet Nam (for those of you keeping score at home).
He goes on to contrast this with the mistakes made by hereditary aristocracies (which "tend to flow from stupidity and pigheadedness") and one-party states (which "flow from ideological mania").
The thing is:  the financial crisis was not the failure of "meritocracy" but rather it was the  combination of bad decisions, greed, and lack of adequate oversight.  It strikes me that Douthat's focus on merit and high I.Q. is nothing but a dodge (or, more likely, an attempt at rationalization).  But then again, I think that a lot of people are rationalizing the cases of the financial crisis, the response thereto, and its ongoing aftereffects because none of it fits into their existing worldview.  It is especially problematic, I think, to accept the malfeasance of some in the financial sector if one believe that merit was, in fact, the driving force behind all success in said sector.
Douthat alludes that the column might actually be about a combination of a) an attempt to explain the appeal of the less than expert candidates in the GOP field, or b) a cautionary tale about what goes wrong when the conservative value of prudence is chucked out the window, but neither point is especially made (let alone well made) although you can kind of see them if you squint.
Perhaps instead of critiquing the meritocracy it is really a revelation about the Peter Principle and its manifestation at a certain major newspaper's editorial page.
And in regards to his conclusion noted at the start of this post:
In place of reckless meritocrats, we don't need feckless know-nothings. We need intelligent leaders with a sense of their own limits, experienced people whose lives have taught them caution. We still need the best and brightest, but we need them to have somehow learned humility along the way.
I concur with the first sentence (although think it would have been nice if the column had actually been about that topic) but find the rest to be pabulum of the type that I often read in essays written by students who couldn't figure out how to end their paper.  Because, dontcha know, what we need is smart people who will do the right thing and problem solved!