Ohio State Suspends Urban Meyer Three Games Amid Assistant Coach Abuse Scandal
The Ohio State University Board of Trustees has suspended football coach Urban Meyer for three games over his handling of allegations of domestic violence by an Assistant Coach dating back to 2015.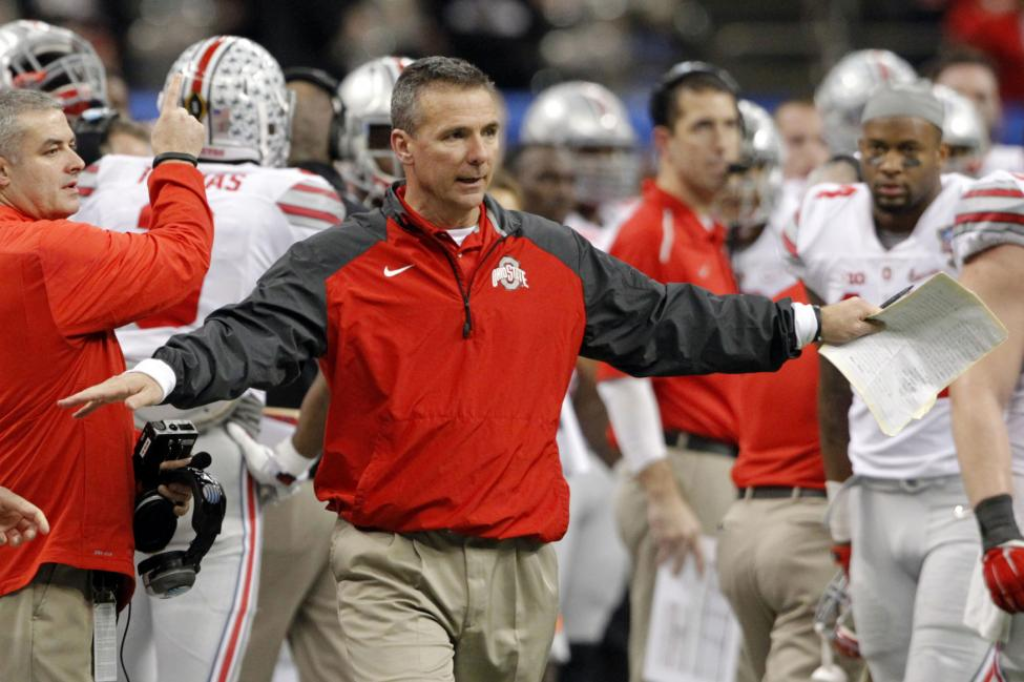 The Ohio State University has suspended football coach Urban Meyer for the first three games of the season after an investigation into how Meyer handled allegations of domestic abuse by a former Assistant Coach:
COLUMBUS, Ohio — Urban Meyer, the famed football coach at Ohio State University, has been suspended for three games after a university investigation found fault with the way he handled the case of an assistant coach accused of domestic violence.

The decision, a blow to a powerhouse team with a rabid following and a highly revered coach, came after a marathon private meeting of the university's board of trustees that stretched close to nine hours on Wednesday. As the meeting wrapped up, a group of fans stormed the building in which it was held, chanting support for Meyer.

Against the backdrop of a nationwide, intensifying focus on addressing abuse of women, the board decided that Meyer's missteps in the case did not rise to a cover-up but warranted punishment.

The board deliberated extensively over how many games Meyer should miss and painstakingly reviewed the report that had been prepared by investigators, and it brought Meyer and others in for questioning, according to a person with knowledge of the meeting who spoke on the condition of anonymity because it was a confidential session.

Meyer was also suspended, without pay, for the remainder of the preseason — crucial preparation time for college teams. He will miss the season opener against Oregon State on Sept. 1, as well as games against Rutgers and, perhaps most significantly, Texas Christian, a top-20 team. He will, however, be permitted to work with the team outside of games beginning Sept. 2.

Ohio State's athletic director, Gene Smith, was also suspended without pay, from Aug. 31 to Sept. 16.

"Their handling of this matter did not exhibit the kind of leadership and high standards that we expect of our athletic director, head coach, assistant coaches and all on the football staff," a university statement said.

Meyer, one of the most successful coaches in the sport — he won national championships with Ohio State in 2014 and with Florida in 2006 and 2008 — appeared somber at a news conference and suggested that his loyalty to the assistant coach, Zach Smith, who was fired last month, had clouded his judgment.

Later in the evening, Ohio State released a 23-page summary of the findings of the investigation. The summary casts Zach Smith as something of a ticking time bomb. It also makes clear that Meyer kept Smith on, despite not only off-field troubles but a decline in his coaching performance, out of loyalty to Smith's grandfather, Earle Bruce, a former Ohio State coach and longtime mentor of Meyer's who died in April 2018.

"I followed my heart, not my head," Meyer said. "As I reflect, my loyalty to his grandfather Earle Bruce, who was my mentor, likely impacted how I treated Zach over the years."

Meyer has been on paid administrative leave since Aug. 1 after allegations surfaced that Meyer knew Smith had been accused of domestic violence since 2015, when the accusations were made. Meyer said in July that he had just learned of the case, but after being put on leave he released a statement saying he had misspoken and had "followed proper reporting protocols and procedures" after learning of the incident in 2015. Smith was fired in July.

The university's report said Meyer "did not deliberately lie." The report said that Meyer had learned of the domestic abuse case from Gene Smith, the athletic director, and that they had monitored the case for months without following university protocol to inform other officials.

The report, written by the former Securities and Exchange Commission chairwoman Mary Jo White and her team from the law firm Debevoise & Plimpton, found that Meyer had acted in "good faith" in not reporting the allegations, but his actions were ultimately "not sufficient," White said at a news conference on Wednesday following the board meeting.

Smith's lawyer, Brad Koffel, released a statement Wednesday evening: "Zach Smith married a woman he should not have married. Vengeance against her ex-husband regrettably resulted in collateral damage to Urban Meyer, Gene Smith and the Ohio State University. Trying cases in the media is a dangerous precedent for every other coach in America."

Meyer arrived midmorning to the site of the board's meeting, the Longaberger Alumni House just across from the football complex. His wife, Shelley, showed up hours later. And in the late afternoon, some eight hours after the meeting began, Smith entered the building.
The Columbus Dispatch, which has a good piece summarizing the findings of the investigation, has more:
As the hours passed, it became clear that the Ohio State board of trustees' meeting to determine Urban Meyer's future as football coach would not be a perfunctory one.

For more than 10 hours, the board debated Meyer's handling of domestic-abuse accusations against former assistant coach Zach Smith. It turned out that the board and university President Dr. Michael V. Drake were weighing the actions of athletic director Gene Smith as well.

Both Meyer and Smith were judged to have erred in their handling of the matter sufficiently to warrant suspensions.

Meyer will be suspended without pay through Sept. 2 — the Buckeyes open the season Sept. 1 against Oregon State — and for the games of Sept. 8 and 15, against Rutgers and TCU, respectively. Meyer will be able to direct practice during the week after Sept. 2 but not coach in the games.

Smith will be suspended without pay from Aug. 31 to Sept. 16.

"I want to apologize to Buckeye Nation," Meyer said at the news conference Wednesday night. "I followed my heart and not my head. I fell short at pursuing full information because at each juncture I gave Zach Smith the benefit of the doubt.

"As I reflect, my loyalty to his grandfather, Earle Bruce, who was my mentor and like a father to me, likely impacted how I treated Zach over the years. I should have done more and recognized more red flags."

Meyer also acknowledged that he did a "poor job" at the Big Ten media gathering in Chicago in July when he denied knowing anything of 2015 domestic-abuse allegations by Zach Smith's now ex-wife, Courtney.

Asked if he believed he deserved a three-game suspension, Meyer paused before saying, "I trust and support our president."

The board's investigative committee interviewed more than 40 witnesses, some multiple times. It reviewed more than 60,000 emails and 10,000 text messages in addition to other relevant information.

In its summary, the board said that Gene Smith and Meyer "failed to adhere to the precise requirements of their contracts when they concluded that they needed to await a law enforcement determination to file charges" before reporting the accusations of Courtney Smith against Zach Smith. But it said it believed they had acted in good faith "other than the misunderstanding of the requirements triggering reporting obligations."

Ohio State trustee Clark Kellogg was visibly exhausted as he walked from the Longaberger Alumni House toward his vehicle at 9:45 p.m.

"Dr. Drake made the decision and the board supported it," he said. "Now, let's call it a night."

Nearly all of the other trustees declined to comment except attorney John Zeiger, who said the result "was handled appropriately."

Marcy Fleisher, Courtney Smith's spokeswoman, did not have an immediate comment about the suspensions of Meyer and Gene Smith.

Gene Smith apologized for not doing more in regard to the Zach Smith allegations.

"I fully support the findings of the report and the subsequent actions the university has taken," he said. "I have ultimate authority and responsibility in oversight and accountability for our athletic department, particularly the football program. I understand I could have done a better job in this particular instance.

"I want to express my sincere apologies for the situation we're in."
The scrutiny on Meyer and Smith began earlier this summer but reaches back to events that occurred in 2015 and involved the extent of the knowledge that Meyer and others had about allegations of spousal abuse being made against Assistant Coach Zach Smith by this then wife. Despite those reports, Smith continued to work for the Buckeyes until late July of this year when an independent journalist reported on his Facebook page that Smith's wife had gone to court to request a protection order against Smith related to yet another allegation of domestic violence made in May of this year. At that point, Smith was fired by Ohio State. This reporter also reported that Smith had been accused of domestic violence in 2009 when he was serving as an assistant under Meyer at the University of Florida and then against in 2015 when both men were at Ohio State. Most significantly for Meyer, Smith's wife at the time Courtney had said that she had told Meyer's wife Shellie about the abuse allegations in 2015. Smith's allegations were apparently supported by pictures and text messages, which have since been made public. All of this is detailed on the Facebook page of Brett McMurphy, the independent journalist who had initially reported the claims.
The trouble for Meyer began a week before the revelations about Courtney Smith's communications with Shellie Meyer at a news conference during the Big Ten Conference's media week. At that press conference, Meyer stated that he had known about the 2009 allegations and that he and his wife had spoken with Smith and his wife after a police investigation that, for reasons that are not entirely clear, never resulted in charges being filed against Smith. When he was asked about the more recent allegations dating back to 2015, though, Meyer stated that he had only learned about the allegations the night before the press conference. When the communications between Courtney Smith and Shellie Meyer became public, the veracity of that claim was, quite obviously called into question. A week later, after the news about communications became public, Meyer retracted that denial and admitting that he had failed to be completely accurate in his previous comments about the 2015 allegations. It was in response to these revelations that Meyer, as well as Athletic Director Gene Smith, was suspended pending an investigation regarding the 2015 allegations and the manner in which they were handled by both Meyer and Smith. The report released yesterday, which The Columbus Dispatch summarizes, is the end result of that investigation.
Meyer's suspension will cover the first three games of the season but seems unlikely to have much of an impact on the short-term fortunes of the Buckeyes. The period covers the September 1st season and home opener against unranked Oregon State, an early in-conference game at home against Rutgers, and a road game against Texas Christian University, which is currently ranked No. 16 in the current pre-season Top 25 Associated Press Rankings. Given the fact that the team will be under the direction of a staff that has worked closely with Meyer for years now, his absence likely won't have a significant impact on the team in these early season matchups that it should easily win. This is especially true given the fact that the terms of the suspension allow Meyer to participate in practices and preparation after the Oregon State game and only mandates that he cannot be on the sidelines for the remaining two games of his suspension.
Based on what has come out about the entire Smith scandal, it appears that the punishment imposed on Meyer here was more or less appropriate and that anything more severe, such as dismissal, would have been unfair. For example, in the weeks since Meyer's suspension, it was made clear that Meyer had advised his immediate superior, Athletic Director Gene Smith, of the allegations against Zach Smith (apparently no relation) and that it was Gene Smith who failed to report the allegations to his own superiors or to otherwise investigate the allegations. None of this is to excuse Meyer's misrepresentations to the press, of course, and it's arguably the case that he should have pushed his boss further on how the university would be handling the allegations or to otherwise follow up regarding allegations. As Meyer admitted in his statement last night, this was motivated at least in part due to the fact that Zach Smith is the grandson of the late Earle Bruce, the former Ohio State head coach who was Meyer's mentor dating back to the early days of his career. Based on the totality of the facts, though, it seems clear that a suspension rather than dismissal was the appropriate punishment, although one can argue over whether or not three games is a sufficient punishment under the circumstances.
These allegations against Meyer isn't the only recent scandal to rock the world of college football. Earlier this month, the University of Maryland suspended its football coach after the death of a player after what many have described as a grueling series of practice sessions during what has been a hot summer in the Baltimore/Washington, D.C. area. In addition to the Meyer matter Ohio State is also dealing with a scandal involving sexual abuse at its wrestling program ten years ago that has swept Congressman Jim Jordan into the controversy amid charges that he failed to report incidents of abuse that he was, or should have been, aware of during the time he was a coach for the program. Up in Lansing, Michigan, Michigan State University is dealing with allegations that involve Larry Nassar, the former team doctor for USA Gymnastics who was sentenced to what effectively amounts to life in prison after more than 100 female gymnasts, including many Olympians, came forward to describe years of sexual abuse. Nassar also served as a team physician at Michigan State and there have been reports of sexual abuse of players in that program as well. Finally, the University of Southern California finds itself the subject of numerous lawsuits related to claims of sexual abuse by a university gynecologist, although this case deal with the health program for the entire university rather than just the athletic program. This, no doubt, is just the tip of the iceberg.