Ohio Voters Overturn Public Union Restrictions
Ohio voters overwhelmingly rejected a Republican law restricting the collective bargaining rights of public employees--and also rebuked the health insurance mandate central to ObamaCare.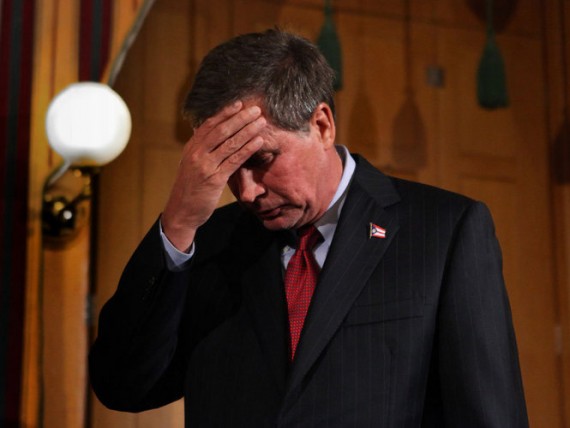 Ohio voters overwhelmingly rejected a state law restricting the collective bargaining rights of public employees–and also rebuked the health insurance mandate central to ObamaCare.
AP ("Ohio Voters Reject Republican-Backed Union Limits"):
The state's new collective bargaining law was defeated Tuesday after an expensive union-backed campaign that pitted firefighters, police officers and teachers against the Republican establishment.

In a political blow to GOP Gov. John Kasich, voters handily rejected the law, which would have limited the bargaining abilities of 350,000 unionized public workers. With nearly 95 percent of the votes counted late Tuesday, about 61 percent were to reject the law.

AFL-CIO President Richard Trumka, among the many union leaders who hailed the outcome, said victory was achieved among Democrats and Republicans in urban and rural counties.

"Ohio sent a message to every politician out there: Go in and make war on your employees rather than make jobs with your employees, and you do so at your own peril," he said.

Kasich congratulated his opponents and said he would spend time contemplating how best to take the state forward.

"I've heard their voices, I understand their decision and, frankly, I respect what people have to say in an effort like this," he said. "And as a result of that, it requires me to take a deep breath, you know, and to spend some time reflecting on what happened here."

Kasich said he has made creating jobs his priority and he's beginning to see his policies work.

In a signal of the issue's national resonance, White House spokesman Jay Carney issued a statement saying President Barack Obama "congratulates the people of Ohio for standing up for workers and defeating efforts to strip away collective bargaining rights, and commends the teachers, firefighters, nurses, police officers and other workers who took a stand to defend those rights."

[…]
The law's opponents far outnumbered and outspent its defenders. Opponents reported raising $24 million as of mid-October, compared to about $8 million raised by the committee supporting the law, Building a Better Ohio.

Tuesday's result in the closely divided swing state was expected to resonate from statehouses to the White House ahead of the 2012 presidential election — potentially energizing the labor movement ahead of Obama's re-election effort.

Ohio residents also voted Tuesday to reject an insurance mandate in Obama's federal health insurance overhaul. Jeff Longstreth, who managed the successful campaign, said he sees that issue as more telling for the president's future in the swing state.

"Voters spoke very loudly and very clearly about how they felt about Barack Obama's proudest legislative accomplishment," he said.
The mixed result is, well, rather odd. It's hard to read much into an off-off-off year election in which no major races were on the ballot, which inevitably means very low turnout and only the most motivated voters showing up. (I'm generally in favor of consolidating elections to coincide with national elections and against off-peak contests for that reason.)
The Cleveland Plain Dealer editorial board argues, persuasively, that it was a matter of overreach:
In an extraordinarily broad rebuke to Gov. John Kasich and the Republican-run legislature, voters throughout Ohio have decisively rejected Senate Bill 5, the attempt to rewrite the rules for collective bargaining by public employees. Even in many GOP strongholds, this heavy-handed effort to swing the balance of power decisively against unions found so little support that the governor and his allies may be reluctant to reopen the discussion soon.

That would be a mistake.

The difficulties that many communities and school districts face trying to live within their budgets and reform how they do business are not going away. Much like the Big 3 automakers, they need relief from obligations and procedures that are no longer affordable.

If the authors of SB 5 had stuck to economic imperatives — including needed changes in merit pay, mandatory benefit contributions and imbalanced seniority restrictions in layoffs — or if they had made serious outreach to unions early in the process, the bitter and costly campaign that climaxed Tuesday might have been avoided. But once its drafters made SB 5 an all-out assault on the very existence of public employee unions, they alienated thousands of fair-minded Ohioans. A tone-deaf campaign that attacked public employees as overpaid — class warfare, waged by Republicans — only cemented the outcome.
The paper's Henry Gomez's looks ahead to 2012:
Even in an off year, Ohio couldn't escape the burning spotlight from national media hungry for a juicy election story.  And Tuesday's repeal of Senate Bill 5 was merely an appetizer. By resoundingly rejecting the Republican-backed push to rewrite labor rules for public employees, Buckeye State voters helped set the table for the 2012 presidential election.

Without question the results will be viewed as a momentum-builder for Democrats nationwide and should encourage President Barack Obama. He carried Ohio by four points in his 2008 Electoral College landslide, but the GOP won control of every state office and the legislature last fall.

Understandably, before Tuesday, Obama likely saw easier paths to victory in other swing states he won three years ago – notably Colorado, Florida, Iowa, Nevada and New Mexico. Now, despite his low approval ratings, Obama can compete for Ohio's 18 electoral votes by taking advantage of a grass-roots organization that has had months to gel. As appealing as the other states might appear on paper, none offers the head start Democrats have here.

[…]

Republicans, meanwhile, don't have much time to lick their wounds. If there is any comfort for them today, it is the reminder that their political fortunes can change rather quickly here. "Looking at 2012, one way or the other, it's not going to be about Senate Bill 5," Ohio GOP Chairman Kevin DeWine said in an interview last week. "It's going to be about Barack Obama and Sherrod Brown and the failed economic policies that Barack Obama has brought to bear."

Indeed, a tactical edge might not be enough for Obama and the Democrats if the nation remains in an economic funk and if Ohio's unemployment rate remains around 9 percent.

The SB 5 vote "isn't a harbinger for 2012 because it's a year away," Larry Sabato, director of the University of Virginia's Center for Politics, said last week when asked how the issue might affect Obama. "Obviously it will be a boost to labor. You get people charged up. But all of these issues are tangential to jobs. If you don't have a job, you don't worry about bargaining rights."
I'm inclined to agree with Sabato. Even aside from the quirky nature of a contest where a couple of ballot initiatives and local races were all that was on the ballot to attract voters, the amount of punditry devoted to analyzing a handful of idiosyncratic races for clues to the next presidential election never fails to amuse. Local elections have their own internal logic that seldom translates to national races–much less those a year later with completely different electoral profiles.