Oklahoma To Charge Homeowners Who Install Solar Panels
Crony capitalism in The Sooner State.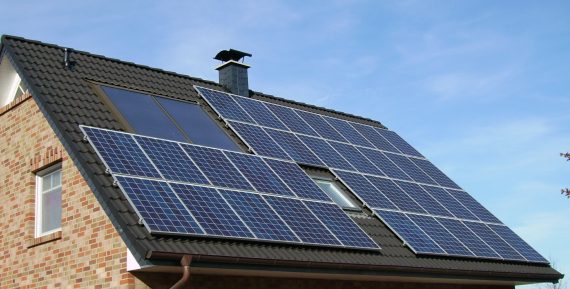 If you live in Oklahoma and you put solar panels on your house, you're going to have to pay a surcharge to your electric company thanks to a new law signed by Governor Mary Fallin last week:
Oklahoma residents who produce their own energy through solar panels or small wind turbines on their property will now be charged an additional fee, the result of a new bill passed by the state legislature and expected to be signed into law by Gov. Mary Fallin (R).

On Monday, S.B. 1456 passed the state House 83-5 after no debate. The measure creates a new class of customers: those who install distributed power generation systems like solar panels or small wind turbines on their property and sell the excess energy back to the grid. While those with systems already installed won't be affected, the new class of customers will now be charged a monthly fee — a shift that happened quickly and caught many in the state off guard.

"We knew nothing about it and all of a sudden it's attached to some other bill," Ctaci Gary, owner of Sun City Oklahoma, told ThinkProgress. "It just appeared out of nowhere."

Because the surcharge amount has not been determined, Gary is cautious about predicting the impact it will have on her business. She has already received multiple calls from people asking questions about the bill and wanting to have solar systems installed before the new fee takes effect. "We're going to use it as a marketing tool," Gary said. "People deserve to have an opportunity [to install their own solar panels] and not be charged."

"It is unfortunate that some utilities that enthusiastically support wind power for their own use are promoting a regressive policy that will make it harder for their customers to use wind power on their own," said Mike Bergey, president & CEO of Bergey Windpower in Norman, Oklahoma, in a statement. "Oklahoma offers tax credits for large wind turbines which are built elsewhere, but wants to penalize small wind which we manufacture here in the state? That makes no sense to me."

The bill was staunchly opposed by renewable energy advocates, environmental groups and the conservative group TUSK, but had the support of Oklahoma's major utilities. "Representatives of Oklahoma Gas and Electric Co. and Public Service Co. of Oklahoma said the surcharge is needed to recover some of the infrastructure costs to send excess electricity safely from distributed generation back to the grid," the Oklahoman reported.
While I suppose there might be an argument for allowing utilities to recoup costs that are legitimately incurred from the practice of selling energy back to the grid, the idea of charging people extra for doing something that reduces their dependence on the grid while at the same time increasing the amount of energy available seems rather nonsensical. As the linked article goes on to note, these types of systems benefit energy companies by helping to reduce demand on the grid during peak hours and by increasing the amount of energy available during those periods. Given that, one would think that energy companies would want to encourage this sort of thing rather than backing measures like this which could potentiallly hamper it. It's hard not to see this as an effort by the utility companies to hamper the competition that solar and wind generated energy provide them and, of course, to make sure that they still manage to make some money out of the deal.
Indeed, that seems to be exactly what's going on:
As the use of solar power skyrockets across the U.S., fights have sprung up in several states over how much customers should be compensated for excess power produced by their solar panels and sold back to the grid — a policy known as net metering. Net metering laws have come under fire from the secretive American Legislative Exchange Council (ALEC), a group backed by fossil fuel corporations, utility companies, and the ultra-conservative Koch brothers. Forty-three states and the District of Columbia currently have net metering policies in place and ALEC has set its sights on repealing them, referring to homeowners with their own solar panels as "freeriders on the system." ALEC presented Gov. Fallin the Thomas Jefferson Freedom award last year for her "record of advancing the fundamental Jeffersonian principles of free markets, limited government, federalism and individual liberty as a nationally recognized leader."

Oklahoma "could be the first complete defeat for solar advocates in their fight against utility efforts to recover costs lost to DG [distributed generation] use," writes Utility Dive. Net metering survived attacks in Colorado and Kansas and Vermont recently increased its policy in a bipartisan effort. Last year, Arizona added what amounts to a $5 per month surcharge for solar customers, a move that was widely seen as a compromise, particularly after ALEC and other Koch-backed groups got involved.
Of course, measures like this have nothing to do with "free markets, limited government, federalism, and individual liberty" and everything to do with crony capitalism.