Olympians Built for Success
The athletes gathered at the London Olympics have sacrificed much of their lives training to excel at their sports. But most also have extraordinary genetic advantages.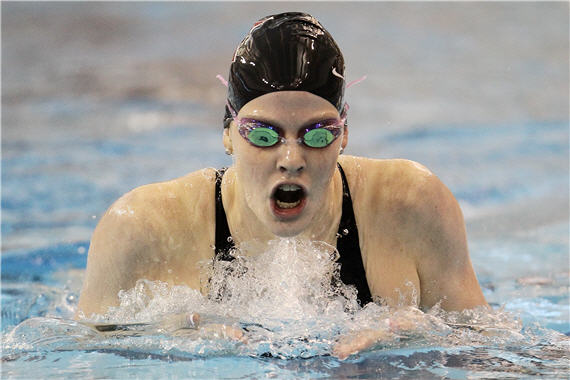 The athletes gathered at the London Olympics have sacrificed much of their lives training to excel at their sports. But most also have extraordinary genetic advantages.
WSJ ("Bodies Built for Gold"):
Of all the superlatives connected with the London Olympics, none may be more remarkable than this: The games will feature the most extraordinary collection of physical specimens in the history of international sports.

Whether it's the chest-high legs that carry sprinter Usain Bolt down the track, or the raw power that 17-year-old swimmer Missy Franklin can generate from her 6-foot-1 frame and 76-inch wing span, the Olympic stars this summer have bodies custom-built for the sports they compete in. To borrow Lady Gaga's phrase, many of these medalists were simply "born this way."

"Nature, being born a certain way—it's a prerequisite for nurture," said Adrian Bejan, a professor of mechanical engineering at Duke University who has written extensively about evolution in sports.

[…]

With high-level training so ubiquitous, God-given talent and physical advantages become the great differentiators. Consider Ms. Franklin, the precocious swimmer from Colorado who could win as many as seven medals in London, several of them gold, during the summer before her senior year in high school.

Todd Schmitz, her coach since she was 7 years old, said she didn't have naturally beautiful strokes as a beginner, but her size always gave her a distinct advantage.

"She's just always been so strong," said Missy's mother, D.A. Franklin, citing the stamina this gives her. "She's stronger racing at 200 meters than she is at 100 meters. She's better in the long pool than she is in the short pools."

Ms. Franklin doesn't actually train all that hard, swimming 5,000 to 6,000 yards a day, or about half as far as Michael Phelps does. She usually takes off two days a week; most top swimmers take just one. But Ms. Franklin is a near-lock to win gold in the 200-meter backstroke and may win the 100 meters because she swims differently than everyone else.

Most backstrokers crank their hands through the water 6 to 8 inches below the surface. But Ms. Franklin catches the water just 2 inches below the surface, according to Mr. Schmitz.

Ms. Franklin isn't rotating her shoulders irregularly. Rather, her longer arms and legs exert so much downward pressure that she is actually higher in the water than the competition. She skitters across the surface like a hydroplane, while her competitors power through it.

In a 2009 study, Mr. Bejan showed how world-record holders in the men's 100-meter dash and the 100-meter freestyle swimming race have been growing heavier and taller during the past century. Mr. Bejan explained that the phenomenon conforms with the basic rules of animal locomotion: the smaller the body, the higher the frequency of motion and the slower the speed. There are exceptions. A cheetah is faster than a hippopotamus (though hippos are surprisingly fast). But whales swim faster than bluefish; thoroughbred horses outrun rabbits.

Coaches and trainers now look more and more at size when evaluating talent. Patrick McEnroe, the former tennis pro who is now the general manager for player development for the U.S. Tennis Association, said he takes a long look at a promising young player's parents and growth potential when trying to decide whom to recruit. Tennis, he says, has gotten too physical to do it any other way.

[…]

Like Ms. Franklin, Sebastian Brendel, the German canoeist, operates on the same principle of aquatic locomotion, though he is powering a boat instead of just imitating one. For decades, canoe racing has attracted paddlers with big shoulders and round chest cavities that allow for the massive aerobic capacity and core strength required to propel a boat at maximum speed for 1,000 meters. They tended not to be very tall, since competitors in canoe racing have to balance in a wobbly boat on one knee as they drive the blade through the water. Hungarian Attila Vadja, the defending champion, is just 5-foot-9.

But during the past year, Mr. Brendel, long and lean at 6-foot-4, has taken over the sport, winning the 1,000-meter sprint World Cup in May by nearly 1.5 seconds. Just one of the top eight finishers was as tall as Mr. Brendel. "He makes Vadja look like a schoolchild," Shaun Caven, the former British national canoe coach, said of Mr. Brendel.
None of this is exactly news: world class athletes have always been blessed with tremendous natural talent. But, since training and selection now begin so early, physiological advantages matter more than ever in just about every sport.