On Foreign Policy, Conservatives Should Leave Ronald Reagan Behind
Relying on the policies of a man who was President in a very different time is not a substitute for a rational foreign policy.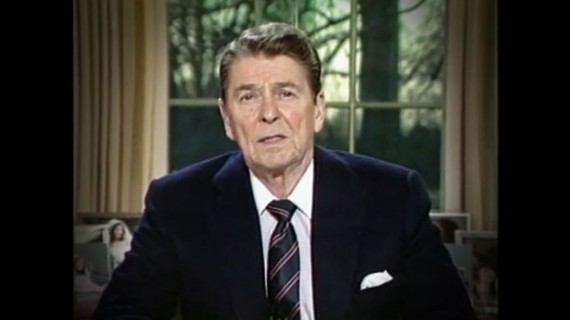 Ronald Reagan has been dead for more than ten years now, but the Republican Party continues to bring him back into the public debate on a regular basis. Hardly an election has gone by in the past twenty years in which someone, somewhere has not eventually expressed the idea that what the GOP, and the nation as a whole, needs is another Ronald Reagan. Of course, as we've discussed here at OTB many times in the past (see here, here, and here for example), the Ronald Reagan that these conservative Republicans harken back to bears little resemblance to the man who served in the White House from 1981 to 1989 but bears a striking resemblance to whatever particular brand of conservatism the person making the argument happens to come from. For these people, Reagan was a tax-cutting, regulation slashing, low spending, anti-Communist who stood up to the Soviets, the Democrats and the Iranians, never compromised with anyone, and believed more than anything else that a militarily strong America was necessary to bring peace to the world. In reality, of course, President Reagan raised taxes in addition to cutting them, oversaw massive growth in the regulations contained in the Federal Register while he was in office, presided over increases in spending on both the defense and non-defense side, and negotiated and made agreements with Democrats, Soviets, and the Iranian mullahs who also believed the world would be a better place if nuclear weapons were wiped out of existence. It is, however, the mythic Reagan that current Republicans worship to the point of having created something that says more about the modern Republican Party than it does about who Ronald Reagan was or what kind of President he was.
This use of the mythic Reagan is perhaps no more apparent than in the area of foreign policy. Rick Perry brought Reagan's name up in his Op-Ed criticizing Senator Rand Paul's supposed "isoloationism," and Paul brought him up in his response to Perry. Paul had also drawn on the ghost of Reagan in a Wall Street Journal Op-Ed in which he urged restraint in American responses to the ongoing conflict in Iraq. The question "What Would Reagan Do?" was also the subject of a piece by Peter Beinart at The Atlantic in which Beinart somewhat oddly tried to harken back to a President who presided over the final years of the Cold War in crafting policy for a 21st Century conflict against an phenomenon that, by and large, did not exist when he was President.
Daniel Drezner, however, argues in The Washington Post that the entire idea of trying to figure what Reagan would do is pointless:
[A]fter a point, this parsing of Reagan's legacy starts to look like Communists trying to find a Lenin quote that justifies their pre-existing worldview.  Or, to put it even more bluntly, who cares what Reagan would think?  Ronald Reagan had a decent foreign policy record, but confronted a world radically different from the one we face today.  In Reagan's time, the United States faced a clear, overarching threat that defined the way Americans thought about every part of the globe.  In the 21st century, the threats are more variegated and far less potent than the Cold War era Soviet Union.  Reagan is a pretty good guide for how to mix soaring neoconservative rhetoric with less-than-soaring realpolitik foreign policy.  His administration's record provides little guidance on what to do, however,  in the modern Middle East, unless Republicans are suddenly keen on giving Iran arms again.
Daniel Larison agrees:
[T]he preoccupation with finding appropriate Reagan precedents is itself part of one of the larger problems with Republican foreign policy today. GOP foreign policy on the whole has completely failed to recognize how the world has changed since the end of the Cold War, and so it has failed to adjust accordingly. To the extent that most Republicans have acknowledged any changes, they have sought to turn current threats into a new version of the Cold War, and some have gone so far as to claim that the world is now more dangerous for the U.S. than it was when the USSR still existed. Republican hawks mostly took the end of the Cold War as an invitation for even greater activism abroad rather than seizing on it as the opportunity to reduce U.S. commitments and burdens that it obviously was.

(…)

It shouldn't make much difference to us today what we think "Reagan would do." Not only is it speculation to guess at what he would do in most modern crises and conflicts, but it is entirely possible that he would favor doing the wrong things just as he sometimes did when he was president. Instead of climbing over one another to prostrate themselves before Reagan's image, contemporary Republican politicians should attempt to identify the real threats that the U.S. faces today, devise an appropriate strategy for addressing them, and articulate their own foreign policy vision rather than poring over the actions of a Reagan presidency that ended a generation ago in a world extremely different from our own.
Drezner and Larison are, of course, entirely correct. On some fundamental level, there is something rather bizarre about making policy arguments of any kind by referring to someone who isn't even alive anymore. Of course, this is something that's been a common part of American politics for a long time. Republicans campaigned on the legacy of Lincoln long after the Civil War was over. Democrats have done the same with Franklin Roosevelt and John F. Kennedy. And politicians of all stripes harken back to the Founding Fathers on a regular basis whenever it might be convenient for them, even when they are doing so for purposes totally unrelated to anything those Founding Fathers ever said, wrote, or did. It's understandable that political parties would want to harken back to the successful Presidents of their past, and patriotic paen's to the Founders are basically de rigeur for American politicians.
Notwithstanding those facts, though, there comes a time when a political party that continually finds itself harkening back to the past needs to ask itself whether that's a good idea. I went from Middle School through the early years of college during the time that Ronald Reagan was President. During that time, the world changed significantly. When it started, we were in a a world where the Soviet Union was still in the grips of a post-Stalinist regime led by men who were constantly on the edge of death that seemed intent on doing mischief around the world and the United States found itself mired in economic and international malaise.  By the time it ended, the Soviet Union was ruled by someone clearly, albeit obviously reluctantly, committed to the kinds of reform that would set in motion forces that would lead to the exceedingly peaceful end of a seventy year old tyrannical regime and a United States that had experienced some of its best years of economic growth since the end of World War II.
Ronald Reagan presided over all of this and, to a significant degree, his policies were responsible for much of the good that happened. Reagan wasn't perfect, though, and even would have acknowledged that. When his 1981 tax cuts, combined with the recession that was induced largely by the tight monetary policies that Paul Volcker was instituting at the Fed to finally kill off the inflation monster of the 1970s, proved to have far bigger impact on Federal revenues than anticipated, he signed into law a tax package that was, at the time, the largest tax increase in American history. He sent American troops into Beirut on a dubious mission, without prior approval from Congress, and then withdrew them when they became the target for a horrible terrorist attack on their base at Beirut's airport. And, of course, his Administration engaged in a secret program that was designed to circumvent laws regarding arming Nicaraguan rebels by selling arms to a regime that had been designated as a supporter of terrorist, whom they also negotiated with to obtain the release of Westerners being held in Lebanon. He was, in other words, an imperfect President, which is something that has been true of every single man to occupy the office and will be true of everyone who occupies the office in the future. The manner in which Republicans have effectively defied him is both a perversion of history and unfair to his actual legacy.
All of this is even more true when it comes to foreign policy. Even if the distorted version of Reagan that conservatives worship were in the least way accurate, we live today in a world that is fundamentally different from the one that Reagan grew up in and which shaped both his opinions and his actions once he took office. In reality, we have no idea what he would think about the issues that we face, or how he would deal with them, and there's no rational reason why we should even spend any time trying to figure any of those things out. There's much to admire about Reagan's life and his Presidency, and on balance I would argue that we should be glad that he was President when he was when it comes to foreign policy issues. However, there is no reason to spend our time wondering how someone who was President when there was still a Soviet Union would do about the world today any more than there is a reason to wonder what a man who was President when Europe was still ruled by Kings and Emperors would do. We need to figure these things out on our own rather than basing them on myths and ghosts.