On Interpreting Primary Results
Is a vote for Gingrich (or whomever) necessarily an anti-Romney vote?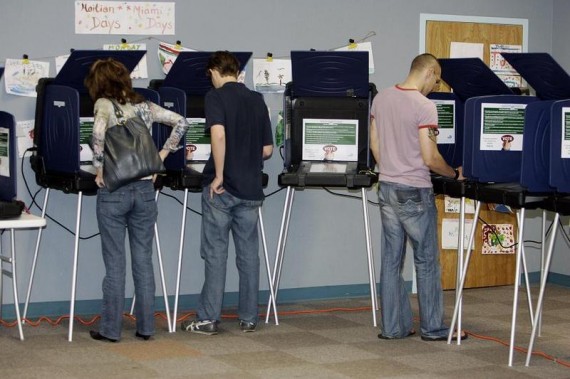 In evaluating what various vote totals mean in given contests at this point (e.g., "Romney only won Iowa by 8 votes!" or "he can't break 25%" or "did he win NH by a large enough margin?" etc.) we need to remember a central point about multi-candidate races wherein the final vote count is not decisive:  voters can vote first preferences with impunity.
By this I mean that voters aren't stupid:  they understand the difference between a contest that will decide who will win a given office (or nomination) and one that is not decisive in that way.  If a contest if not decisive (i.e., does not pick an actual winner) then voters are freer to vote their first preference.  If, however, a vote does pick a winner, voters have to decide whether they are willing cast a vote for their first preference if it means that a candidate they find unpalatable will win.
A simple example:  I may prefer the Libertarian candidate in a given race, but know that there is a very close contest between the Rep and Dem in my district.  This knowledge will lead to me to consider what I prefer:  the psychic reward of voting my first best preference or casting a ballot to help elect the Rep, whom I prefer over the Dem.  In other words:  in such a situation I have to decide what the odds are that a vote for my first preference might lead to a my least preferred candidate winning.  This might entice me to vote for my second preference.
In a primary, especially one early in the process, the odds are quite good that my vote will not determine ultimate outcomes, so I can vote my first preference without worrying about whether it helps choose a nominee I can't stand.
This is why, for example, in two-round electoral contests we tend to see a proliferation of participants in the contest, because it is known that voters can afford to cast their first preference votes in the first round with a diminished risk of their least preferred option winning.   In a one-round contest, the risk is higher that one's least preferred candidate will win, so one is more likely to vote second (or even third) preferences if voting for one's first preference might increase the odds of the least preferred option winning.
We have to understand, in evaluating primary results, that the early presidential preference caucuses and primaries have this dynamic in operation.  To wit:  if one is a voter in New Hampshire. one knows that one is not voting in a decisive contest, i.e., the nominee is not chosen by the NH primary.  This means that if I really, really, liked Rick Santorum, I can "afford" to vote for Santorum even if I believe that he would be a worse candidate to face Obama in November than would Romney.  This is not to say that there aren't true believers who will vote first preferences no matter what, but many voters do engage in these types of calculations.  Further, some voters may vote second-preferences from the get-go because they fear the selection of their least preferred option more than they anything else and so may eschew first preferences in a hope of warding off a least favored candidate.
All of this is inspired by John Sides observing the other day that "votes for someone who isn't Mitt Romney aren't necessarily votes against Mitt Romney."  In other words:  in these types of contests where a final victor is not chosen, any given vote for Santorum, Gingrich, et al., should not be construed as an anti-Romney vote, and any attempt to analyze them as such misses the nature of the process.
The bottom line is that we have every reason to think that voters have a general rank-order preference of any given list of candidates and that they often vote based on how they think both their most-preferred and least-preferred candidates would benefit from a particular vote.  In contests where an absolute victor is chosen the strategic choices of voters will be different than in processes that are not decisive (i.e., that are part of multi-stage selection processes).