On the Issue of (d)emocratic Nominations
Primaries are not all they are cracked up to be.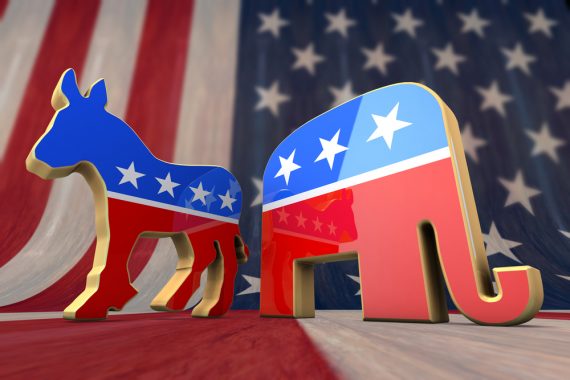 James Joyner's post on nomination processes leads me to the following point: the frame of elites v. the people in choosing the candidate is not the main issue–at least not when I talk about it, nor do I think that it is for most political scientists.
By this, I mean, that discussion about the shortcomings of primaries (for all offices) is not about preferring party control because of a preference for the wisdom of elites versus the preferences of the masses.* It is about thinking seriously about the role parties could/should play in a representative system (i.e., providing clear options about governing to voters). There are good reasons to argue that primaries don't go a good job of accomplishing this role because it makes parties candidate-centric rather than actually about a central message from the party as a collective organization. This muddles choice and it muddles governing and accountability.
After all: if voting Republican in election 1 means something different than in election 2 (because the candidates are very different in key ways), what does party mean?
We have been socialized into the notion that our candidate selection process is "democratic" (I put it in scare quotes on purpose) and that democracy is better than elites asserting power. Anyone who reads my musings here know that, as a general principle, I am pro-democracy in terms of governing. And, indeed, for many years I was in favor of primaries on the grounds that democratic processes are better than elite-driven ones. (In fact, somewhere, I think here at OTB, I have a post wherein I was speaking more favorably about the democratic nature of primaries—but I can't find it). However, I have changed my mind.
I had a revelation of sorts some time ago, however, wherein I began to question the proposition that democratized candidate selection processes were actually beneficial to broader representative democracy, and it boils down to the issue of what function parties perform in such a system.
Parties are supposed to provide signaling devices to voters as to how the given candidate will behave once in office (and how the collection of persons holding the same label will behave). They are supposed to govern in a way that is congruent with those signals. Failing to do so should result in consequences for the party at ballot box.
Primaries complicate (if not upend) this equation.
Consider:
The Republican Party (and the presidency) under Trump is a very different thing than if, say, Jeb Bush or John Kasich had won the nomination.
Likewise, the Democratic Party will be a very different thing under a Sanders nomination than under a Bloomberg nomination (for example).
Further, three out of four of the above politicians I named (Trump, Sanders, and Bloomberg) are all persons who did not have any official affiliation with either party prior to running for its presidential nomination. Arguably, Sanders and Bloomberg, as pre-candidates for office, are not yet "Democrats" (neither as nominees on a general election ballot, nor as office-holders).
The primary process allows them access to party labels that a more closed process would not provide.
If parties can be so radically shaped by individual politicians, to what degree does the party have a real, tangible existence? This is what I mean about it being a candidate-centric process.
More specifically, if the nomination process is so porous that politicians who have never had an official partisan identification (Trump) or who have been officially an independent (Sanders) or whose time in office was as a member of the other party (Bloomberg) then what does the party label mean?
An extreme illustration of my point is the top-two system as used in California. It is called a primary, but it is really the first round of a two-round process wherein the top two vote-getters in the first round (the "primary") go against one another in the second round (the general election) regardless of the relative differential in votes. In the first round, there might be multiple Democrats and multiple Republicans running (as well as other third-party candidates). This can mean, and often does, a D v. D or R v. R second round. I would ask: what meaningful role does party serve in that context?
Back to the question of what is more democratic, I would take the position that for representative democracy to function properly, voters have to have clear choices at the polls. If the parties are candidate-centric vessels filled with the ever-evolving primary-steeped brew of the moment, then the parties tend to fail at that function.
So, when political scientists talk about the potential value of more closed, even "elite" (i.e., party leadership) level selections it is not because the goal is to take choice away from voters for the sake of keeping the teeming masses out of the process. From persons such as myself, I think it would allow parties to be truer to themselves as organizations with clearer policy alternatives being consistently presented to the public. I think, too, there is ample evidence globally to suggest that such a system of nomination would lead to the formation of more parties, which I think would be a long-term good thing for the representativeness of American democracy.
Others (and I think that the Azari column that James referenced) are aimed at trying to help the existing parties select candidates who truly are representative of their voters across the country than does our currently odd system wherein sequence can matter more than actual national preference. Fundamentally, just because voting is used in the caucus/primary process to nominate the presidential candidates does not mean that it is actually the best method to find a representative candidate. Again: sequence and media narrative (and attempts to make rules about debates with 12+ candidates, etc) have as much, if not more, influence than the voting. The system is a mess and suggestions to reform it are about trying to clean that mess up.
As I was writing this I was reminded of a piece I wrote can in 2017: An Analogy on Hierarchy (and the Lack thereof) in Party Behavior.
From that post:
the idea of a political party is that it would be able to present to the electorate a shared vision for governance and that electorate would have the ability to select or reject that vision. If a party is at odds with itself, it is more difficult to project that vision and it muddles the choices that voters have. In most democracies, parties get to choose their own players, and field a team for the voters to accept, or reject. In the US, the team is not selected by leadership, but is instead selected by outside forces (primary voters). This is especially true when voters can, by supporting insurgents, reshape parts of the party (as is possible with primaries in the US). And, hence, the party can end up with a nominee like Roy Moore (or Sharon Angle or Christine O'Donnell or Todd Akin or Donald Trump) that it might not prefer to have, but nonetheless has to live with. And there are those who are less dramatic examples that sit in Congress now. This affects both governance and representation, and therefore is no small thing.
At any rate, more on this as time progresses.
---
*I have also noticed a lot of online vitriol from Sanders supporters in particular that all this talk about nomination processes is just because Bernie is doing well. I don't have time to get further into that issue, but I can assure any reader that my views on this subject are not about Bernie, nor are they new.