One Congressman's Fate Demonstrates What's Wrong With The GOP
One Virginia Republican Member of Congress recently got a lesson in what going against the GOP's hyperpartisan atmosphere feels like.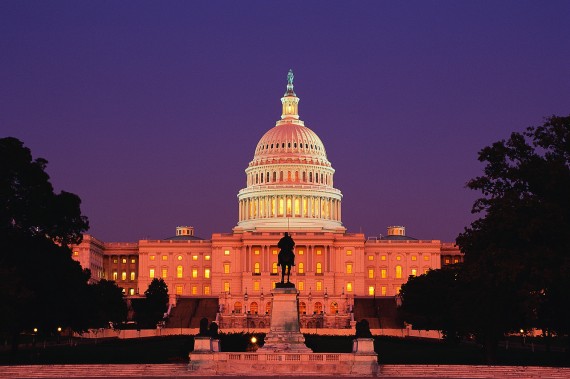 National Journal's Ron Fournier has an interesting profile up of Virginia Congressman Scott Rigell, a Republican who represents Virginia's 2nd Congressional District and the lesson he learned when he ran headlong into the right's distaste for anything that hints at moderation and the Presidential ambitions of one particular Senator:
Trouble began for Rigell in late February when he received an invitation from the White House to fly on Air Force One and attend an event in his district. President Obama planned to discuss the effects of so-called sequestration cuts, his latest attempt to blame the budget standoff on Rigell's party.

"Please tell the president I accept with gratitude," Rigell told the White House aide.

Rigell knew he would be criticized by fellow conservatives for giving Obama political cover. Right-wing ideologues were already skeptical of the second-term lawmaker because he had disavowed an antitax pledge, voted to raise the debt ceiling, and opposed holding Attorney General Eric Holder in criminal contempt (one of only two Republicans to do so). Rigell represents one of the dwindling few swing districts left.

But he agreed to travel with Obama for two reasons. First, he wanted to tell the president to his face that the White House had failed to lead on budget negotiations. Obama needs to honestly embrace spending cuts and entitlement reforms, Rigell insisted, to extract any new revenue from Republicans.

Secondly, Rigell holds a quaint view that, until the recent past, was universally accepted in Washington. "He is," Rigell said, "my president."

Conservative commentators, their numbers and power dramatically increased in the past decade or so, derided Rigell as a sap, a sellout, and a "RINO"  or "Republican in name only." Negative calls and e-mails poured into his office. Still, Rigell was confident he could reason with his constituents, aided by a detailed chart on the federal budget that he carted to town halls and local media interviews.
In many ways this is similar to the reaction that Chris Christie got when he welcomed President Obama to New Jersey in the wake of Hurricane Sandy, praised the assistance that the Administration was giving to New Jersey in the days immediately following the devastating storm, and later criticized Congressional Republicans for holding up a relief bill for more than two months after the storm hit. Christe was, as you will recall, denounced roundly by pretty much everyone on the right. He was, absurdly, blamed for Mitt Romney losing the election. He was criticized for staying in his state in the days after the storm  instead of traveling to Pennsylvania to appear at a Mitt Romney rally. All because he was nice to the President in a situation that called for him to do so.
Rigell found himself in a similar situation. He was invited to fly on Air Force One to appear at an event in his district by the President of the United States. Given that he had two choices, he could turn down the invitation and become a hero to the Rush Limbaugh's of the world. Or, he could accept the invitation and appear along with the President to answer questions that his constituents, many of whom work in the military and the defense industry, had about the impending sequestration cuts. Rigell chose the second option, and, to use his words, got hammered for it. He broke the code of hyperpartisan Washington by reaching across the aisle. And he got tarred with the absurd "RINO" label simply because he agreed to take a one-hour airplane trip with the President of the United States.
But, that was only the start of Rigell's problems:
Coincidentally or not, two days after his trip with Obama, the gun lobby launched a harsh, effective, and factually bogus attack on Rigell. The National Association for Gun Rights aired radio ads and sent direct-mail fliers that falsely accused Rigell of backing a federal registry system and working hand in hand with Obama to seize guns.

Rigell's great crime, other than riding Air Force One, was to sponsor a benign antitrafficking bill that would outlaw "straw purchasing," the act of providing firearms to those who are unable to legally purchase weapons themselves. He is, after all, a lifelong NRA member with an A-minus rating from the group.

The NAGR positions itself to the right of the NRA, uncompromising on any gun regulation. Like many left- and right-wing interest groups, it operates in the dark and feeds on fear: Voters in Rigell's district do not know who funds the organization.

Rigell soon learned that one source of revenue was Paul, at least indirectly. The NAGR sent an e-mail to potential donors that opened with a note from the Kentucky senator urging recipients to support the "fine folks" at NAGR.

Rigell and his team made three assumptions. First, that Paul didn't know about the attacks on fellow Republicans (the NAGR also criticized House Majority Leader Eric Cantor). Second, that Paul was aiding the group so that he could tap into its mailing list for his political future (he is considering a presidential run). Third, that Paul would condemn the group's actions once he found out about them.

So Rigell asked Paul to call him – "Can we talk about guns?" In that telephone call at lunch, Paul told Rigell he didn't know about the NAGR attacks and would look into them. After a further exchange of notes, e-mails, and telephone calls between the two staffs, Paul refused Rigell's request to denounce the group.

"It was," Rigell said, "just indifference." In Rigell's eyes, Paul had failed a character test.

"I did not seek this—to have a public disagreement with him—but the consequences of where we're heading as a country are very serious, and we're all in this together," Rigell said.
Paul's involvement with the NAGR has been raising a lot of eyebrows lately, largely because Rigell isn't the only Congressman who has found themselves a target of the Paul-backed groups ads. Indeed, Rigell's fellow Virginia Republican, House Majority Leader Eric Cantor also found himself targeted by the groups ads. In Cantor's case, the attacks appear to be because of comments he made in February saying that the House may be willing to consider Senate legislation that involved beefing up the background check system for firearms purchases, and suggesting that the system that (very pro-gun) Virginia implemented in the wake of the Virginia Tech shootings in 2007 could serve as a national model. As with Rigell's vote in favor of cracking down on something that is already illegal, and indeed which was part of the Fast & Furious investigation that continues to occupy the imaginations of most people on the right, Cantor's proposal was completely innocuous and honestly a fairly rational policy idea. Since it deviated from the ideological rigidity that the NAGR demands, though, their positions must be attacked.
Both of these incidents are prime examples of what's wrong with politics, and specifically the Republican Party, today. Any attempt to reach across the aisle, even if it's seen as innocuous as a plane ride, is denounced as traitorous. Any policy proposal that doesn't adhere to an absurdly strict ideological line is similarly denounced and, if necessary, the candidates who take those positions are subjected to challenges from within their own party at election time that only serve to weaken them for the General Election. That may be a great way to run a blindly ideological political movement, but it's no way to run a political party in representative democracy, and it's no way to run a government.