One Year Later, The Debt Downgrade Doesn't Seem To Have Mattered Very Much
One year ago, the U.S. lost it's AAA credit rating with S&P. There doesn't appear to have been any real impact from that decision.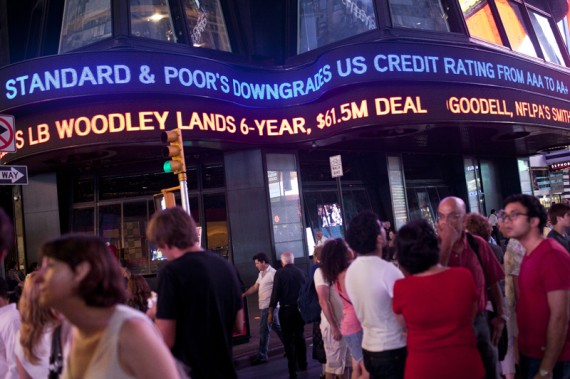 One year ago yesterday, as the United States was coming out a two-month long standoff between the White House and the Republican-controlled House over a deal to raise the debt ceiling, Standard & Poor's downgraded America's credit from the long-standing AAA to AA+ largely, it said, because of lack of evidence that Washington would be able to solve the nation's long-term fiscal problems. The downgrade was a political earthquake and was at the top of the newscasts for days afterward, however neither Moody's nor Fitch, the other two of the three major credit rating agencies copied S&P's action, although both did place the U.S. on a negative credit outlook for many of the same reasons cited by S&P in its downgrade decision. In the year that has passed, the downgrade has been something of a political weapon that many Republicans have tried to use against the President, but it doesn't seem to have had much of a political impact. As Mike Konczal noted yesterday, it also doesn't seem to have had much of a financial impact either:
The United States losing its AAA rating was a political shock. The verdict was quick from the center and the right – this would be incredibly harmful to the United States' ability to deal with its national debt. When S&P first brought up the possibility of the downgrade in July, the centrist think tank Third Way highlighted that "S&P estimates that a downgrade would increase the interest rates on U.S. treasuries by 50-basis points," and urged "Congress and the Administration [to] come together and pass a 'grand bargain' that will put us on a sustainable path and avoid a credit downgrade."

After the downgrade Mitt Romney noted that "America's creditworthiness just became the latest casualty in President Obama's failed record of leadership on the economy. Standard & Poor's rating downgrade is a deeply troubling indicator of our country's decline under President Obama."

Those are two empirical predictions. Did the downgrade increase interest rates on U.S. Treasuries 50-basis points? Would you go further and describe our creditworthiness itself as a casualty?
To answer that question Konczal takes a look at the chart for the ten-year Treasury bond for the past year: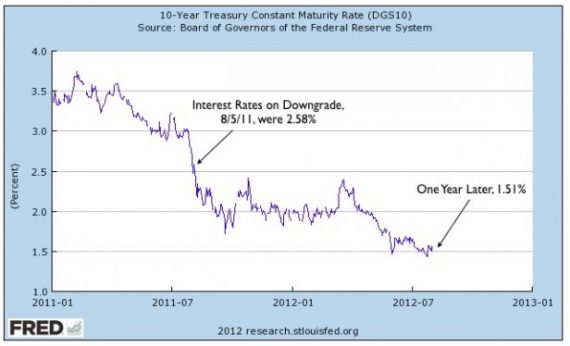 Konczal concludes:
They are down a little over 1 full percentage point, from 2.58 percent to 1.51 percent. If you want to consider the baseline the 3 percent interest rates from right before the downgrade, or the 2 percent interest rates that happened afterwards, then rates are down either 1.5 or 0.5 percentage points. That's a major decline in the borrowing cost of the United States. One can't find the increase in rates in this market. Counterfactuals are difficult – perhaps S&P is correct, and 10-year Treasuries would be closer to 1 percent had there been no downgrade.

But that seems unlikely. Here's a previous link discussing ratings agencies' internal research finding that they consistently overstate the default risk of government debt. The ratings agencies can add value in thin markets with little history, or as a means of a coordinating research and action among market participants. But the United States' debt market is one of the most liquid, traded, researched and transparent markets in the world, and it seemed doubtful the ratings agencies were going to add much information with their downgrade. A year later the downgrade appeared to have been irrelevant to United States' borrowing costs.
There are several caveats worth pointing out here, I think.
For one thing, as I discussed in the wake of the downgrade, the fact that neither Moody's nor Fitch followed S&P in downgrading America's debt likely limited the impact of the downgrade itself. A downgrade by one of three ratings agencies, which some people still contend was based on a $2 trillion calculation error by S&P's analysts, means far less than if a majority of the major credit rating firms, or all three of them, had done the same thing. At that point, it would have been a far clearly signal to the market that there was more risk than they might have anticipated in American government debt instruments. Additionally, as Megan McArdle pointed out in a post in August of last year, a downgrade by more than one rating agency would have also triggered contractual provisions that would have required some institutional investors to dump their Treasuries, thus driving the price down and the interest rate up. So, because the downgrade was limited to one agency, it's impact was likely far less than it would have been had this been an across-the-board downgrade.
Another important factor to keep in mind here is that, despite all of our problems, the United States still remains one of the safest places to invest on the planet and U.S. Government debt instruments among the safest investments on the planet. Indeed, outside of Swiss Bonds and perhaps the Germans, there are very few truly safe investments. Because of this, and because the Swiss and the Germans don't circulate nearly the amount of debt instruments that we do, there's going to be a lot of demand for U.S. Government debt, and little eagerness on the part of  investors to dump their T-Bills. This is especially true, no doubt, given the current state of things in Europe where, outside of Germany, everything seems to be once form of a mess or another. So, even if S&P's downgrade was signalling the market the our debt was less safe than it used to be, it's still safer than most other government debt, and when you're seeing a "flight to quality" among investors the first place they'd go is the United States and it's T-Bills.
The final factor to keep in mind is related to the second and it involves the status of the dollar as the world's reserve currency. Because of this, investors and institutional investors are going to want to maintain an investment presence in T-Bills.
None of this means that the debt downgrade doesn't matter at all, or that we don't need to address our long-term fiscal and debt issues. To a large degree, we've been lucky that the factors that have offset the impact of a downgrade exist. That doesn't mean our luck will last forever, though.