Oops. He's doing it again.
Eliminating the department would mean parceling out most of its activities to other federal agencies, a sleight of hand maneuver that might create the appearance of smaller government but would disrupt the ordinary operations of the federal government.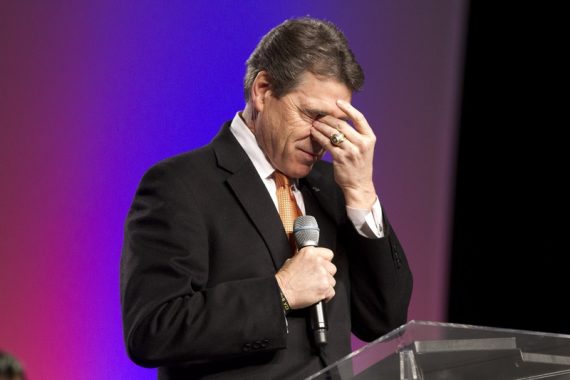 Is Donald Trump punking America?
Donald Trump has tapped former Texas Governor Rick Perry to head up the Department of Energy.
If you were a writer for SNL and were tasked with drafting a humorous skit about Trump choosing a Secretary of Energy—an unenviable assignment to be sure—you'd be staring in the face one option and one option only.  You'd gotta go with Trump choosing the "oops guy," the former Governor of Texas who, in a GOP presidential debate in 2011, famously forgot the third of the three federal cabinet agencies he would seek to eliminate were he elected president.
The department name he forgot? The Department of Energy, naturally.
Oops he did it again.
Watching Perry's brain freeze in real time was agonizing for empathetic souls—just the cringiest of cringe moments–and his campaign, wobbly to begin with, tottered immediately afterward; two months after the debate he quit his 2012 campaign. Much (in my opinion, too much) was made of the moment.  He was hastily, and wrongly, described as unfit to be President.
A candidate shouldn't be defined by a single mental lapse, and unfortunately the media was more fixated by the gaffe than the deeper issue, the wisdom of Perry's judgment to eliminate the Department of Energy.   Sensible people can argue about whether one ought to eliminate the Department of Education, one of the two departments he did remember along with the Department of Commerce.  Eliminating Education would be a boneheaded move, but it wouldn't be catastrophic.  But is the Department of Energy equally disposable as Perry suggested—or would have suggested had he conjured the name?  What in the world does it do, anyway? Are its responsibilities the kinds of activities that can be wisely eliminated and left safely to the free market or devolved to the states without jeopardizing the public good?
As far as cabinet departments go the Department of Energy is relatively new, created under President Carter.  Its creation was designed to consolidate several other federal agencies whose tasks were carried out by a number of federal agencies for decades prior to the consolidation.  Like all Cabinet-level agencies, the Department of Energy pursues a number of goals but its chief responsibilities include scientific research (such as the research to develop fusion), administering our nuclear weapons production program, and the handling of nuclear waste.  It's conceivable that some of the research duties could be eliminated—though that would likely prove myopic—but the oversight of nuclear energy, weapons production, and nuclear waste are obviously best suited for the federal government.  No one wants nuclear waste in their backyard, and the NIMBYs would make effective state control of nuclear waste inconceivable. Therefore eliminating the department would likely mean neither the privatization of its tasks nor even the devolution of the department's most important tasks to states. It would mean parceling most of its activities out to other federal agencies, a sleight of hand maneuver that might create the appearance of smaller government but would effectively complicate matters and disrupt the ordinary operations of the federal government.
It's not clear what Trumps motive is in selecting Perry for this position if for no other reason it's never quite clear what Trump's motives are. But we are seeing a pattern of Trump choosing leaders who are hostile to the agencies they are chosen to lead.  Trump's tactic of bringing in critics to an agency is not a new tactic, but the frequency of the use of it is unprecedented.   True, Ronald Reagan had appointed "anti-environmentalist" James G. Watt as Secretary of the Department of Interior—a huge and complicated department with mixed and sometimes conflicting goals.  His appointment was controversial, but the department's activities were diverse enough to provide him with some internal support. Nonetheless his tenure proved highly contentious and lasted only two years.  It also sparked renewed environmental activism and Watt served as an effective bogeyman for the environmental movement.  The track record of the Leader-as-Opponent is not promising.
Whether Trump's decisions are for show or for substantive action, or both, is not clear.  It's unlikely that Perry will work at dismantling the entire Department given its vital functions, but it's also almost equally likely that he will attempt—both for substantive and symbolic reasons—to dismantle part of it, most probably the research components aimed at researching and funding clean fuel alternatives to fossil fuels.  But above all he is signaling with this pick that Trump has no love of the alternative fuels that threaten his beloved coal and oil constituencies.