Oreo Wins The Super Bowl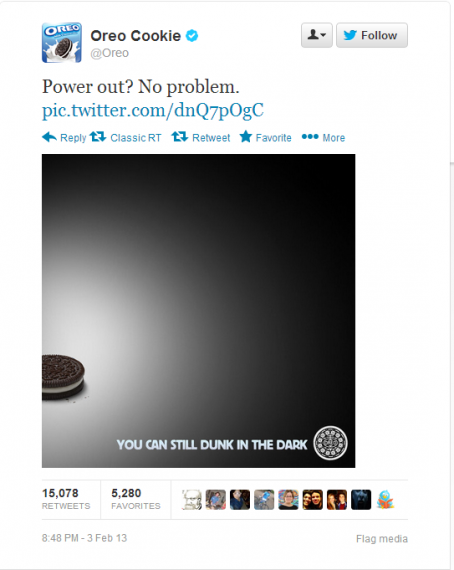 When the power went out at the Superdome last night, one company found a way to exploit it and get themselves some free advertising:
After the lights went out at last night's Super Bowl,  light bulbs went on above the heads of the creative team behind Oreo cookies ads. When a power outage at the Superdome in New Orleans stopped the game between the Baltimore Ravens and the San Francisco 49ers for an epic 34 minutes, Oreo's team took action and posted a simple ad that was retweeted, or shared, more than 14,500 times on Twitter. The message:  "Power Out? No Problem" accompanied with a picture of a cookie with the line "You can still dunk in the dark."  How did 360i -the agency responsible for the ad- do it so quickly?

"Because Oreo was a Super Bowl advertiser, we had set up a team of folks at our offices with people from Oreo as well to both listen to and optimize the chatter on the Internet," Sarah Hofstetter, president of 360i told Speakeasy via email. "While we certainly didn't expect the blackout, the team's first instinct upon the blackout was to figure out how Oreo can be relevant in the moment. Having a full team of creative, social media experts and the brand made it quick and seamless."

Oreo's instant Twitter ad stood out on a night when 30-second ads on TV cost $3.8 million. It helped demonstrate the power of ingenuity over money, and social media over traditional forms. It is likely part of a coming wave of real-time advertising that reacts, like a political campaign war room, to real-time events.
Of course, the only reason it worked is because it was so utterly spontaneous, and because there were millions of people online with nothing to do for about a half an hour until play resumed.