Oscar Pistorius Arrested for Murder
Olympic paralympic champion Oscar Pistorius has been arrested after the fatal shooting of his girlfriend.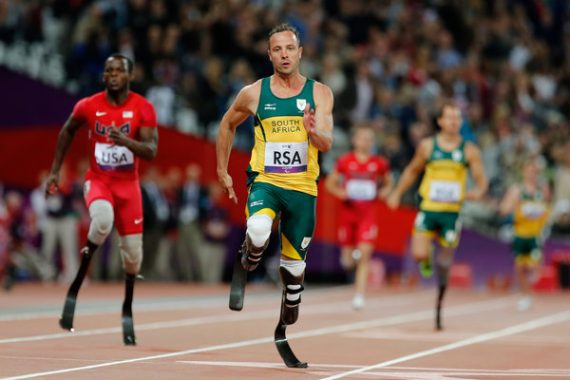 Olympic paralympic champion Oscar Pistorius has been arrested after the fatal shooting of his girlfriend.
NYT ("Woman Found Fatally Shot at Home of Pistorius")
Paralympic champion Oscar Pistorius, who made sporting history by becoming the first double amputee sprinter to compete in the Olympics, was taken into police custody early on Thursday after a woman was fatally shot in his home in Pretoria, according to South African police officials.

Police officials said they are investigating the case as a murder and plan to oppose the international track star's expected application for bail at a court hearing scheduled for later on Thursday.

The Associated Press, citing the woman's talent agent, said the victim was Reeva Steenkamp, a model whose Twitter page described her as a "cover girl" and a law graduate. Ms. Steenkamp and Mr. Pistorius had frequently been seen together at society events and South African media identified her as his girlfriend.

Mr. Pistorius, 26, won two gold medals and a silver at last year's Paralympic Games in London. In the 2012 Olympics, he reached the 400-meter semifinal and competed in the 4×400 meter relay. Known by the nickname Blade Runner, he races using carbon fiber prosthetic blades.

Early Thursday morning, the police responded to a report of gunshots in the upscale housing complex where Mr. Pistorius lives, said Col. Katlego Mogale, a police spokeswoman. When they arrived, they found paramedics treating a 30-year-old woman for gunshot wounds. The woman was pronounced dead and a 26-year-old man was taken into custody, Colonel Mogale said. She declined to identify the man as Mr. Pistorius, but another police official confirmed that it was the runner.

Colonel Mogale said that the case is being investigated as a murder and that the suspect is expected to appear in court later Thursday. She would not comment on a possible motive for the shooting.

"A case of murder has been opened," Colonel Mogale said. "Currently the investigators and the forensic people are on the scene."

Reports from local media said that Mr. Pistorius told the police that the shooting was an accident and that he had mistaken the woman, who was said to be his girlfriend, for an intruder.

But speaking to reporters in Pretoria, another police spokeswoman, Brig. Denise Beukes, distanced herself from media reports that Mr. Pistorius had mistaken the victim for an intruder, saying the reports had taken her by surprise.

She also said that the police had responded previously to complaints of a "domestic nature" at the runner's home but declined to give further details.
Sad and disturbing news.