OTB Caption Contest Winners
The Green Light, Red Light Edition OTB Caption ContestTM is now over.
The Green Light, Red Light Edition OTB Caption ContestTM is now over.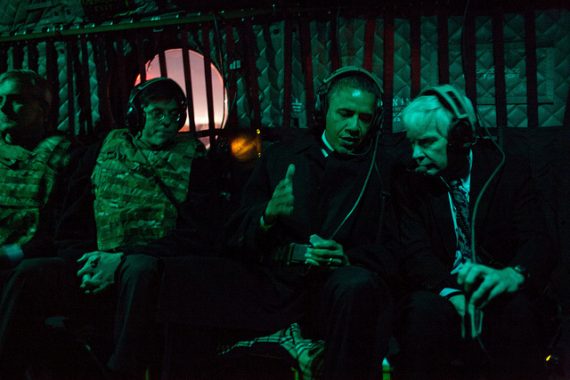 (Official White House Photo by Pete Souza)

✰ THE WINNERS ✰
First: jd – "Shouldn't we activate the Cone of Silence?" "What?"

Second: Doug Mataconis – "We're flying in secretly to see if we can catch the Secret Service at a strip club again."

Third: walt moffett – I'll let you know when its your turn to sit by the window.
HONORABLE MENTION
Kevin Whalen – "This is my favorite Jay Z song right here. I love the shuffle feature!"

JKB – Don't ask but do tell. Is that guy over there eying me?

Maggie Mama – The AF managed to locate green light bulbs for all our planes, so it's no longer referred to as black ops.

Robert w. Armijo – While aboard Air Force One, somewhere over Kabul, Afghanistan, President Obama carefully reviews the final seating arrangement for next week's campaign fundraising house party at George Clooney's Studio City estate in So. California.
ℛODNEY'S BOTTOM OF THE BARREL
"Maybe we should allow 100W bulbs again, Sir."

"Whatever you do… don't wear a hoodie… they'll cap your ass…."

"Obama's campaign bus visits Alaska."

"Do we really need these precautions?"
"Detroit's just not safe, Sir."

Crocker: "So Bin Ladin's dead, and GM is still alive."
Obama: "At least until after the election."

They've just got to get a better in flight movie than "Driving Miss Daisy."
The Monday Contest already has cornered the market on all the crops in Farmville.