OTB Caption Contest Winners
The Hair of the Dog Edition OTB Caption ContestTM is now over.
The Hair of the Dog Edition OTB Caption ContestTM is now over.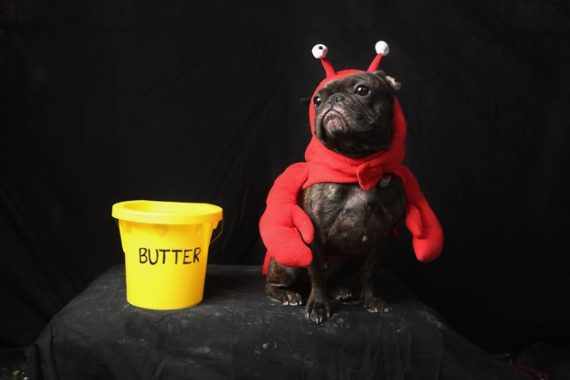 (Photo by John Moore/Getty Images)

✰ THE WINNERS ✰
First: OzarkHillbilly – "Hey Baby, wanna check out my Butterballs?"

Second: Mr. Prosser – The best example yet of why GMO labeling should be required.

Third(tie): KRM – David Axelrod explains seafood.

Third(tie): David – At least I'm not strapped to a car roof.
HONORABLE MENTION
Tillman – I'm a lobster! YEEEEAAAH BABY! Wait, what's this butter for?

Donald sensing – "If you don't like it you can kiss my furry little butt! No, wait. Kiss my butter! No, um … line!"

Maggiemama – I knew there was a reason to be suspicious of this summer's surplus of Maine lobsters!

Motopilot – Parkay.

Drew – Fresh off the failed two headed Sea Bass initiative, Red Lobster's gene splicing experiment went a tad awry, forcing the crack product development team to resort to the universal solution………more butter.

Jeremy – North Korean seafood at it's finest.
ℛODNEY'S BOTTOM OF THE BARREL
The expectations for the Trump October surprise far exceeded the actual event.

Following the immense success of the obamaphone, Barry decided to follow up with the obamadog.

You had me at, Sniff my butter

Beware the third eye stalk.
The Monday Contest has already been exposed to art.