OTB Caption Contest Winners
The President Fauxbama Edition OTB Caption ContestTM is now over.
The President Fauxbama Edition OTB Caption ContestTM is now over.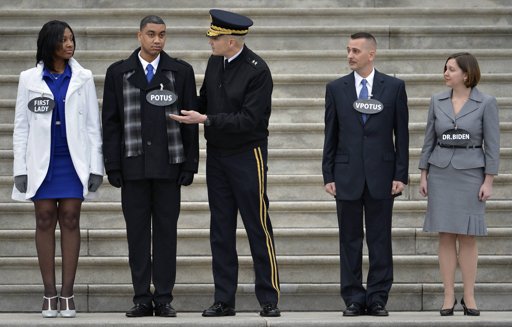 ✰ THE WINNERS ✰
First: Hal 10000 – You idiots! These are not them! You've sworn in their stunt doubles!

Second: Doug Mataconis – "Don't worry guys, I just need to reboot the POTUS robot by pressing this button in the back here."

Third: CSK – Worst. Police. Line-Up. Ever.
HONORABLE MENTION
Niels – Don't panic Mr. President. TOTUS is on its way!

John Burgess – "American Idol" is really trying to be taken seriously.

Peterh – Hey….it's a gig… you're getting union scale… I still give the orders here…

Tony W – After the dry-run was completed, the 'real' Michelle Obama put the team of stand-ins on a strict diet and exercise regime.

Mike Ellis – I'll take the second showcase, Drew.

Robert W. Armijo – George Stephanopoulos: "I believe POTUS and VPOTUS are President Obama's and Vice President Biden's Latin neck names for each other around the White House."
ℛODNEY'S BOTTOM OF THE BARREL
I don't think this is real… I think it was a FauxtusShop job.

No we don't really need to use a teleprompter at this time.

"No, a 'Where da white women at?' homage to Mel Brooks is not appropriate even for a practice with doubles."

Lorne Michaels would like to speak to you afterward.

Just arrived on Air Farce One

Government of Manti Te'o, by Manti Te'o, and for Manti Te'o.
The Thursday Contest is already playing with swingers.