OTB Caption Contest Winners
The Technicolor Choom Room Edition OTB Caption ContestTM is now over.
The Technicolor Choom Room Edition OTB Caption ContestTM is now over.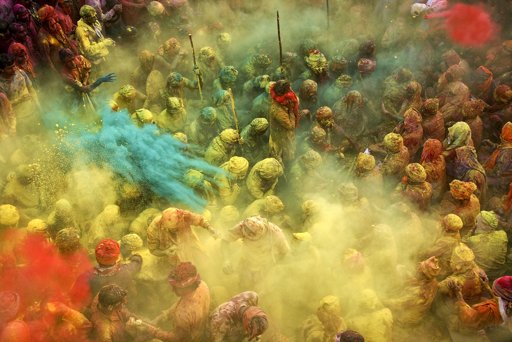 (Anurag Kumar, India, Arts and Culture, Shortlist, Arts and Culture, Open Competition 2013 Sony World Photography Awards)

✰ THE WINNERS ✰
First: OzarkHillbilly – Where's Waldo?

Second: Patrick McCain – Graduates of Starfleet Academy will never forget that tragic day when Scotty practiced the beam up. (The red poofs never make it – rodney)

Third: Jenos Idanian #13 – Someone tell Kermit we finally found the Rainbow Connection!
HONORABLE MENTION
jd – Exhibit #1 of the Bombay Tobacco Company's legal defense.

Crusty Dem – The world's highest density paintball game ended in 1.7 seconds yesterday, with final casualties of 100%.

aquanerd – "Ok… now who farted?!?"

CSK – The CGI for National Lampoon's Lord of the Rings were totally awesome.

Hal 10000 – No one was prepared for the toxic fumes that would result when all the members of Congress starting speaking at once

John H – This incident showed that our subways were vulnerable to make-up attacks, and prompted the TSA to develop an automated eyeshadow detector.
ℛODNEY'S BOTTOM OF THE BARREL
"Another day, another red, blue, and electric yellow dollar."

Trogdor switched from burninating to colorizinating….

Democrats and Republicans negotiate strenuously to prevent a sequestration deadline crisis.

The Sherwin-Williams Superbowl ad.

What happens when you cross Glee Club with Firesign Theatre?

Tehran announces its new stealth drone.
The Monday Contest has already joined the second line.