OTB Caption Contest Winners
The In Your Cups Edition OTB Caption ContestTM is now over.
The In Your Cups Edition OTB Caption ContestTM is now over.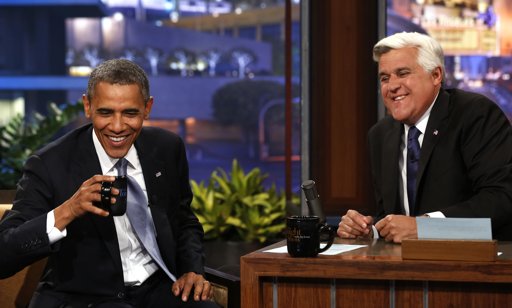 Photo by LARRY DOWNING/REUTERS

✰ THE WINNERS ✰
First: markm – President: "…what the…JAY, you tricky man…..is that a surveillance device on my coffee cup?"

Second: Hal 10000 – We've replaced the coffee we normally serve with Folger's crystals. Let's see if Barack Obama notices.

Third: Wyatt Earp – With no teleprompter available, Obama staffers use Alpha-Bits to feed the president his lines.
HONORABLE MENTION
Mu – I like these new "hide everywhere" teleprompters

Pinky – "Don't worry about it. I was lousy at my job and they invited me back, too."

JWH – One of these men is one of the most powerful men in America. The other one is the president.

Lynda – Your next guest is Putin? Here, let me leave a little present for him in his coffee…
ℛODNEY'S BOTTOM OF THE BARREL
Barry: "If I had a son he coulda been…"
Jay: "Joshua Reddin?"
Barry: "Well…"
Jay: "Julian McKnight?"
Barry: "Uh…"
Jay: "Lloyd Khemradj?"
Barry: "Man, this is good coffee Jay…"(whispering into cup): "Eject Eject Eject"

Obama: "…and I brought along Pelosi and Reid for Stupid Pet Tricks…"
Leno: "…Uh… that's Letterman"

Drone coffee… good to the last strike.

Muslim Hills Brothers Coffee… a non-prophet corporation.
The Monday Contest finds your lack of faith disturbing.