OTB Caption Contest Winners
The Clown Wars Edition OTB Caption ContestTM is now over.
The Clown Wars Edition OTB Caption ContestTM is now over.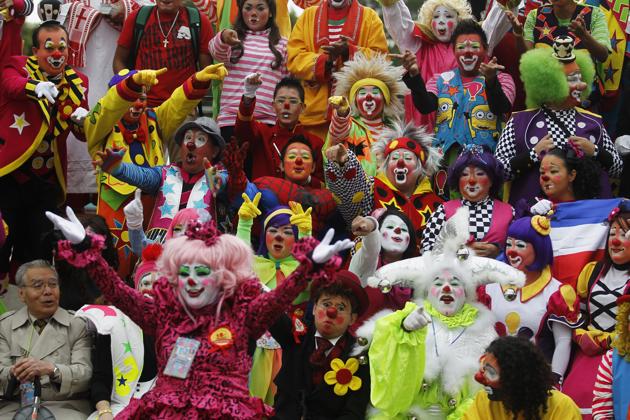 Photo by REUTERS/Edgard Garrido

✰ THE WINNERS ✰
First: john425 – George Takei (lower left) goes to heaven.

Second: David in KC – Congress decides to look the part.

Third(tie): OzarkHillbilly – The creators of healthcare.gov celebrate its opening.

Third(tie): Hal 10000 – The Healthcare.gov website designers testify to Congress.
HONORABLE MENTION
markm – Due to a one digit typo on the request form, the NSN for a "Tech Surge" submitted turned out to be for a "Clown Surge". A committee of QAR Officers are currently working on stuffing the clowns back in their car for return shipment.

Robert W. Armijo – The world celebrates United Nations Day, as Secretary-General Ban Ki-moon looks on from the sidelines.

Pinky – Lee brought his raincoat and umbrella in preparation for a day of seltzer showers.

Mu – Rick Santorum's support group celebrate his Iowa win

Paul Hooson – Tea Party organizers make yet another tactical mistake…

JWH – "How do you vote on repealing Obamacare?" "Aye!" "How do you vote on shutting down the government?" "Aye!"
ℛODNEY'S BOTTOM OF THE BARREL
A positive attitude won't solve all your problems, but it will enough people to make it worth the effort.

How many clowns can you fit into HealthCar

The OTB commenters show up to ridicule yet another Doug Mataconis post.

Laughy-yet we are here.
The Monday Contest has already put an end to 'Yo Mama' jokes.